MSI Z270 XPower Gaming Titanium Motherboard Review
By
Overclocking
We will follow our standard overclocking process of adjusting the CPU Core Ratio, while leaving the CPU Voltage set to automatic to do simple overclocking. Starting with the Boost setting of 45 (4.5GHz), we will boot into Windows and run several CPU intensive benchmarks. Once the benchmarks are complete, we will increase the CPU Core Ratio by 1, repeating as necessary until we get a failure.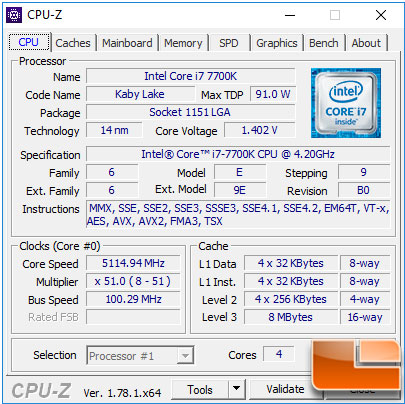 Our previous attempts at CPU overclocking our Z270 test systems has yielded a maximum stable overclock of 5.0GHz. When we took a quick look at the MSI Game Boost feature on the Z270 XPower Gaming Titanium, we were able to get a stable overclock of 5.1GHz, with 5.2GHz being bootable. Switching the CPU Voltage over to manual control, we set it to a maximum voltage of 1.55V to see whether that would help get a stable 5.2GHz. Unfortunately, it didn't do any good. At this point, the MSI Z270 XPower Gaming Titanium has the overclocking record for this CPU at 5.1GHz, running at 1.4V!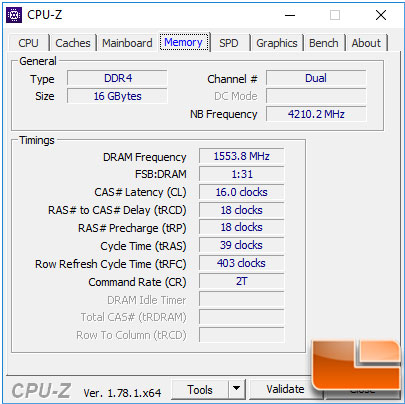 The Kingston Fury DDR4 memory kit has an XMP profile of 2666MHz, which was configured correctly within the UEFI, however if it isn't enabled, a single click within the UEFI will enable it. Overclocking this memory kit, we have averaged between 2933MHz and 3000MHz throughout the Z170 generation and the recent Z270 motherboard testing. On the MSI Z270 XPower Gaming Titanium, we were able to get a perfectly stable overclock of 3100MHz! Booting up at 3200MHz was successful, however we would get random BSOD and the system would be unstable. With our experience with this memory kit, we believe that 3100MHz is the limited to 3100MHz as we have been unable to get a stable overclock above that.
Automatic Easy Overclocking
Tinkering with the individual settings is fun for some, others want it to be as easy as possible. MSI has gone to great lengths to make overclocking on the Z270 XPower Gaming Titanium to be as simple as possible. There are multiple ways to overclock the motherboard, from software controlled using the Command Center, manual UEFI settings, Game Boost in the UEFI, Game Boost dial on the motherboard and the OC Dashboard. As the Game Boost method is the easiest, we used that to do an analysis of the quick overclocking feature. This reinforced what we found in our manual attempts. 5.2GHz is possible, but very unstable with CPU intensive applications. While 5.1GHz was stable enough to run through the various benchmarks. You can read out our overclocking experience with the Game Boost settings here.

For memory, there are fewer methods at overclocking however they are just as easy. Within the UEFI you can always adjust the clock speeds, timings and power manually. MSI has also built in profiles for the popular memory speeds using a simple drop down menu.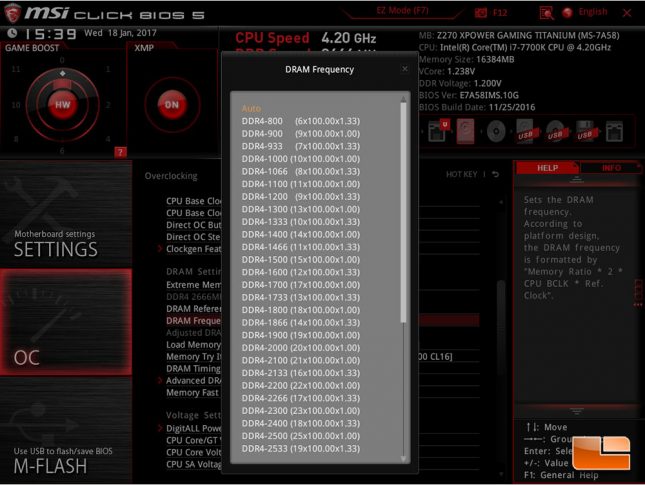 Another method MSI has is the Memory Try It function, here MSI has integrated several profiles that populate depending on your memory kit. For the Kingston Fury DDR4 kit, it presented us with just a few speeds up to 3333MHz, and it shows lowering the timings a little. We went for the highest possible setting (3333MHz) and it failed to post. So we went down to the next step, 3200MHz and while we could boot into Windows, it was once again unstable. Taking it down to 3100MHz the system was once again stable.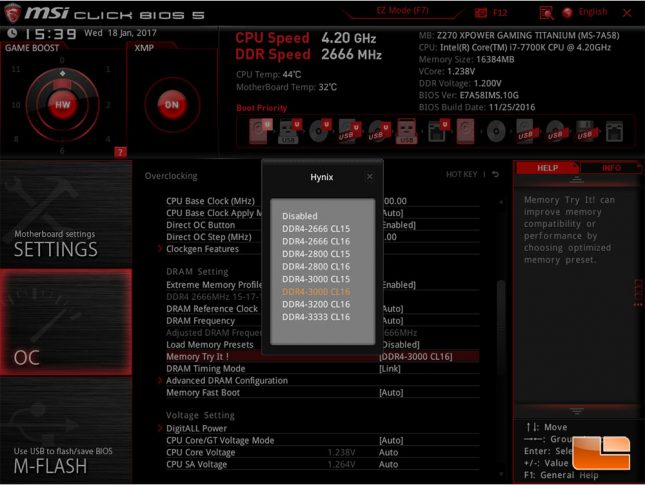 To summarize, the MSI Z270 XPower Gaming Titanium has received our highest overclock for this hardware set at a stable 5.1GHz with DDR4 running at 3100MHz. This was accomplished by both manual settings, and using the easy overclocking options MSI has integrated into the motherboard.
Now let's get to doing some testing to see how the system performs.