MSI Z270 XPower Gaming Titanium Motherboard Review
By
Power Consumption and Temperature
Using a P3 Kill-A-Watt meter, we monitored the power consumption of the test system throughout each phase of testing, making note of the highest and lowest reading. For temperatures HWMonitor was used to keep track of the temperature after running multiple rounds of benchmarks and games.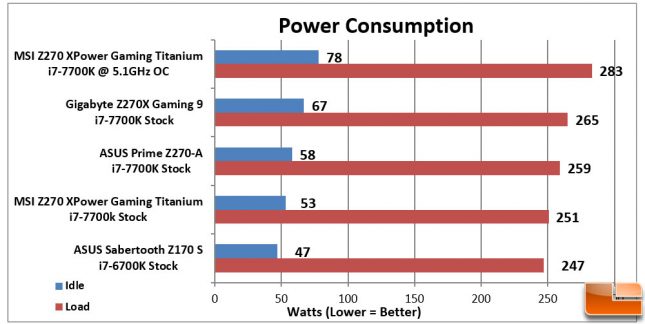 The Intel Core i7-7700K pulls more power than the previous generation Intel Core i7-6700K, however it doesn't draw much more power; pulling 6W more at idle, and 4W more under a full load. When compared to the other Z270 motherboards we have tested it pulled the least amount of power at stock speeds. Which changed once we overclocked the CPU and memory, increasing the power from 53W at idle, to 78W at idle, an increase of 25W while idle. Load power increased as well from 251W to 283W, a 32W increase!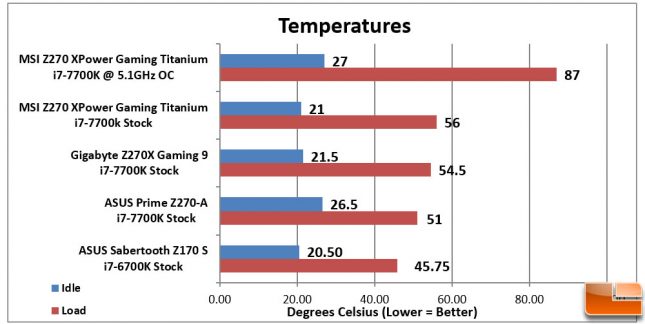 While the MSI Z270 XPower Gaming Titanium pulled the least amount of power, it also came in at the coolest while idle. Once we heated it up with a full load, the CPU became the hottest in the Z270 testing at 56C, still well within accepted temperature range. As you would expect though, once overclocked, the temperatures went up, reaching as high as 87C. Which is starting to get into the dangerous realm, but that's the risk you take for overclocking.