MSI Z270 XPower Gaming Titanium Motherboard Review
By
MSI Z270 XPower Gaming Titanium Motherboard Review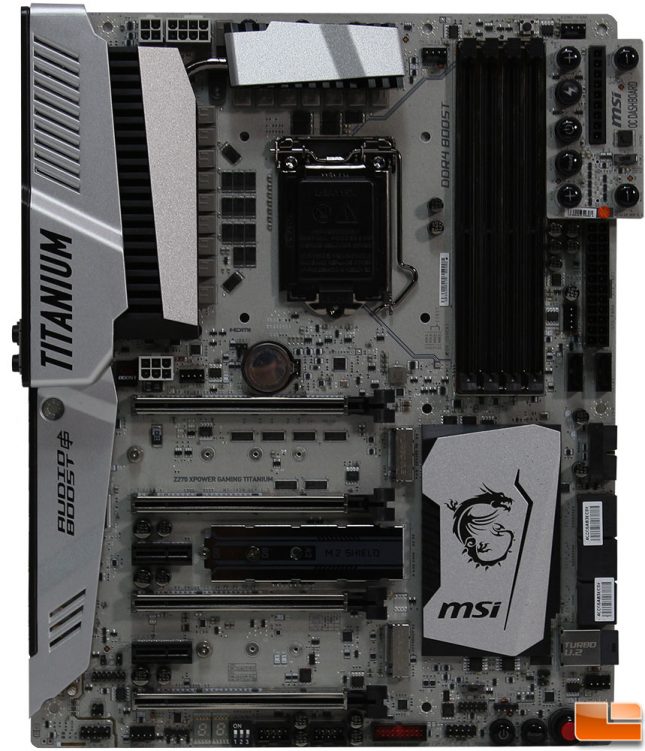 At CES 2017, MSI introduced their latest motherboards designed to support the Intel Kaby Lake processors with the Intel Z270 chipset. Their motherboard line-up covers all users with 14 different models across three segments of motherboards. The highest end of these segments is the Enthusiast Gaming class. This segment includes four models, which focus's on high performance, overclockability, VR and the latest technology. Of these four models, the Z270 XPower Gaming Titanium, is their flagship motherboard which aims to be the best motherboard you can buy. Of course being the best comes with a price tag of $329.99 with free shipping and three years of warranty support. Let's take a look at this motherboard and see what it offers for that price.
For a flagship motherboard, you expect it to have a wide range of support, which the Z270 XPower Gaming Titanium doesn't disappoint. Take a look at the storage options, three M.2, eight SATA 6Gb/s, and a single U.2 port; there are no SATA Express ports (which is good in my opinion). You want lots of USB connections? There are two internal USB 3.1 Gen 1 headers, and two USB 2.0 headers; on the back MSI provides four USB 3.1 Gen 1 Type-A, a Gen 2 Type-A, and Gen 2 Type-C. Dedicated GPU support isn't a slouch either, 2-Way SLI, and 4-Way CrossFire is supported. To cool all of the equipment there are five fan headers, and a dedicated Liquid Cooling Pump header.
One of the recent trends is to integrate RGB LED's onto the motherboard, for those that don't care for that MSI has kept that to a minimum with just a few RGB LED's on the back of the motherboard, while the LED's on the front of the motherboard are used for status indicators only. Of course that doesn't mean you can't add RGB LED lighting, MSI has included one header to add RGB LED strips to the motherboard.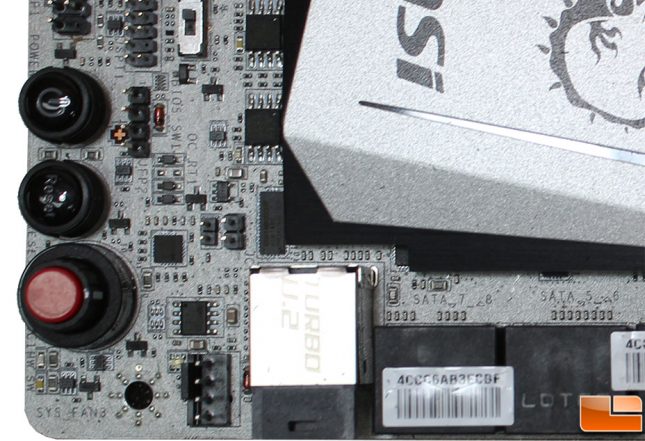 One feature that separates the MSI Z270 XPower Gaming Titanium from all of the other Z270 motherboards is their Game Boost overclocking feature. In the far lower corner, there is a large red button, that enables the instant overclocking feature of the motherboard. In addition, there is a dial here that works as a hardware controller for the Game Boost function. You have to enable the Hardware Control for Game Boost in the UEFI first, but then you can use the dial to overclock with the Game Boost profiles. In addition, MSI has included their OC Dashboard, making it so you never have to enter the UEFI again to change the overclock.
Let's take a quick look at what MSI tells us about the Z270 XPower Gaming Titanium before looking at the retail packaging and accessories, then we'll take a closer look at the flagship Z270 motherboard from MSI.
Features and Specifications
OC DASHBOARD: The ultimate overclocking tool to experience easier on-the-fly overclocking
Mystic Light Sync: Synchronize other RGB solutions with your gaming rig and control all LEDs in one click
Triple Turbo M.2, Steel Armor, M.2 Shield. Intel Optane Memory Ready, Turbo U.2, Lightning USB 3.1 Gen2
VR Ready & VR Boost: Ensures a clean and strong signal to a VR optimized USB port located on the back to reduce motion sickness caused by a bad signal. VR Ready gets your system primed for VR use in just a single click.
MSI Z270 XPower Gaming Titanium Specifications
Socket
1151
CPU (Max Support)
i7
Chipset
Intel Z270
DDR4 Memory
4000(OC)/3800(OC)/3600(OC)/3200(OC)/3000(OC)/2800(OC)/2600(OC)/2400/2144MHz
Memory Channel
Quad
DIMM Slots
4
Max Memory (GB)
64
PCI-E x16
4
PCI-E Gen
Gen 3
PCI-E x1
2
SATA III
8
M.2 Slot
3
U.2
1
RAID
0/1/5/10
TPM (header)
1
LAN
10/100/1000
USB 3.1 ports (Front)
4 (Gen 1, Type A)
USB 3.1 port (Rear)
1 (Gen 2, Type A), 1 (Gen 2, Type C), 4 (Gen 1, Type A)
USB 2.0 ports (Front)
4
USB 2.0 ports (Rear)
3
Audio Ports (Rear)
Realtek ALC1200 Codec
DisplayPort
1
HDMI
1
DirectX
12
Form Factor
ATX
SLI
Yes
CrossFire
Yes
Warranty
2 Years
The Z270 XPower Gaming Titanium, immediately starts off the "Titanium" theme with the retail packaging. The front of the box presents a nice overview of the motherboard, while the back of the box provides a high level brief on the features and specifications. The front of the box is really a flap that can be opened to reveal a small view of the motherboard, and even more features.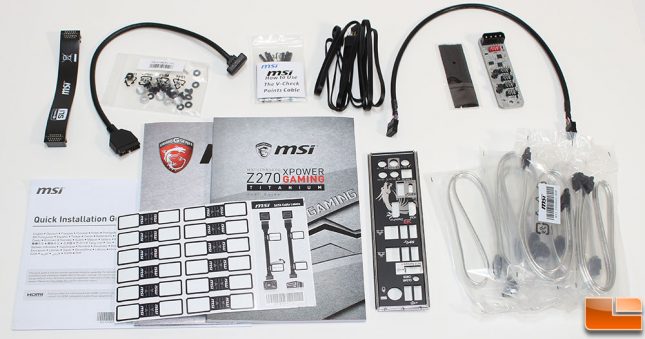 MSI includes many of the common accessories with the Z270 XPower Gaming Titanium, however as this is a flagship motherboard, they have expanded the accessory pack to include a few additional non-standard parts. The standard parts include a quick install guide, poster, user manual, SATA cable labels, SLI bridge, rear I/O key plate, and six silver SATA cables. The more non-standard accessories include a 90 degree OC Dashboard extension cable, voltage check cables, LED light strip extension cables, modular screw pack, and a USB 2.0 expander modules.
Let's move on to taking a closer look at the motherboard.