MSI Allowing CPU Overclockers To Hit 5.2GHz On Select Intel Z270 Motherboards
By
MSI Makes it Easy for Intel i7-7700k To Hit 5.2GHz with Liquid Cooling
At CES 2017, MSI was presenting their hardware line-up that included the latest Intel 270 motherboards. They had an interesting demo running the MSI Z270 XPower Gaming Titanium ($329.00) with an Intel Core i7-7700K processor at 5.2GHz, the same can be applied to their Z270 Gaming M7 ($249.99), and Z270 MPower Gaming Titanium ($239.00) motherboards. Legit Reviews talked about it with MSI and CES 2017 and they stated that any Intel Core i7-7700K should be able to hit 5.2GHz on liquid cooling with a single click of their Gaming Overclock button within the UEFI. That's an impressive statement.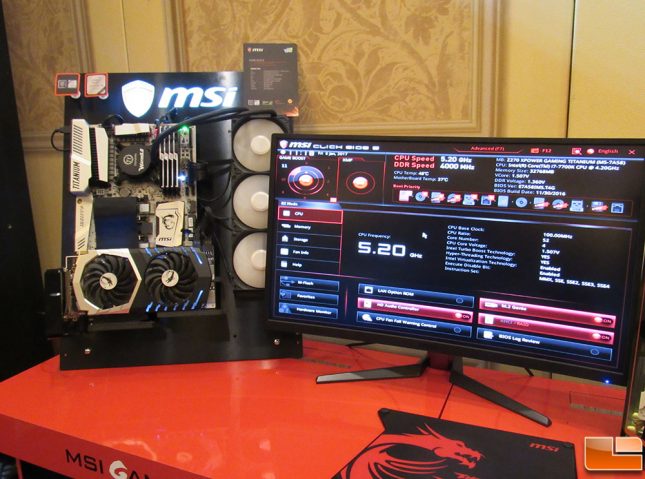 During the discussion, MSI stated they have tested several hundred different Intel Core i7-7700K Kaby Lake processors and haven't had any issues with any of them. There are a couple caveats that you have to be aware of to reach the 5.2GHz. First, a good high quality (closed loop) water cooler is required, it needs to be a minimum of a 240mm model (dual rad). Next, the memory should be a good high quality enthusiast brand; while overclocking the CPU won't be impacted by the memory much, it is always recommended to get the best you can afford. Of course, MSI did reinforce that they are not responsible for damages caused by the GAME BOOST feature as with any end user performed overclocking.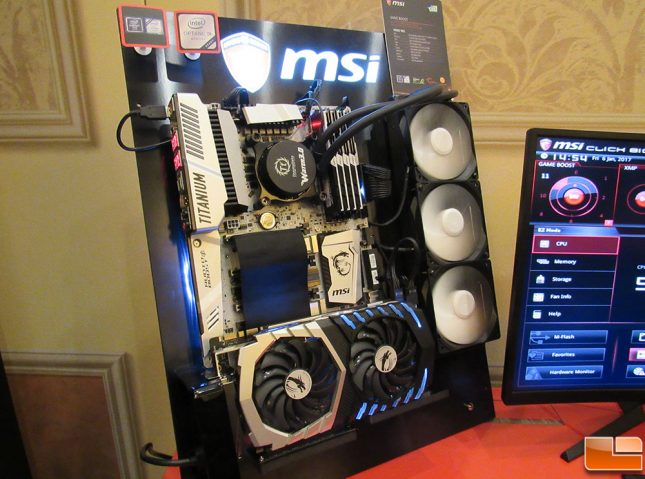 The demonstration at CES 2017 did indeed show the system up and running within the UEFI, but not within Windows (which is the real test). The test system included the MSI Z270 XPower Gaming Titanium motherboard, G.Skill F4-4000 DDR4 memory, and a Thermaltake Water 3.0 Ultimate. We asked them to reset the UEFI back to defaults, and once that was done. They demonstrated the single click to get to 5.2GHz, simply by setting the Game Boost to 11. After a quick reboot, the system took a moment to re-enter the UEFI, but once it did, it was showing 5.2GHz once again.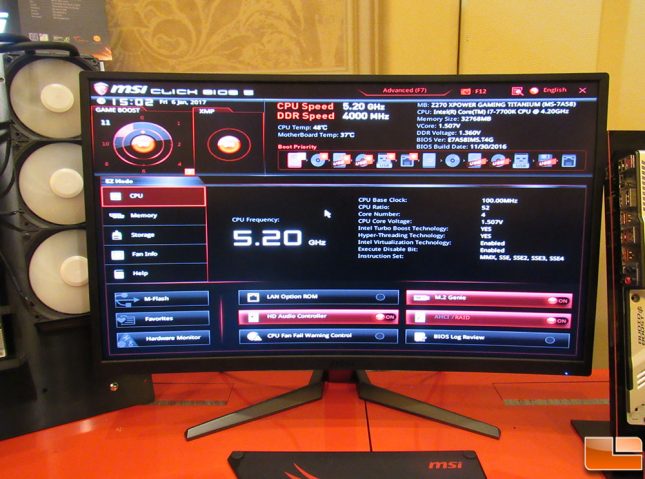 A couple interesting things within the UEFI that we noticed, the CPU voltage was automatically configured to run at 1.507V. The next thing, the CPU temperature was reading 48C. This seems to be higher than most would want, especially considering that it is in an open air test bed, with a Thermaltake Water 3.0 Ultimate running with the fans at high speed. So while 5.2GHz might not be an issue while idle, once we start running tests it might become an issue with heat.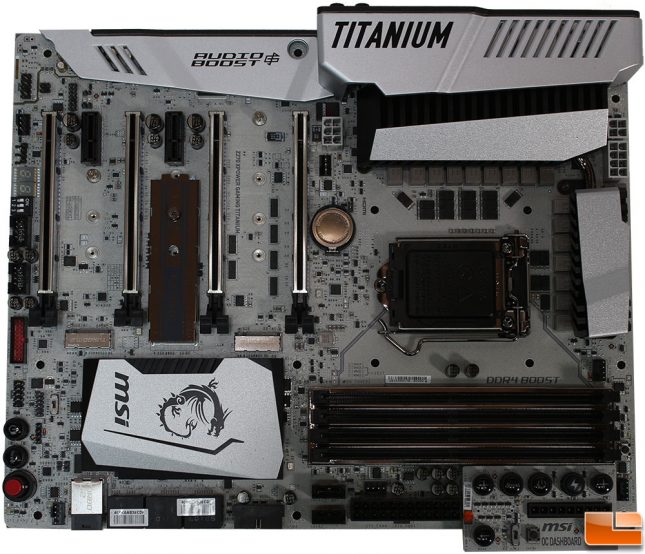 In our current testing of the Gigabyte Aorus Z270X Gaming-9 and ASUS Prime Z270-A motherboards and the Intel Core i7-7700K, we have been able to obtain an unstable 5.1GHz, and a stable 5.0GHz overclock. MSI sent Legit Reviews their Z270 XPower Gaming Titanium motherboards, so we can verify the overclocking ourselves.