MSI Radeon R7 370 Gaming 2GB Video Card Review
By
MSI Radeon R7 370 Gaming 2GB Graphics Card
The AMD Pitcairn GPU was first released in March 2012 with the Radeon HD 7870 and 7850 graphics card. Since debuting back in 2012 it was again used on the AMD Radeon R7 270X and 270 and it appears to have been repurposed for the AMD Radeon R7 370 video card that came out in June 2015. AMD's Pitcairn GPU has to be one of the most successful GPUs every released by chip maker as they've been able to hang onto this one for over three years by altering clock speeds and adding new features like AMD Virtual Super Resolution (VSR) with driver updates. The only bad thing is that the older GCN 1.0 architecture doesn't support AMD FreeSync or TrueAudio, so just a heads up there if those are features you must have. The good news is the Radeon R7 370 supports DirectX 12 at feature level 11_1 for those running Windows 10!
With 1024 GCN 1.0 stream processors in 16 compute units (32 ROPs and 64 Texture Units) and 2GB of VRAM on a 256-bit bus, the AMD Radeon R7 370 is no slouch and is a very capable card for 1080P gaming. The AMD Radeon R7 370 Reference Card is clocked at 975 MHz on the GPU core clock, but you can find models from board partners that are factory overclocked well beyond AMD's recommended core clocks. The price starts at $149.99 for a base model or you can step up to a factory overclocked model with a beefed up Twin Frozr V GPU cooler like the MSI R7 370 Gaming 2G that we are looking at today for just $158.99 shipped.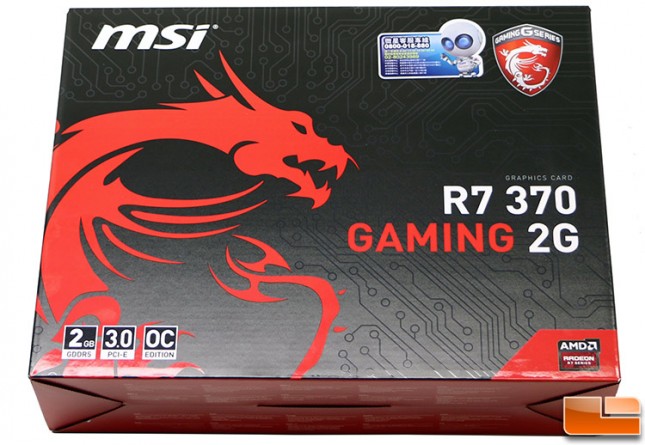 The MSI R7 370 Gaming 2G video card comes out of the box with a base clock of 1000 MHz and a maximum boost clock of 1050 MHz. The cards 2GB of GDDR5 video memory is also overclocked and comes set to 1425 MHz or 5700 MHz effective. The AMD Radeon R7 370 reference card is clocked at 975 MHz core and 5600 MHz memory, so this is a modest 7.7% increase on the core and 1.8% increase on the memory frequencies. With these clock speeds You are looking at a texture fillrate of 67.2 GT/s and a memory bandwidth of 182.4 GB/s.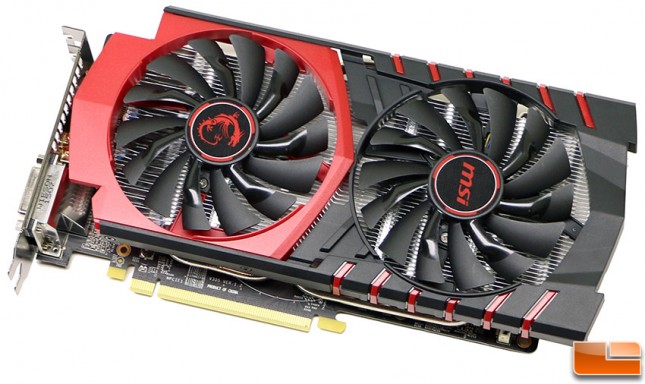 The MSI R7 370 Gaming 2GB video card features the usual black design with red accents and measures in at 258 x 132 x 37 mm in dimension. This makes MSI's R7 370 Gaming card 10.2-inches in length. The Twin Frozr V GPU cooler features two 94mm Torx Fans with Zero Froxr technology, which means that the fans don't spin at idle for silent 0dB operation. The GPU cooler also boasts special SuperSU heat pipes (S-shaped) for better heat dissipation.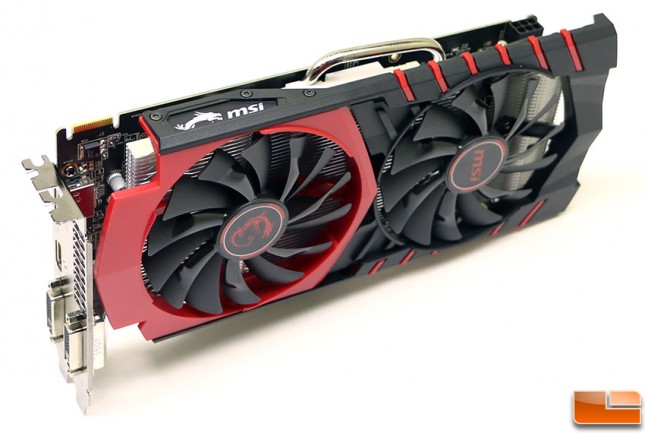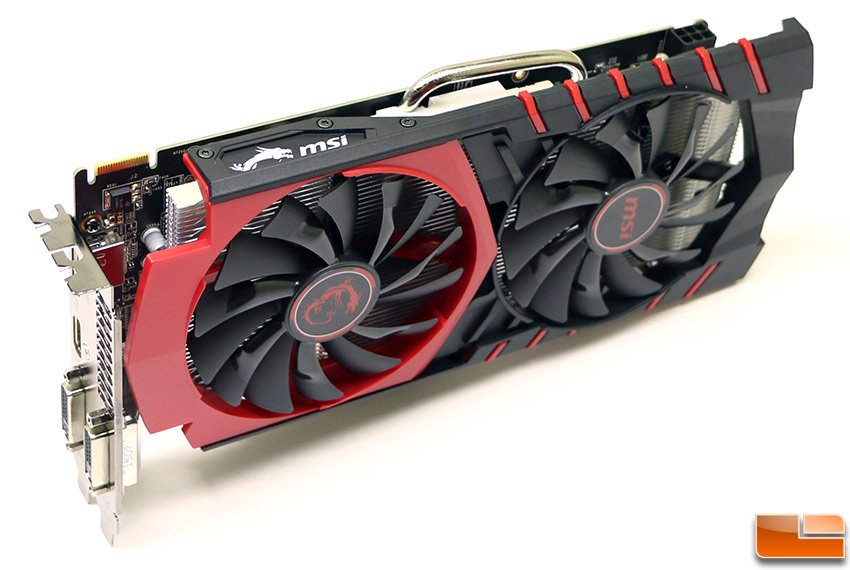 Along the top edge of the R7 370 you'll find a single AMD CrossFire multi-GPU interconnect for those that might want to combine two of these cards together for even greater performance.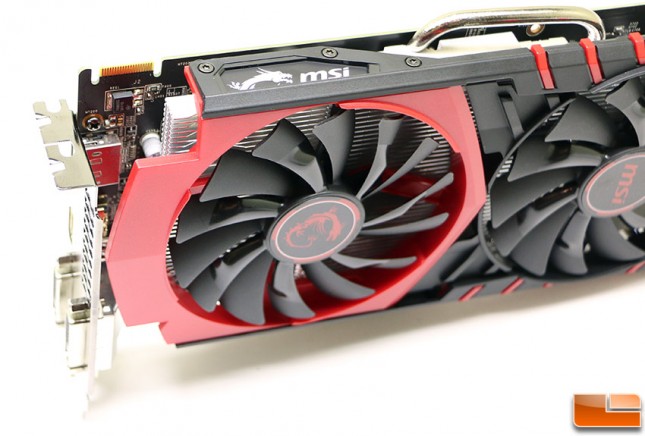 Just to the right of the interconnect you'll see a dragon and the MSI logo that are backlit with an LED. The MSI Gaming Dragon has five LED lighting modes that can be controlled with the optional MSI Gaming App.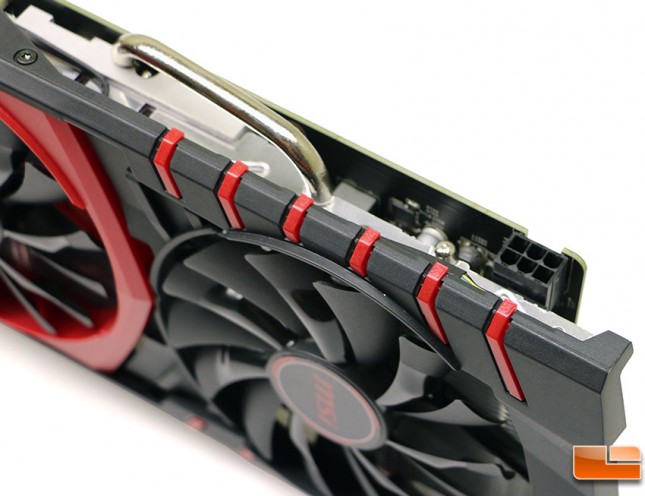 Along the top edge of the PCB near the end of the graphics card you'll find the single rear-facing 6-pin PCIe power connector. MSI recommends at least a 500W power supply for running one of these cards or a 600W or larger model for those running two in dual mode with AMD CrossFire Technology.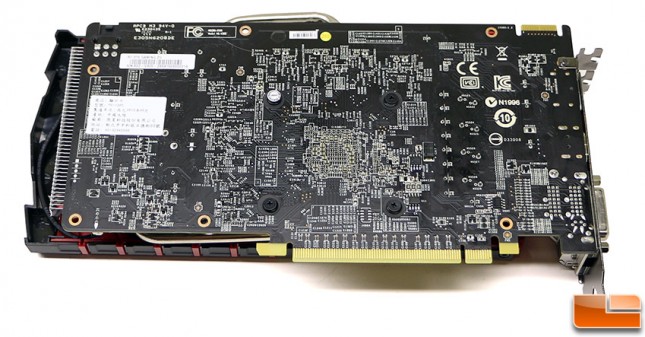 The MSI R7 370 Gaming 2G does not come with a back plate as you can see from the image above. We should note that MSI is using a custom PCB with MIL-STD-810G certified "Military Class" components including HI-C CAPs for high efficiency, Super Ferrite Chokes for lower temps and better power stability and lastly and solid aluminum CAPs that have over a 10-year lifespan. This card has a single UEFI vBIOS on it and there are no DIP switches or advanced overclocking features to be found on the custom PCB.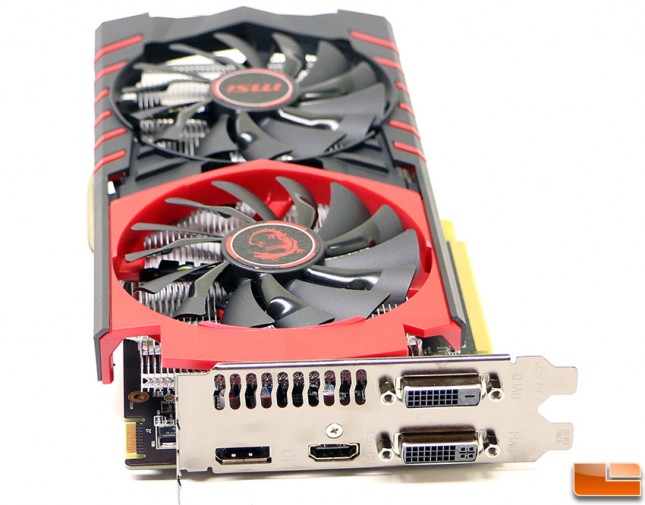 MSI went with one DisplayPort 1.2 output (Max Resolution: 4096×2160 @60 Hz), one HDMI 1.4a output (Max Resolution: 4096×2160 @24 Hz) and a DVI-I & DVI-D outputs (Max Resolution: 2560 x 1600 @60 Hz). MSI includes a DVI to VGA adapter in the accessory bundle, so the MSI R7 370 Gaming 2G should be able to connect to pretty much any monitor on the market. You can easily hook up three monitors to this card at one, but it's really not intended to be a multiple monitor gaming card as it doesn't have the horse power needed to game on three 1080P monitors at a resolution of 5760 x 1080.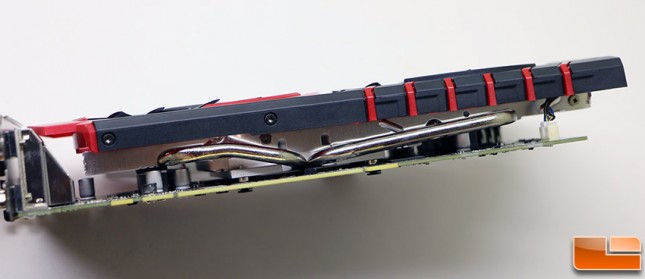 Here you can make out the two 6mm thick heat pipes that make up the TWIN FROZR V GPU cooler. These heat pipes make direct contact with the GPU to ensure the best possible heat transfer to large aluminum heatsink fin array that has a horizontal fin arrangement that allows for some of the hot air to be vented outside of the case. The fan shroud isn't designed to direct the hot air from the case though, so much will be blown back into the case.

If you install the MSI Gaming App you can customize the clock speeds of your card, the LED lighting and even the blue light balance of your display with the 'Eye Rest' feature that really does work.
Modes: Boost Clock / Base Clock/ Memory Frequency
OC Mode: 1050 MHz / 1000 MHz / 5700 MHz
Gaming Mode: 1030 MHz / 980 MHz / 5600MHz
Silent Mode: 975 MHz / 925 MHz / 5600MHz
Now that we have a good understanding of what the MSI R7 370 Gaming 2G is all about we can take a look at the test system and get straight into testing!