MSI Allowing CPU Overclockers To Hit 5.2GHz On Select Intel Z270 Motherboards
By
MSI Z270 XPower Gaming Titanium Overclocking
After our meeting with MSI at CES 2017, they promptly sent us the Z270 XPower Gaming Titanium so we can see for ourselves what Game Boost can do for users and the other enhancements that they have made for the Intel Z270 chipset.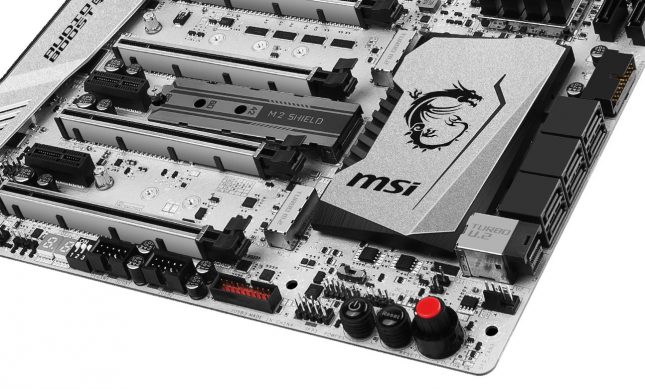 The MSI gaming boost knob is located on the lower right corner of this board with a big red button in the middle. You can either make your overclock seeing using this dial or by entering in the UEFI if you'd like.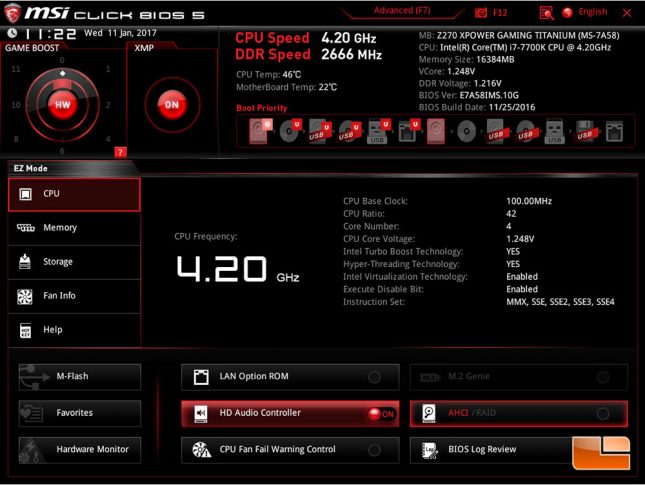 After setting up the test system, we were able to boot into the UEFI, and saw that everything was immediately recognized, and configured correctly.

MSI said to simply click the Game Boost button in the upper left corner and set it to 11. So that's all we are going to do at this point.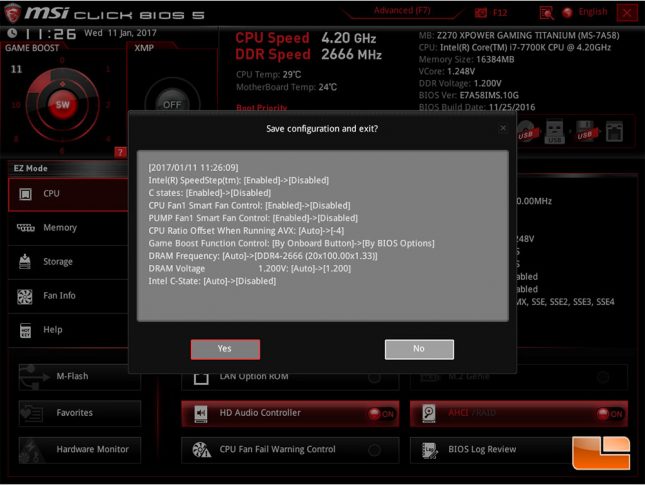 The MSI UEFI does a nice job at telling you exactly what it is changing when you exit the UEFI. However, as we are using the built in profile, it doesn't tell us everything. There is a way to find out, just revert it back to the non-Game Boost settings and it'll tell you when you exit the UEFI again.
Game Boost Speeds
CPU Clock
CPU Voltage
Setting 1
4.6GHz
1.257V
Setting 2
4.7GHz
1.276V
Setting 4
4.8GHz
1.305V
Setting 6
4.9GHz
1.305V
Setting 8
5.0GHz
1.382V
Setting 10
5.1GHz
1.411V
Setting 11
5.2GHz
1.507V
Checking the other Game Boost settings within the UEFI, presents an extremely easy way to overclock the motherboard, and a wide range of speeds. Game Boost mode does lock out certain overclocking features, so you can't make many adjustments after enabling Game Boost. The Game Boost dial goes from 0 – 11, but as you can see, it skips #3, 5, 7, and 9. Checking the other sections in the UEFI, these "missing" options weren't to be found, maybe they become available with other lower clock speed processors.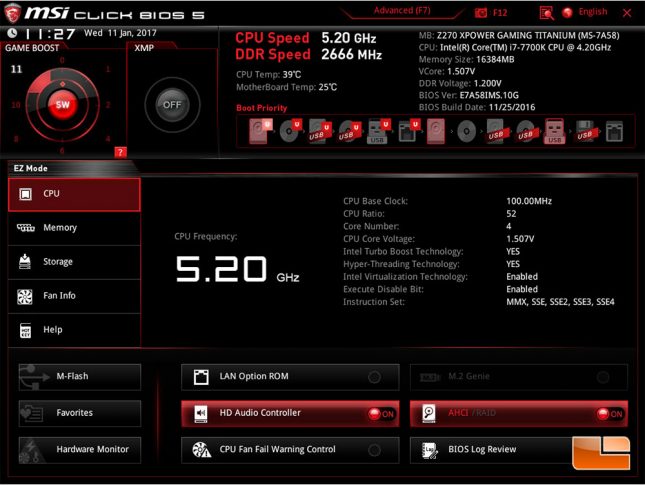 After a reboot, the UEFI comes back up (after a little text warning that we are using Game Boost settings, and MSI does not recommend changing any of them). XMP is disabled, however we can easily re-enable it if we want.