Maingear EPIC T1000 Thermal Cooling Solution Review
By
Test system and Installation of Maingear's EPIC T1000
Since the Maingear EPIC T1000 is for extreme enthusiast we picked one of our extreme rigs to test it on and see what kind of performance improvement we could achieve.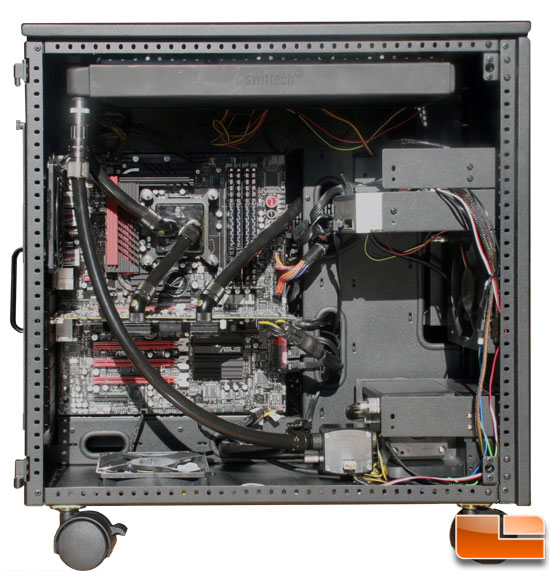 Intel i7 2700k
ASUS Maximus IV Extreme-Z
EVGA GTX 570 Classified
16 GB Corsair Vengeance 1600MHz
Corsair Force 3 GT 240GB SSD
Patriot Pyro 120 GB SSD
PQI 256 GB SSD
WD 2TB Caviar Black
Aqua Computer Aquaero 5 XT system controller
10x Scythe Gentle Typhoon AP-15's 1850 RPM
Swiftech MCR-320 radiator
XSPC RX360 radiator
EK Supreme HF full nickel CPU block
Koolance Vid-NX580 GPU block
Koolance RP-402X2 reservoir
Dual Swiftech MCP-35x PWM pumps in serial
Maingear EPIC T1000 installation procedure and re-flow:
Installing the Maingear EPIC T1000 is pretty tricky and at $10 – $15 an application you don't want to make too many mistakes. Rather than try to explain and write out how to install the T1000 we made a quick video that shows you how to clean the processor, install the T1000 application and what the reflow process looks like. Seeing your processor temperatures reach 98C isn't easy to watch, but you have to do it for the EPIC T1000 to reflow properly. If you are using a CPU water block like we are, be sure to tighten down the side with the EPIC T1000 on it first and then work your way to the other side of the block and tighten down those mounting screws. Once you fire up the PC and start the reflow process it is over in just over a minute, so be sure to think the steps through in your head before trying the reflow process. If you make a mistake you have an extra application, but if you make two mistakes you are out $20 or $30 and need to buy another kit!
Also be aware that the material is electrically conductive so be careful but the frame keeps it from running all over your motherboard.
One big tip for EPIC T1000: As you see your temperatures start to drop during reflow, tighten down the screws on the size that had the metal bump to assist in getting it to flow to the other side of your CPU.