Logitech G603 and G613 LightSpeed Wireless Mouse and Keyboard Review
By
Logitech G613 LightSpeed Wireless Gaming Keyboard
The G613 LightSpeed Wireless Gaming Keyboard is packaged in a box that matches the colorway and design of the G603 LightSpeed Wireless. Grey with blue foil accents are in use and the box has a very professional, clean look that might appeal more to an office user than a gamer, but that is just fine.

Part Number 920-008386
Warranty: 2-Year Limited Hardware Warranty
System Requirements:
LightSpeed:
Windows 7 or later
Mac OS X 10.10 or later
Chrome OS
Android 3.2 or later
USB port
Bluetooth:
Bluetooth-enabled device with Windows 8 or later
Mac OS X 10.12 or later
Chrome OS
Android 3.2 or later
iOS 10 or later
(Optional) Internet connection for Logitech Gaming Software.
(Requires LGS 8.96 or higher for advance settings.)
Tracking
Sensor: HERO
Resolution: 200 12,000 dpi
Max. acceleration: tested at >40G3
Max. speed: tested at >400 IPS3
Responsiveness
USB data format: 16 bits/axis
USB report rate: 1000 Hz (1ms)
USB report rate in LO mode: 125 Hz (8 ms)
Bluetooth report rate: 88-133 Hz (7.5-11.25 ms)
Microprocessor: 32-bit ARM
Durability
Main buttons: 20 million clicks with precision mechanical button tensioning
Feet: > 250 kilometers3
Battery life4
HI mode: 500 hours (non-stop gaming)
LO mode: 18 months (standard usage)
Package Contents:

G613 wireless mechanical keyboard
LIGHTSPEED USB receiver
Phone stand
USB cable extender
2 AA batteries
User documentation

Physical specifications:

Height: 18.8 in (478 mm)
Width: 8.5 in (216 mm)
Depth: 1.3 in (33 mm)
Weight : 3.1 lb (1410 g) keyboard only
Weight with AA batteries: 3.2 lb (1410 g)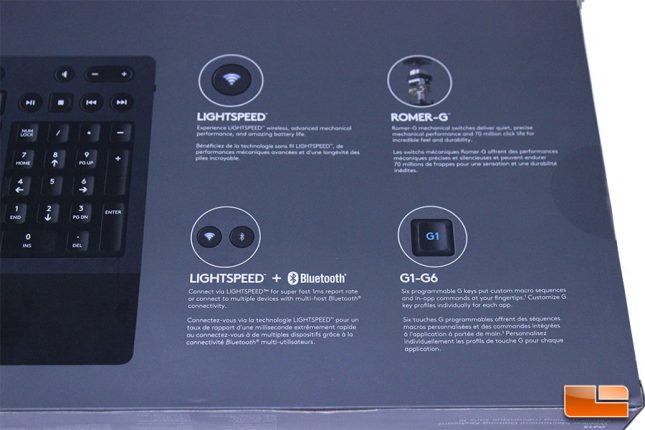 The G613 LightSpeed Wireless comes with a 2-Year warranty against manufacturers defects, which is a decent warranty for a keyboard, as we've seen many brands that only offer one year of support on their keyboards.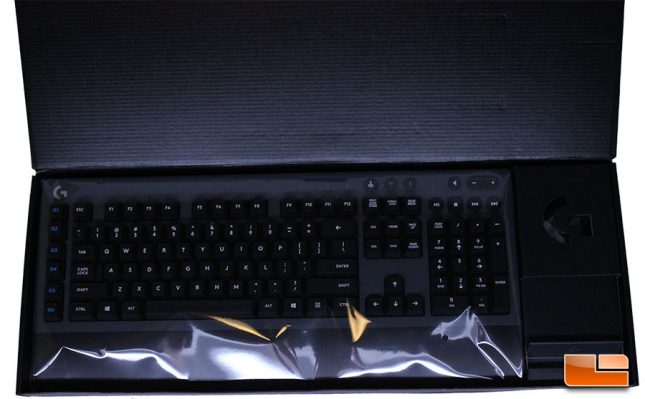 Logitech ships the G613 well-packaged, surrounded nicely and protected from potential shipping damage. Included in the box are a user guide, USB extension cable and LightSpeed Nano USB transmitter, which pairs with the specific G613 LightSpeed Wireless Gaming keyboard that it comes with, so do not lose it. Unfortunately, the LightSpeed Nano USB transmitters are not unifying like we've seen on other Logitech products, so you will need to install transmitters for both the G603 and G613 if they are run on the same machine. My sources at Logitech have said that it is possible that future LightSpeed transmitters will allow for more than one connection and that it is something Logitech is looking into, but for now, LightSpeed is limited to just one connection per transmitter.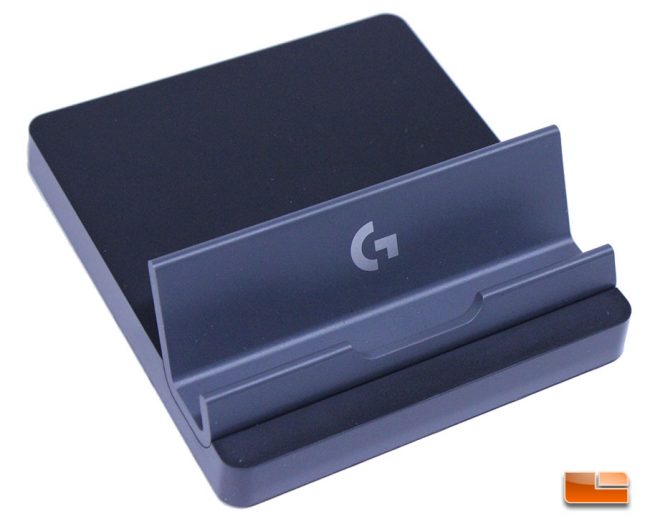 Logitech also includes a cell-phone/tablet stand with the G613 LightSpeed. This can come in useful when you want to keep a cell phone or tablet on your desktop to pair with the G613 LightSpeed, giving you an option that beats the heck out of the on screen keyboard. The cell-phone/tablet stand is definitely a nice value add to include with the G613, though I actually ended up using it as stand for my NVIDIA Shield TV remote, which is very easy to misplace, since I already have a Qi charger for my phone that stands it up vertically.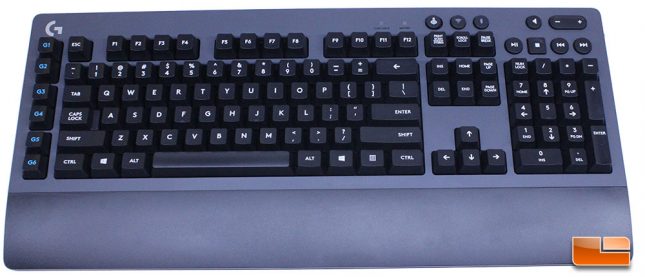 The G613 LightSpeed has a 108-Key US layout with a solid grey frame and flat bezels across the top and sides of the unit. Coming in at 3.2 pounds with batteries installed, the G613 is not a lightweight accessory, by any means, which may limit its appeal to those looking at it from a portability standpoint. There is a non-removable built-in wrist rest in a different shade of grey. There is a steel backplate underneath the keys, which lends to the rigidity and durability of the G613. The frame and wrist rest of the G613 LightSpeed have excellent build quality, offering minimal flex and giving peace of mind that this keyboard is going to be able to survive over the long haul.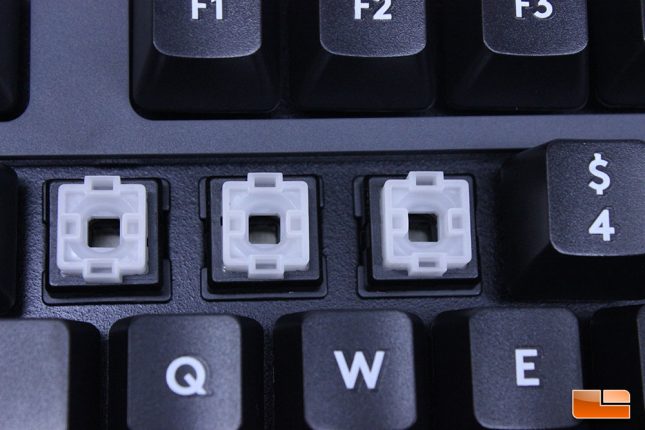 Logitech has equipped the G613 LightSpeed with their Romer-G mechanical switches on every key, except for the media buttons. The Romer-G switch was developed by Logitech in a partnership with Omron and they offer a slight tactile bump with an actuation point of 1.5 mm, which is currently only bested by the non-tactile Cherry MX Rapidfire, as far as I know. The Romer-G switch was built to allow for an LED to sit in the center stem for a uniform lighting, but the G613 omits lighting in favor of longer battery life, so we don't see that feature used here. Logitech and Omron rate the Romer-G switch for 70 Million clicks and I've found them to be an excellent switch once you get used to the way they feel.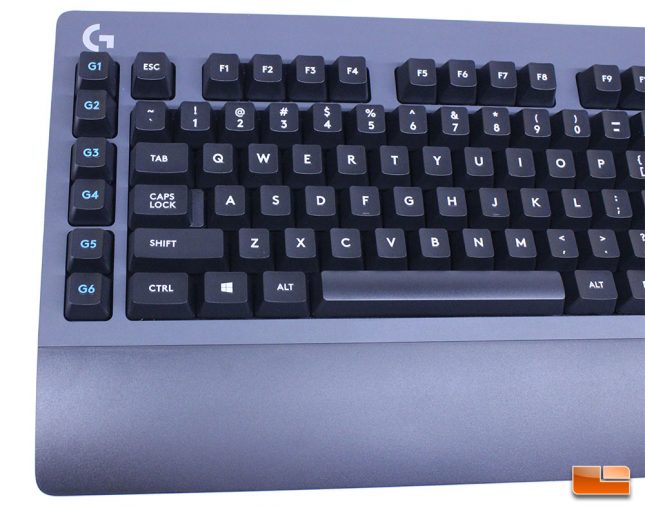 Six programmable macro keys line the left side of the G613 LightSpeed and they feature the same Romer-G switches as the rest of the keyboard to allow for consistent, responsive presses. These macro keys are spaced in groups of two and are easy to reach with your left pinky finger when you are typing, so they can allow for some real functionality when in-game. You can program these buttons to do multiple key presses at the same time, so if you want to do some crouch-jump action in PUBG without having to do odd keybinds, it is totally possible with the G613 LightSpeed and accompanying Logitech Gaming Software.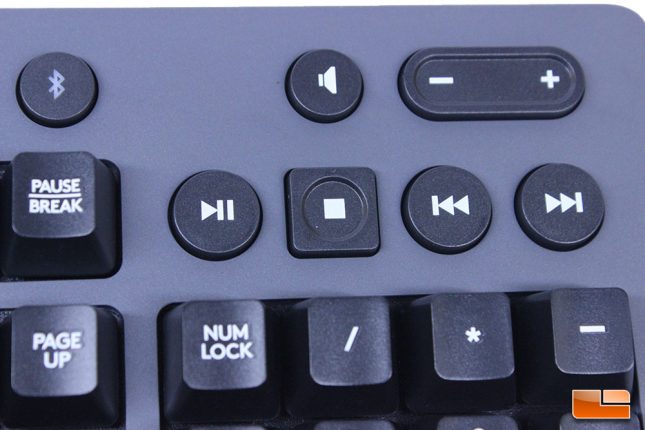 The upper right corner of the G613 LightSpeed features a full set of media controls, including a volume rocker and mute button. The stop button is square to help differentiate from the others, but with so little buttons present, we think just leaving them all the same shape for a cleaner aesthetic would have been the right design choice. The media control buttons all have a solid, consistent feel and were responsive to my presses.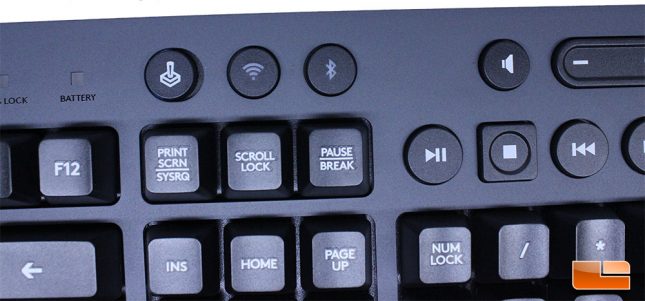 To the left of the media keys there are buttons to toggle between Bluetooth and LightSpeed operation, in addition to a Game Mode switch, which disables the Windows key (or any other key you program in LGS) to prevent it from being pressed during the heat of battle and accidentally tabbing out of your game. These buttons are in a clever, easy to reach area that remains out of the way of potential accidental presses. When you press either button, it will light up for about four seconds to let you know which wireless mode has been activated: LightSpeed or Bluetooth. To the left of the toggle buttons, we find a CAPS LOCK and battery life indicator, which will show up green during use and flash as the battery drains and nears the end of its useful life.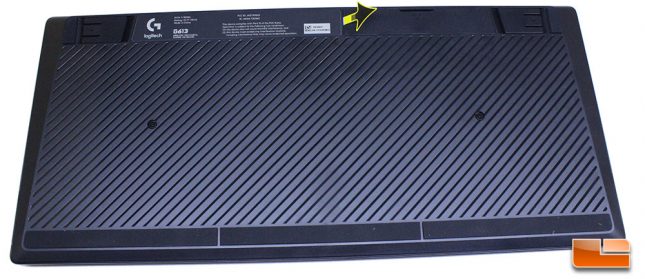 The bottom of the G613 LightSpeed has a slotted plastic along with three rubber feet that cover the entire bottom of the wrist rest area that helps it grip very well to whatever surface it is on. On the top portion of the bottom of the G613 LightSpeed there is a battery door that can easily be removed to install new AA batteries. The wrist rest is built into the keyboard, which definitely doesn't help the portability factor.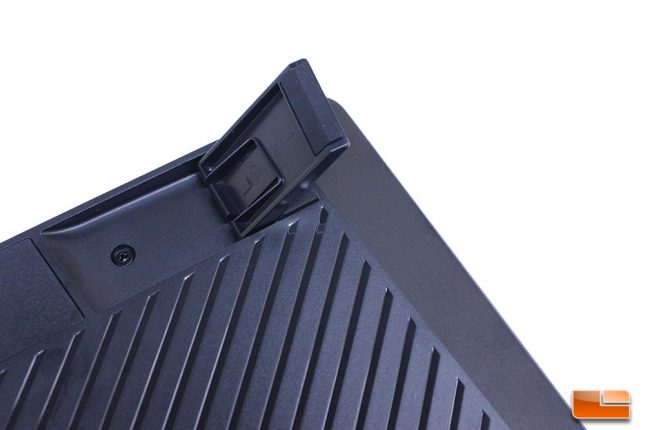 Adjustable feet on the bottom of the G613 LightSpeed allow for optimal height adjustment. I found the keyboard to be perfectly comfortable in its stock, flat configuration, but different users will have varying preferences in this regard, so it is nice to see some level of height adjustment on the G613. These height adjustment feet are stable and didn't have any issues staying in place and keeping the keyboard stable under aggressive use scenarios.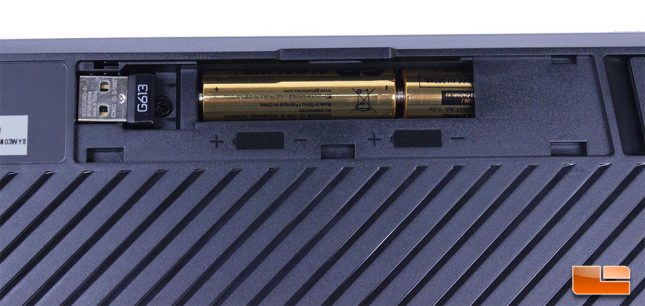 The battery area of the G613 LightSpeed easily opens and has an area where you can store your LightSpeed Nano USB receiver. When the G613 LightSpeed ships, the batteries are already installed and the receiver is in this location. Logitech gives users instructions on how to remove the cover and activate the keyboard.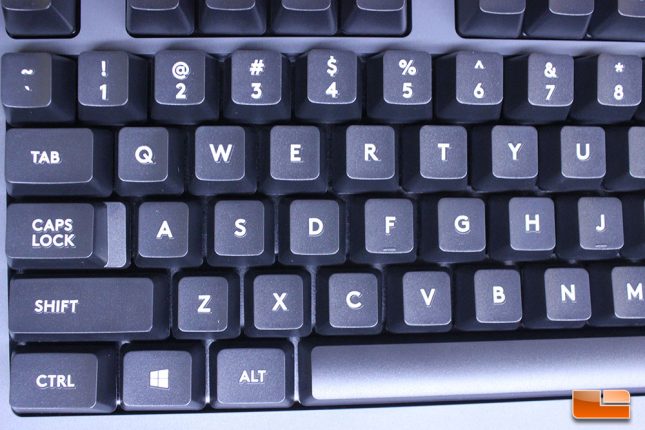 Overall, the G613 LightSpeed is built to last, with solid build quality found throughout the keyboard. The keyboard grips well on various surfaces and has a great feeling when typing, without any plate flex or other notable build issues present. The included wrist rest works well, keeping your hands more level with the typing surface, as wrist wrests are intended to do. While the use of UV coated key caps instead of ABS doubleshot key caps was a bit of a letdown, I was thoroughly impressed by the other aspects of the G613. The LightSpeed wireless connection of the G613 worked well, even if I got several feet from the PC. Trotting the keyboard fifteen to twenty feet away still allowed it to work, so the G613 LightSpeed has a decent amount of range.
I found myself using the Logitech G613 LightSpeed quite a bit since it arrived here for testing and it's taken up a place as a mainstay in my desktop setup, though I am patiently awaiting a wireless version of the Logitech G Pro keyboard to come along and sweep me off of my feet.
Let's take a look at the Logitech Gaming Software and how it interacts with the G603 and G613.