Linksys WRT1900AC Dual Band Smart WiFi Wireless AC Router Review
By
Linksys WRT1900AC – A Rejuvenated Classic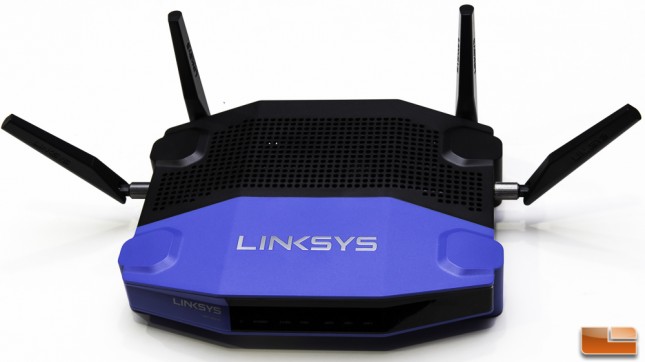 The Linksys WRT1900AC Dual band Smart WiFi Router takes its design and inspiration directly from the original WRT54G blue/black stackable classic look. The WRT1900AC is designed to be the most powerful and feature-rich home and small office network router available on the market today. For those who are reminiscing about the good old days of networking, the folks at Belkin/Linksys have served up a new router that not only has an iconic look, but one that is equipped with all the bells and whistles any user needs.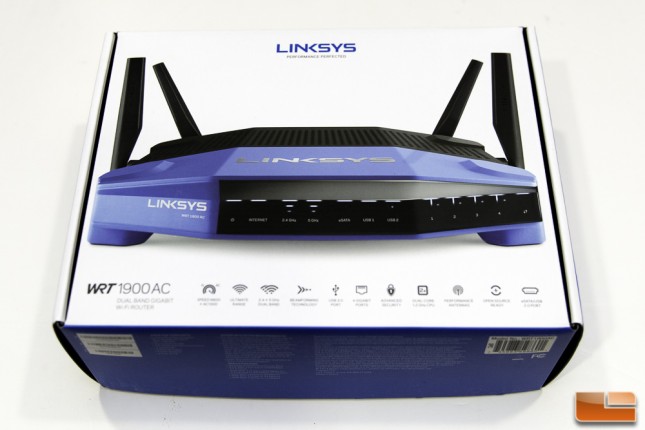 The Linksys WRT1900AC features 4 external antennas that are independently rotational. The unit is built very solid and certainly wont fly away in the breeze. Its easily the heaviest router we have had to test. Obviously, this is designed to help the overall wireless coverage of the unit. Not only are they placed around the perimeter of the Linksys unit, they can rotate in every imaginable angle thanks to their ball joints. Linksys has included active Beamforming where the WRT1900AC focuses signal to your wireless device for optimal performance. The versatility of the antennas and their mounts, along with this beamforming capability should help in optimizing any wireless performance. The Linksys WRT1900AC is powered by a dual-core 1.2GHz ARM-based processor, with 256MB of DDR3 RAM and 128MB of Flash memory. Like many routers on the market today, you can attach a USB-enabled hard-drive to create your own Network Attached Storage (NAS). What is not so common is the inclusion of USB 3.0 and an eSATA port to make data transfers to devices on your network incredibly fast.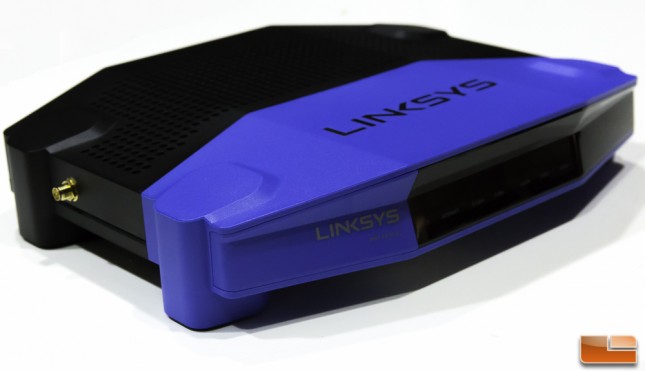 Unlike other Wireless-AC routers we have looked at, this open source router is rated at 1900AC which means that the 5 GHz band can connect as fast as 1300 Mbps (or 1.3 Gbps). The 2.4 GHz band has a maximum throughput of 600 Mbps for anyone who has legacy devices that they want to use on your network. On paper, the Belkin/Linksys WRT1900AC router looks pretty stout with some of the industrys fastest wireless and wired throughput. All of this performance comes at a price, however. The Linksys WRT1900AC can be purchased for $234.77 shipped, making it easily the most expensive wireless router we have tested. For this cost, we expect nothing less than blazing fast Wi-Fi speeds and second-to-none network processing.
Linksys WRT1900AC Specifications:
Technology: Wireless-N & AC
Bands: 2.4 & 5 GHz
Processor: 1.2 GHz dual-core ARM-based
Antennas: External antennas 4x
Ports: 4 x Gigabit LAN, 1 x Gigabit WAN, 1 x USB 3.0 + 1x eSATA/USB 2.0
PowerAdapter: 100-240V -50-60- Hz
Storage File System Support: FAT,NTFS,and HFS+
LEDS: Power, Internet, 2.4 GHz, 5 GHz, LAN (10/100 Mbps or 1 Gbps), USB 3.0, USB 2.0, eSATA, Wi-Fi Protected Setup
VPN Support: PPTP IPSec pass-through
Media Specifications: UPnP Server
Memory: 128MB Flash, 256MB DDR3 RAM
Warranty: 1 year hardware limited warranty
OScompatibility: Windows, Mac
Wireless: 802.11b: up to 11 Mbps, 802.11a/g: up to 54 Mbps, 802.11n (2.4 GHz): up to 600 Mbps, 802.11ac (5 GHz): up to 1.3 Gbps, Simultaneous Dual-Band 2.4 GHz and 5 GHz Next-Generation Wireless-AC Technology For Powerful Networking.
IPv6support: Native IPv6 and 6rd support
While the specifications of Linksys' new flagship are tremendously impressive, lets take a look at setting up the router and getting it up and running.