Lamptron Hummer 5-Port Military Switch Baybus
By
Testing And Conclusion
And here we have the money shot of Hummer Baybus…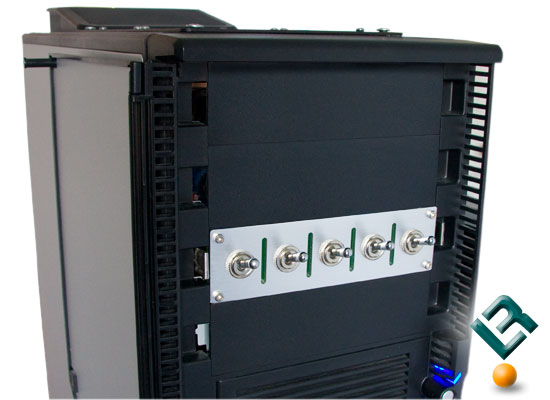 The Lamptron 'HUMMER' 5-port military switch baybus is available with an anodized black aluminum or aluminum silver finish and for this install the anodized black aluminum would have been a better choice.
When it came to testing the Hummer, I plugged in the two fans on my watercooling radiator and the water pump itself. The Hummer can handle up to 100w per switch, so if you have a 12v Molex based device in your system, odds are that the hummer can control it.
In the specifications of the hummer, there wasn't really any mention of whether the Hummer could run the devices at different levels of voltage (Like their Fan-Atic Baybus can), so when the PC booted up I flicked one of the switches and waited to see what happened.
Sadly the fans that I had just switched turned off completely which means that there is no intermittent voltage control with the Hummer, just 12v and off.
That is about all the testing I can do, so let's wrap up this review.
Final Thoughts and Conclusion:
The Lamptron Hummer 5-Port Military Switch Baybus is a very sharp looking fan controller. It is rated for 100w per switch and can easily cope with anything that uses 12v and has a Molex connector in your system.
The Hummer Baybus has a MSRP of ï9.95, which should work out at anything from $15-$20 (Hardware companies have a funny way of converting to $ and vice versa). This will put the Hummer as one of the lowest cost multi-fan controllers on the market (when you can find it for sale). However, this price point comes with a serious drawback for user customisable fan control: the lack of an intermediate fan setting, as all that is available is a full 12v or off.
The saving grace of the Hummer is that it isn't limited to just running fans. If you have lots of devices that run on 12v and use a Molex connector then you can still make great use of the Hummer Baybus. It would be ideal for turning on and off case lights or any other fancy 12v on/off devices you have in your system. The 100w rating per switch even means that you could daisy chain a few low power devices onto the same switch.
Lamptron has designed a great looking baybus with the Hummer (especially in black), but if you are looking for customisable fan speed control, this device is not for you. The people that this device will suit the best are those looking for an easy way to turn off things like case lights, etc.
Legit Bottom Line: The Lamptron Hummer Baybus is a great looking fan controller. It is rated for 100w per switch so can be used to control pretty much anything running on 12v with a Molex connector. Its Achilles heel is that it only supports 12v and off, so it doesn't offer much in the way of control, but will still work great with other 12v devices.