Lamptron Hummer 5-Port Military Switch Baybus
By
Lamptron Brings Out The Hummer
It was only recently that I first heard of the company Lamptron, so they must have done something right with a recent push in marketing or similar. Before we get on with our review, as not many people will know who Lamptron is, let's introduce them with a blurb from their website's 'about us' page:

"Lamptron develops and markets the next generation of high performance computer peripherals using the latest technology that enables a new level of interaction between the end-user and their personal computer. Products developed are through a combination of proprietary technology, innovation and ergonomic industrial design. There are three principal business sectors:

1. PC Gaming products

2. PC Silence products

3. PC Modding products

Our Global success is attributed to three basic visionary attributes:

1. Continue to offer innovation products which means the products are in the highest quality and innovation.

2. Providing our global partners with a level of service that is consistent with our premium product range.

3. Helping our global partners grow, through reliable service, quality products, flexibility and co-operation. This simple philosophy has allowed us to build long standing relationships with global distributors."
Simply put, what all of that means is that they make lots of nice gadgets and gismos for modding your PC. If you are into modding, or are simply wondering what it is that Lamptron sells, I'd recommend checking out their website.
So, for review today I have their Hummer 5-Port Military Switch Baybus. It has a MSRP of ï9.95, which should work out to be $15-$20 when it is available to those in the United States in the coming weeks.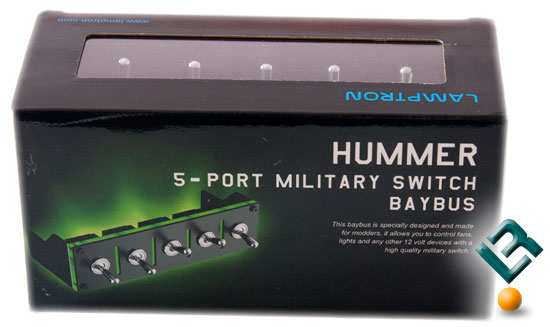 When first I opened the package the baybus came wrapped in, the first thing I saw was the black version of the fan controller on the side of the box. I thought it looked very sexy, and must admit I was a little disappointed to find that I had been sent the silver version. Don't get me wrong though, the silver version is still very nice.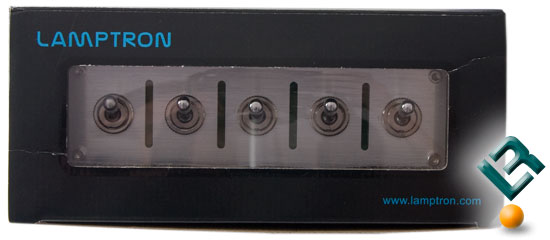 The box contains a window on the top to showcase the Hummer Baybus, and as you can see, the baybus looks quite sharp.
The specifications on the side of the box read like this:
| | |
| --- | --- |
| Dimensions | 5.25″ Bay (148mmx42mmx80.8mm) |
| Max Power | 100w per channel |
| Colours Available | Aluminum Black/Aluminum Silver |
With a 100w power rating per switch (a total of 500w across the baybus) the Hummer can be used for just about anything that has a 12v Molex connector. There is no mention of the speeds to which the Hummer can adjust, so I'm hoping that it will be more than just on and off.