Kingston UV500 SATA SSD Review – Self-Encrypting Drive
By
Kingston UV500 Self-Encrypting Drive
Protecting data has always been important, but over the past year the general public and most any business have become security-conscious. SelfEncrypting Drives (SEDs) have been on the market for years, but very few people actually fully utilize these drives. Like the name implies, a self-encrypting drive uses an encryption engine built into the SSDs controller to encrypt every file stored on the drive. This hardware-based encryption method offers a high level of data security, is invisible to the user, cannot be turned off and does not impact performance.
An SED is a life saver for many businesses as software encryption solutions can take hours to enable and all future data written to the drive will need CPU horsepower to do the encryption. This impacts system performance and is the least desirable and secure method for encryption. Since an SED SSD is already encrypting all its content, securing the drive might be as easy as enabling a password for the drive. By setting an 'ATA password' in your systems UEFI/BIOS you can easily secure a SATA SSD. The only kicker is that only a handful of modern desktop boards still have the option for an ATA password to be set, but it is still fairly common on laptops and business PCs. If your motherboard doesn't support an ATA password you can use a third party utility like McAfee Endpoint Protection for PC, WinMagic SecureDoc or Wave Embassy Trust Suite to secure the drive.

The reason we are talking about hardware encryption on an SSD is because Kingston recently added the UV500 SSD series to both their consumer and business SSD lineup. This is Kingston's first 3D TLC NAND Flash powered SSD to have hardware encryption and it is currently the only drive in the consumer lineup to offer encryption. The UV500 series is actually a touch slower than Kingston's older UV400 series, but its available in more form factors, larger capacities and has AES 256-bit Hardware Encryption. The UV500 drives also support TCG Opal 2.0 security management solutions and that is a crucial feature for businesses where the IT department needs to manage employees drives. This means that the UV500 series can protect your sensitive data if properly setup and then it will meet EU General Data Protection Regulation (GDPR) compliance.
Kington's UV500 series uses the Marvell 88SS1074 controller along with Toshiba's 64-layer 3D TLC NAND Flash (BiCS3) in capacities ranging from 120GB1.92TB. Since the UV500 SATA III SSDs are available in 2.5-inch, M.2 and mSATA form factors, which ensures that they'll work on pretty much any desktop or laptop model out there. On the performance front this series is rated at up to 520 MB/s read and 500 MB/s write for sequential workloads. Random 4K performance tops out at 79,000 IOPS read and 50,000 IOPS write. These aren't the fastest SSDs by any means, but they still run faster and are more reliable than a hard drive. Moving to an SSD will instantly improve your systems responsiveness with incredible boot, loading, and transfer times.
Kingston UV500 SSD Series Specifications
Controller: Marvell 88ss1074
NAND: Toshiba 64-layer 3D TLC NAND Flash (BiCS3)
Capacities: 120GB, 240GB, 480GB, 960GB, 1.92TB
Power Consumption: 0.195W Idle / 0.5W Avg / 1.17W (MAX) Read / 2.32 W (MAX) Write
Sequential Read/Write

120GB up to 520/320MB/s
240GB up to 520/500MB/s
480GB up to 520/500MB/s
960GB up to 520/500MB/s
1.92TB up to 520/500MB/s

Maximum 4K Read/Write

120GB up to 79,000/18,000 IOPS
240GB up to 79,000/25,000 IOPS
480GB up to 79,000/35,000 IOPS
960GB up to 79,000/45,000 IOPS
1.92TB up to 79,000/50,000 IOPS

Endurance – Total Bytes Written (TBW)

120GB 60TB
240GB 100TB
480GB 200TB
960GB 480TB
1.92TB 800TB

Warranty: 5-Years
We've gathered up almost all the drives from this series and will be doing some quick performance testing on them to show you how they perform. The drives that we'll be looking at today are all 2.5″ drives and are 120GB, 480GB, 960GB and 1.92TB in capacity. The only drive capacity that we don't have for testing is the 240GB drive.
When it comes to pricing on the 2.5-inch Kingston UV500 series drives you'll find that it ranges from $0.23 per GB up to $0.36 per GB depending on what capacity you get. The best bang for the buck right now would be the Kingston UV500 480GB drive that is available for $112.13 or $0.23 per GB. SSD pricing has really come down in recent years and it is pretty impressive that we are now seeing under $0.25 per GB for an SED SSD!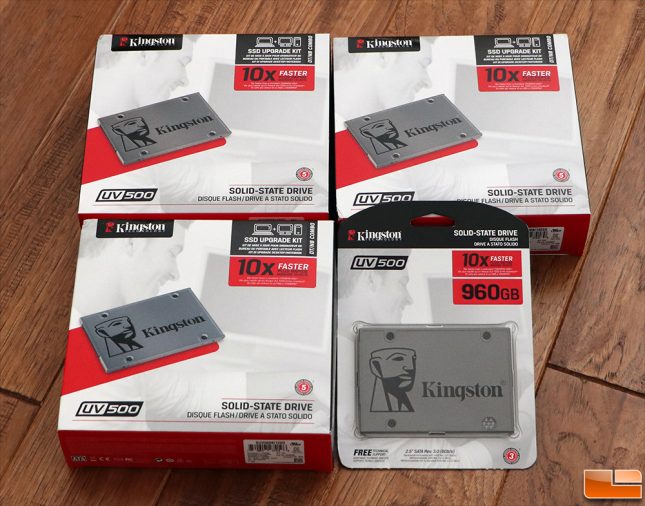 Kingston offers 18 different part numbers for this series despite only having five capacities. This is because they offer it in three different form factors. It should be noted that the UV500 series is available up to 480GB in the mSATA form factor, up to 960GB in the M.2 2280 'gum stick' form factor and up to 1.92TB in the largest 2.5″ form factor. You can get the 2.5-inch drives as a desktop/laptop upgrade kit that includes a USB enclosure, desktop mounting bracket, SATA power/data cable, 7mm to 9.5mm adapter and cloning software. All told, there are 17 different UV500 drive models to pick from.
SUV500/120G Stand-alone drive
SUV500/240G Stand-alone drive
SUV500/480G Stand-alone drive
SUV500/960G Stand-alone drive
SUV500/1920G Stand-alone drive
SUV500B/120G Desktop/Notebook upgrade kit
SUV500B/240G Desktop/Notebook upgrade kit
SUV500B/480G Desktop/Notebook upgrade kit
SUV500B/960G Desktop/Notebook upgrade kit
SUV500B/1920G Desktop/Notebook upgrade kit
SUV500M8/120G M.2
SUV500M8/240G M.2
SUV500M8/480G M.2
SUV500M8/960G M.2
SUV500MS/120G mSATA
SUV500MS/240G mSATA
SUV500MS/480G mSATA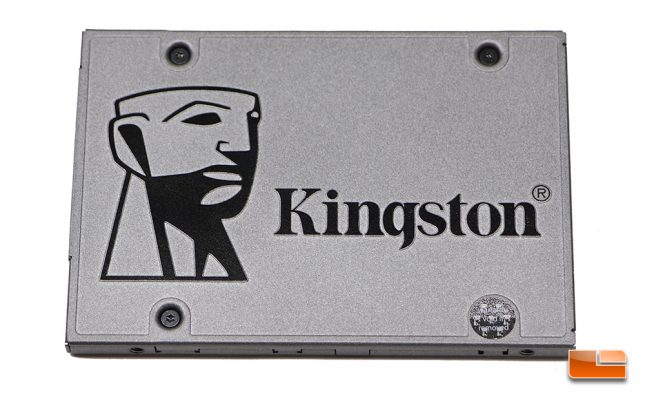 The Kingston UV500 2.5-inch drive uses the standard SATA data/power connectors and is 7mm thick. The drive enclosure is metal with a nice gray finish and the Kingston logo on the front of the drive.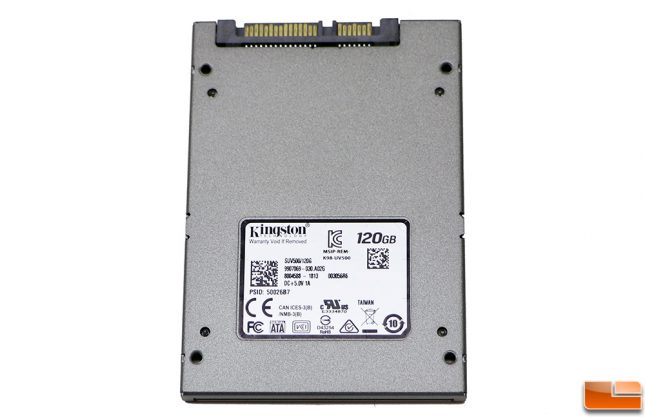 The back of the drive has a product label on it that contains some very useful information. The most important bit of data on the back of this SED drive is of course the Physical Secure ID (PSID) number. The PSID is unique to each drive and is your way to factory reset the drive if its fully encrypted and you are no longer able to access it because of a lost password or an application blew your install up. The PSID is printed on the disk label and visible to anyone with physical access to the SED. The PSID is not electronically retrievable from the SED. If the disk label is damaged and you can't read the PSID, it is lost and cannot be recovered. Using the PSID will result in the drive being wiped (all user data is lost) and acting like it is firing up for the very first time.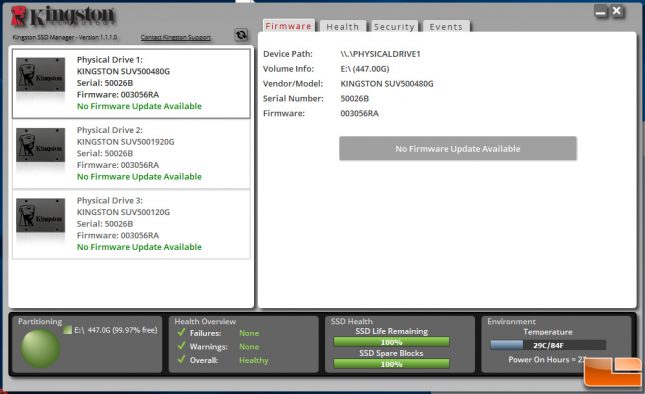 The UV500 series is supported by Kingstons SSD Manager application that can be used to apply firmware updates, secure erase the SSD, and manage TCG Opal and IEEE 1667 encryption among other things.