Kingston HyperX Predator 16GB 2400MHz CL12 DDR4 Memory Kit Review
By
Looking At More Affordable HyperX Predator DDR4 2400MHz Memory
Legit Reviews has looked at nearly a dozen kits of DDR4 memory over the past several months and we've had a chance we've had a chance use some of the not so exciting JEDEC standard 2133MHz kits and then the super high-end 3300MHz memory kits that were the fastest that one could be. The first DDR4 memory kit that we reviewed was the Kingston HyperX Predator 16GB 3000MHz DDR4 memory kit that runs $373.99 shipped online. Over the past several months we've found that once you hit a certain DDR4 clock frequency it doesn't make financial sense to buy such kits. If you go with a good 2400MHz memory kit and tighten up the timings the chances are very slim you'll see any performance benefit from a 3000MHz or beyond memory kit. Our favorite DDR4 memory kit to date is the Crucial Ballistix Sport 32GB 2400MHz DDR4 memory kit. We were able to overclock that 2400MHz memory kit up to 2666MHz with 12-12-12-24 1T timings and it only cost $449.99 Shipped when our review went up on October 11th. Since word has gotten out about how good that kit is the price has skyrocketed up to $528.41 shipped, which has put Legit Reviews back to work to see if we can find another solid memory kit for enthusiasts. We went looking to see if other 2400MHz memory kits might be as good and we gave the Kingston HyperX Predator 16GB (4x4GB) DDR4 memory kit a shot.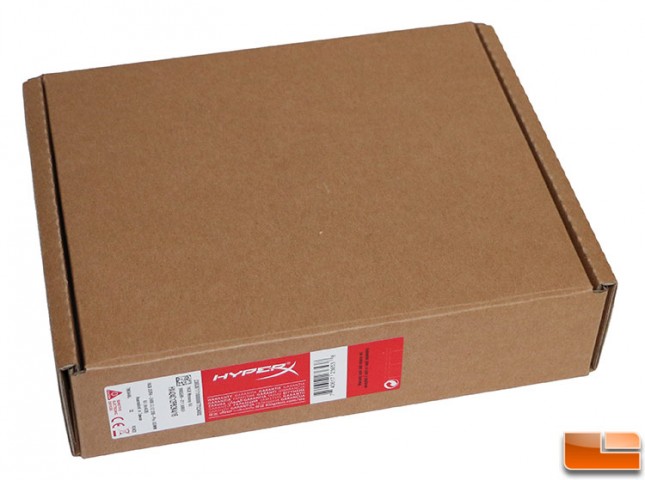 While Kingston is ramping up production of their DDR4 memory kits for the Intel X99 platform they are slowly releasing 16GB DDR4 DRAM kits (4x4GB) with clock frequencies ranging from 2133MHz to 3000MHz. The exact memory kit that we have today is a 16GB (4 x 4GB) 2400MHz DDR4 set sold under part number HX424C12PB2K4/16. You can break down that model number to meaning:
HX424C12PBK4/16
HX=HyperX
4=DDR4
24=2400MHz
C12: Cas Latency
PB=Predator Black
K4/16=kit of 4 / 16GB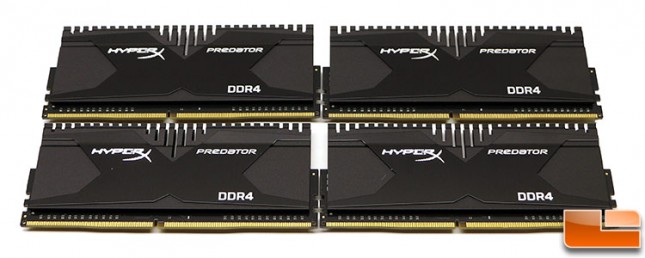 When it comes to pricing we have found that Kingston e-tail pricing to be a bit on the higher side, but the price difference between the 2133MHz, 2400MHz and 3000MHz memory kits is almost nonexistent. Here is what the pricing looks like on Amazon at the time we were writing this article:
You are looking at spending around $358 for this Kingston HyperX Predator 16GB 2400MHz memory kit. How does that compare to other big name brands here in North America? Let's take a look at a few key competitors in this market:
Most other brands are asking around $299 for a 16GB 2400MHz DDR4 memory kit, so Kingston is coming in about $58-64 higher for their kit of memory. We expect Kingston to become more price competitive as inventory stabilizes as right now DDR4 memory chip supplies are tight.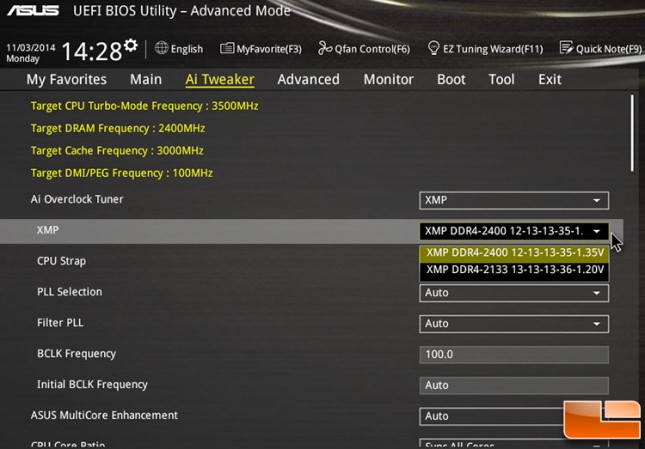 The HyperX Predator DDR4 HX424C12PB2K4/16 memory kit comes with two Intel XMP 2.0 memory profiles that the motherboard UEFI/BIOS will be able to pickup when it reads the SPD for quick and easy setup. The two profiles that are programmed in this kit are:
Profile#1 = 2400MHz (PC4-19200) at 12-13-13-35 @1.35V
Profile#2 = 2133MHz (PC4-17000) at 13-13-13-36 @1.20V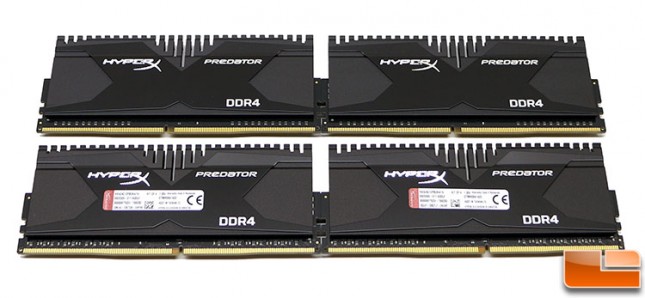 The Kingston HyperX Predator DDR4 modules that we are looking at today are unbuffered DDR4 SDRAM in 288-pin DIMMs. Right now Kingston offers just 4GB modules for a maximum of 16GB on standard four-socket Intel X99 motherboards. DDR4 has the ability to scale to 16GB per module and we expect to see the first modules with that density hitting the market in 2015. DDR4 will be around for years to come, so expect to see large 64GB quad-channel kits in the future and we would be shocked to see speeds over 3500MHz and voltages below 1.2V will be seen in the years ahead.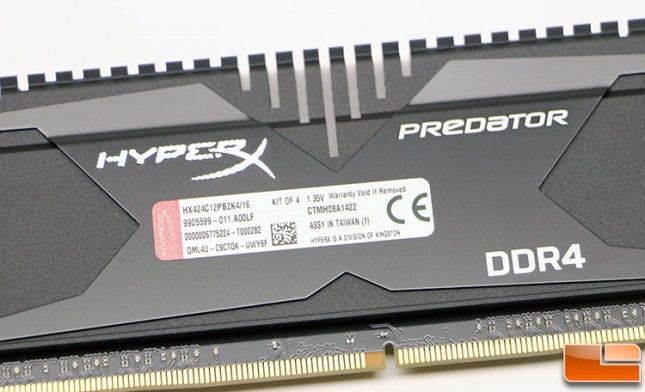 The label on the Kingston HyperX Predator DDR4 memory modules lets you know the model number and voltage required for proper operation, but does't list the exact timings of the module. This can be found in the UEFI under the XMP settings, but we always favor that information being on the label. It is out understanding that Kingston is using Hynix MFR DDR4 memory ICs on this module.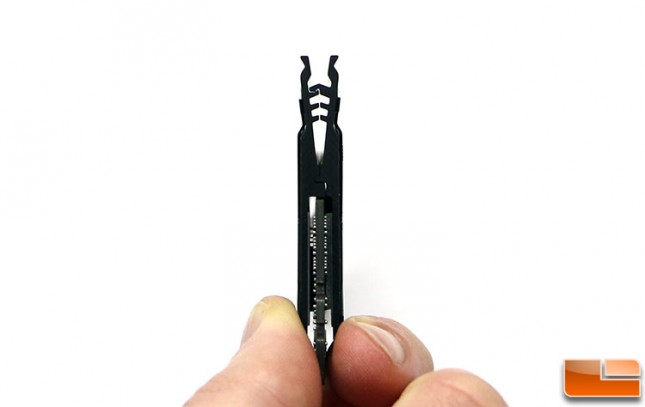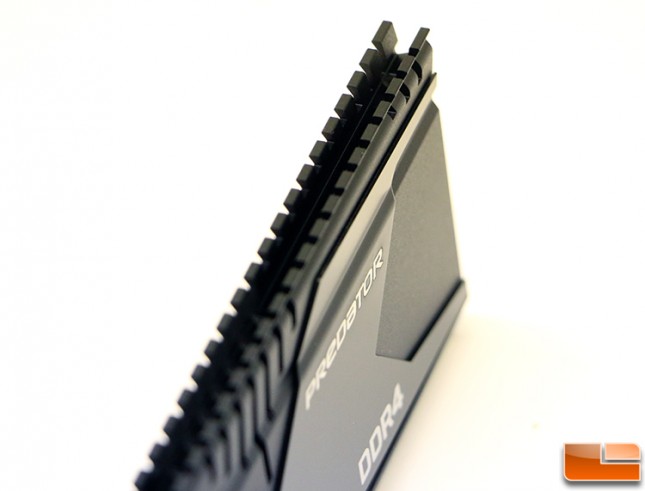 The Kingston HyperX Predator DDR4 memory series features a very nice looking heat spreader that has a charcoal black HyperX logo in the middle on a metal plate that resides on top of actual heat spreader that has a gun metal gray finish. This heat spreader design was used on the HyperX Predator DDR3 memory line, so other than the colors it is a tried and tested design that helps in thermal dissipation for improved reliability and it also helps give the modules a better visual appearance. We've run DDR4 memory modules without heat spreaders well beyond 3000MHz without any issues, so just like on DDR, DDR2 and DDR3 the heat spreader is more for looks than functionality and that is true with every brand out there. The HyperX Predator DDR4 module measures 55.25mm in height, which makes it one of the taller memory modules out there and it could be an issue in some systems where someone is using a low profile CPU cooler or something along those lines.
Let's take a look at the test system and get straight to the benchmark results!