Kingston HyperX Blu 1600MHz 16GB (2x8GB) Memory Kit Review
By
Kingston Memory's First 2x8Gb Memory Kit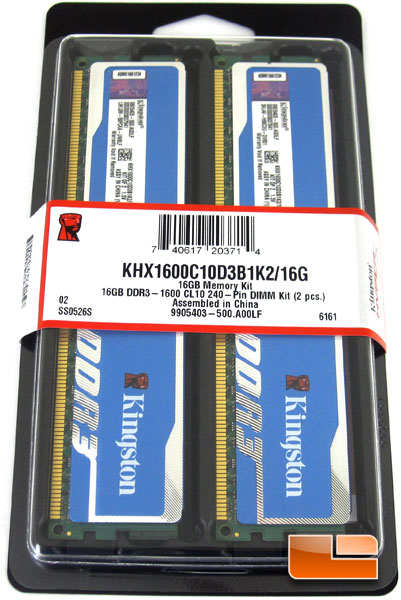 When I think about memory, and which one to use Kingston is always on my short list. Kingston has been a player in the memory market since 1987 when the entered the market with a single product. Since then Kingston has branched out into several other products including SSD's, USB thumb drives, flash memory, and of course expanded their memory product line. Today we are going to look at one of their Kingston HyperX memory kits. The Kingston HyperX Blu (KHX1600C10D3B1K2/16G) 16Gb memory kit consists of two 8Gb memory modules. This particular Kingston HyperX Blu memory kit is rated at 1600MHz with a CAS latency of 10.

The Kingston HyperX Blu product stack has a number of available memory kits. The DDR3 Kingston HyperX Blu line ranges from a single 2Gb module at 1333MHz CL9 up to our 16Gb 1600MHz CL10 kit.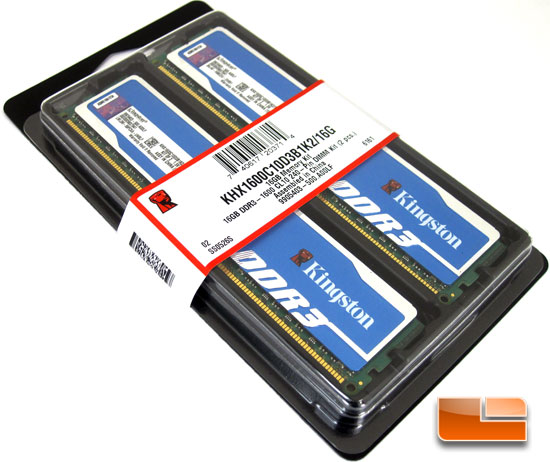 The packaging for the Kingston HyperX Blu 16Gb memory kit isn't flashy in the least. Does it need to be, not at all. On the label we can find most of the information that we need, the part number – KHX1600C10D3B1K2/16G, how much memory 16Gb on this particular set, the frequency rating of 1600MHz, and the CAS Latency of CL10. I did notice that the rest of the memory timings aren't on the label anywhere. We were able to find the timings of 10,10,10 on the online datasheet from Kingston. Though there was nothing on the cycle time (tRAS) that we could find. Hoping to find what I needed, I fired up CPUz.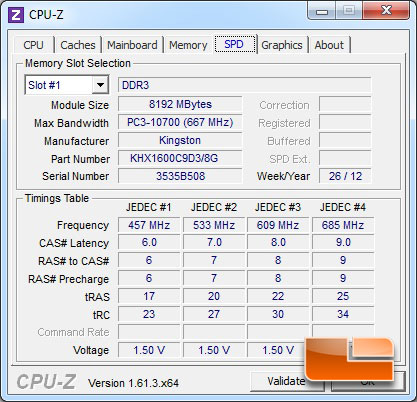 To our dismay, there is no JEDEC settings for 1600MHz on the Kingston HyperX 16Gb kit. This did come as a little bit of a shock to us, we had no way to set the tRAS setting accurately. Fortunately the tRAS settings doesn't make a huge difference in the overall performance.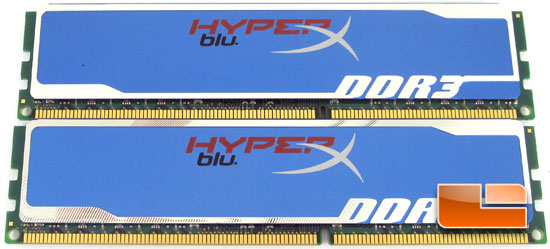 One side of the Kingston HyperX Blu memory modules heat spreader is adorned with the HyperX Blu logo, as well as DDR3. It's sharp looking, but once it's inside of your system it's rarely seen.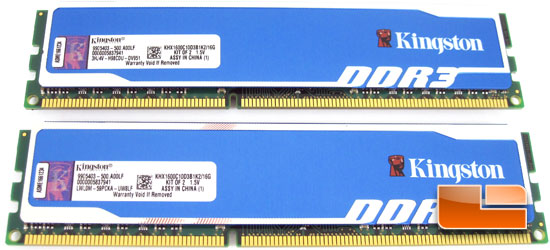 The other side of the DIMMs is similar, but is lacking the HyperX Blu logo. Instead we have the Kingston logo as well as the label with the kit information.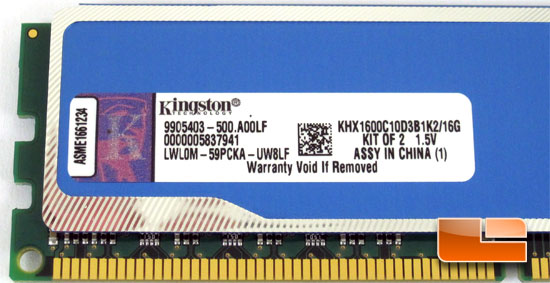 A close up of the label reveals that the memory timings aren't on here either. It does however feature the model number (KHX1600C10D3B1K2/16G) as well as the recommended voltage of 1.5V.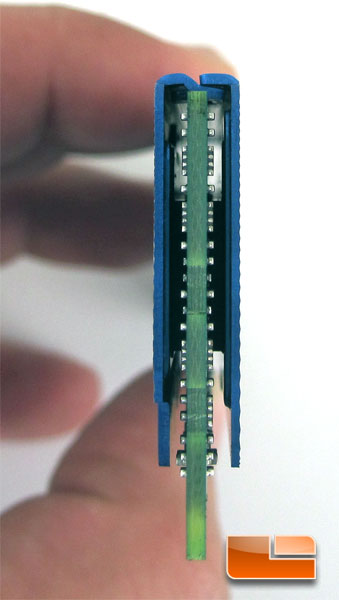 There isn't much to the heat spreaders on the Kingston HyperX Blu memory modules. They definitely look better than bare memory though.