Intel Optane Memory Tested With Secondary Hard Drive
By
Intel Optane Memory Now Works On Secondary Drives
Last month, Intel revealed a number of changes to help promote their Optane Memory line. You know what Intel Optane Memory is right? Intel Optane Memory comes on a M.2 2280 'gumstick' drive and has super fast Intel 3D Xpoint memory chips on it. Once installed into an open M.2 slot, Intel software allows you to cache slower SATA based storage devices like hard drives. By adding a non-volatile (retains data when powered off) cache to a spinning disk you'll end up with faster response times and have 'SSD like' performance in a wide range of applications. Intel offers 16GB, 32GB and 64GB Optane Memory modules and bigger is better as it allows for the storing of more of your most frequently used data. If you have a hard drive and are looking for a way to speed up game load times, content creation applications, improve your web browsing experience and open and close pretty much every app known, an Intel Optane Memory module could be your savior. The best thing is that pricing starts at just $24.99 shipped, so it's an affordable upgrade and thankfully very simple to install.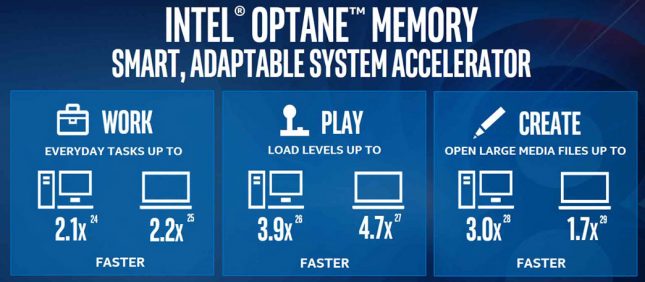 Intel Optane Memory has been around for more than a year, but when it was launched in Q1 2017 it could only be used to accelerate one Windows 10 SATA boot drive and only one module is supported per system. Many in the PC community wanted to accelerate hard disk drives that weren't the boot drive and let Intel know that if Optane could be used to cache mechanical hard drives that they would sell more Optane Memory sticks. The chip giant has listened to customer feedback and is allowing Optane software to cache data from any single SATA hard drive in a system, regardless of it being a primary/boot or secondary volume!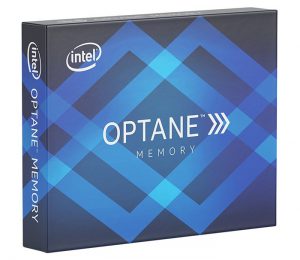 Intel also added Optane Memory branding to its processors with the introduction of the Core i9+, Core i7+, Core i5+ processors. This is not a new line of processors, but something that will help OEMs to highlight laptops and desktops that ship from the factory with Intels Optane caching solution pre-installed.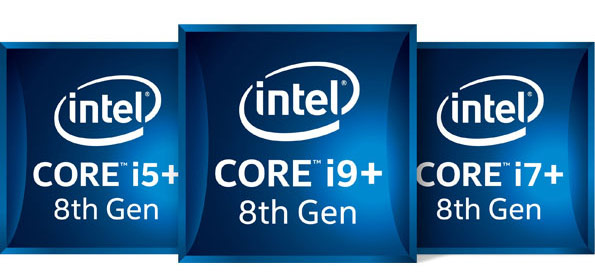 Intels new Core+ CPUs for desktops currently consists of three SKUs: the Core i7+8700, the Core i5+8500 and the Core i5+8400. These are all retail boxed processors that come with a 16GB Intel Optane Memory module. Intel is targeting the DIY market with these processors. The Core i9+ desktop processor bundle isn't on the market yet.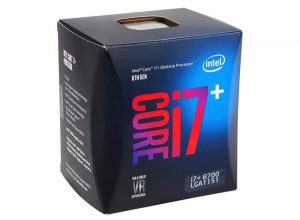 The retail prices on these new processors is a bit strange at the moment as the Intel Optane M.2 2280 16GB module costs $24.99 shipped, but you might be paying more than that for it in a bundle. The pricing on the Intel Core i5+ 8500 is pretty solid at $235 as you are saving $9 than having to buy the two separately. Be sure to check retail pricing as it might not be less expensive to pick up a processor with an Optane Memory module bundled with it! These bundles take the guess work out of what is needed for a build, but might always be the most cost effective way to go about a build. We should point out that Intel Optane Memory only works with 7th and 8th Gen Intel Core processor-based systems along with an Optane Ready motherboard and a SATA HDD.
While we are talking about Intel Optane memory pricing, we should point out that there are three capacities available right now. You have the 16GB model at $24.99 shipped ($1.56 per GB), the 32GB model at $58.13 shipped ($1.82 per GB) and the 64GB model that just recently became available at $151.61 shipped ($2.37 per GB). The larger the capacity Optane Memory Module, the more data can be cached. This is one of those rare situations where the price per gigabyte actually increases as the capacity of the drive goes up.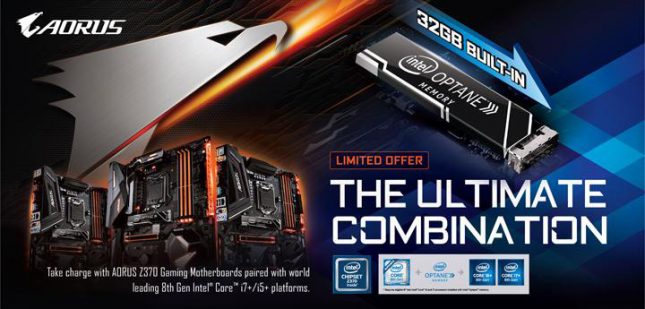 Motherboard makers are also getting in on the Optane Memory action by offering motherboards with Intel Optane Memory already installed in one of the boards M.2 slots. GIGABYTE for example launched four Intel Z370 chipset based motherboards with built-in 32GB Intel Optane Memory last month. Those four Z370 boards would be Z370 AORUS GAMING 7-OP, Z370 AORUS ULTRA GAMING WIFI-OP, Z370 AORUS ULTRA GAMING 2.0-OP, and Z370 HD3-OP motherboards. The only board that we could find available on Amazon in the United States was the Gigabyte Z370 AORUS Ultra Gaming WiFi-OP for $204.56 shipped. That is only $24.57 more than the same board without the Intel Optane 32GB drive ($179.99 shipped), so you are getting the 32GB drive that is normally $58.13 for less than $25 more.
The take home message here is that Intel is making it super easy to get Intel Optane memory. You can buy Intel memory by itself, bundled with a processor, bundled with a motherboard or pre-installed in an OEM system!

If you are a DIY user then you need to know the minimum system configuration for Intel Optane Memory. Intel Optane Memory requires an Intel 200-series or 300-series chipset motherboard with an open M.2 slot that supports this feature. Secondly, you must have an Intel 7th Gen Core i3 or newer processor. Lastly, you'll to install Intel Rapid Storage Technology drivers (version 16.0.2.1086 or newer) for Intel Optane Memory and the software is only available to Windows 10 and Windows Server 2016 users. So, you need to have a recent motherboard, processor and be running Windows 10 or Windows Server 2016 to get Intel Optane Memory up and running!
Once the Intel Optane Memory Module is installed into an M.2 slot and the proper Intel RST driver is installed you just need to enable the drive, which is a simple procedure that takes about five minutes and requires one system restart. The secondary drive is required to be formatted with a GPT partition and we should point out that systems with two bootable drives – that is, one drive with one OS and another drive with a second OS – aren't a supported configuration.


Let's take a look at our test system and then our results!