Intel Core i9-7900X Processor Review
By
Final Thoughts and Conclusions
The Intel Core i9-7900X processor and the associated Intel X299 LGA2066 platform are brand new and still a little rough around the edges. As with all new process architectures and chipsets things will get better with time and they already have. The Intel Core i9-7900X 10-core, 20-thread processor looks great on paper and the price is damn good compared to what Intel brought the Core i7-6950X to market at, but the performance fell a little short of our expectations. We try to go into every review with an open mind and no expectations, but with Skylake-X we expected a beastly processor that would destroy everything on the market. The Intel Core i9-7900X crushed the Core i7-6950X in MOST of the heavily threaded workload tests. The keyword there is most. We expected it to crush it in all those tests. We knew it wasn't going to lead the gaming benchmarks nor the browsing benchmarks, but we really thought it was going to lead in the others.
If I'm laying down $1000 to buy the flagship Intel Core i9-7900X processor I'm expecting to get the best performance in everything. The problem here is that the Intel Core i9-7900X isn't really the flagship processor for the Skylake-X processor series. Intel still has the Core i9-7920X (12-core, 24-thread at $1,199), the Core i9-7940X (14-core, 28-thread at $1,399), Core i9-7960X (16-core, 32-thread at $1,699) and the Core i9-7980XE (18-core, 36-thread at $1,999) coming to market in the near future. The real beast is going to be the Intel Core i9-7980XE for two thousand dollars. If you have deep pockets and want the most cores and threads possible then you don't want the Core i9-7900X that we tested today, but rather the Intel Core i9-7980XE that is still a bit off.
Intel Core-X Series Specifications

Processor

Cores/ Threads

L3 Cache

PCIe Lanes

Base Clock

Turbo Clock 2.0

Turbo Clock 3.0

Price

Core i9-7980XE

TBD
TBD
TBD
TBD
TBD
$1,999

Core i9-7960X

TBD
TBD
TBD
TBD
TBD
$1,699

Core i9-7940X

TBD
TBD
TBD
TBD
TBD
$1,399

Core i9-7920X

TBD

TBD

TBD
TBD
TBD
$1199

Core i9-7900X

$999

Core i9-7820X

$599

Core i9-7800X

N/A
$389

Core i7-7740K

N/A
$339

Core i5-7640K

N/A
$242
The other big issue or complicating matter with the high-end desktop market is that AMD is back with a viable option thanks to Ryzen Threadripper. If AMD Ryzen Threadripper wasn't coming to market with up to 16-core, 32-thread models will be available there likely wouldn't be a second round of Intel Skylake-X processors coming out. The bad news for AMD is that Intel just added these processors on top of the usual product stack and is selling them for more money. It feels like Intel is taunting AMD with this pricing by saying we'll respect your core count and will beat that, but your product isn't a big enough threat to adjust our pricing. The AMD Ryzen Threadripper 1950X 16-core, 32-thread processor is going to be $999 and the Ryzen Threadripper 1920X 12-core, 24-thread processor is going to be $799. That means the AMD Ryzen Threadripper 1950X 16-core processor is price comparable to the Intel Core i9-7900X that we reviewed here today. When it comes to multi-threaded tasks that the Intel Core i9-7900X dominated in our testing with 10-cores will it still be on top in early August when Threadripper comes out? It will be interesting to see how this all pans out.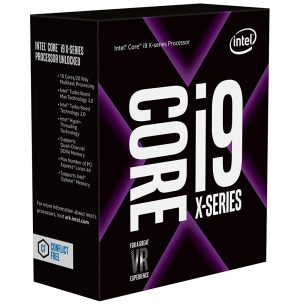 The Intel Core i9-7900X is a very powerful processor and it shows that the upcoming Skylake-X processors will be absolutely insane. The smart cache hierarchy changes on Skylake-X and the inclusion of the AVX-512 instruction set look like they will pay off down the road based on what Intel has told us. We need to make some changes to our testing suite for these new processors as with 18-core processors coming we need to get more mega-tasking into the mix. That is something we are currently working on behind the scenes to get ready for the big core Threadripper versus Core i9 battle that will be happening here this summer.
For now we are advising our readers to wait to purchase a a high-end processor that is over $500. Let the Intel X299 platform become more refined and let AMD Ryzen Threadripper come out. We are witnessing the fastest rise in processor core count ever this this release, so grab some popcorn and let Intel and AMD bring out these mega-core processors. The Intel Core i9-7900X is just a little taste of what is to come!
You can purchase the Intel Core i9-7900X Skylake-X processor for $1061.99 shipped and the ASUS X299 Deluxe motherboard we used for testing will set you back $487.30 shipped on Amazon.
Legit Bottom Line: The Intel Core i9-7900X processor looks good, but Intel has processors with more cores coming out later this year that are based on the same architecture!