Intel Core 2 Extreme QX6700 Processor Review
By
Quad-Core Processors Arrive
It's only been a few months since Intel slaughtered AMD?s reign on enthusiast desktop processors by releasing the Core 2 Duo family of processors, but it seems that Intel wants to see AMD squirm a little more and is launching the world's first quad-core processor. The Intel Core 2 Extreme Processor QX6700 is undoubtedly aimed at the power user and just like any other Intel Extreme processor will set you back $999, like Extreme Editions have always been. Intel will keep the current Intel Extreme X6800 'Conroe' processor around and the two will coexist for a while as some may want the extra clock speed versus the extra cores. As time goes on having more cores will lead to better performance across the board, so dual-core processors are already looking ?dated? as applications taking advantage of four or more cores are starting to appear on the horizon.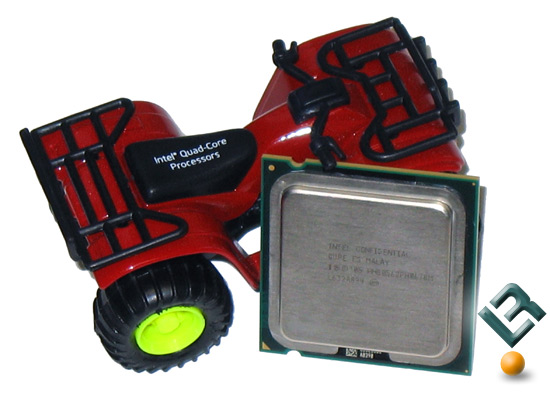 Understanding how Intel came up with the Core 2 Quad processors is quite simple as Intel took two 'Conroe' cores from a Core 2 Duo processor and put them in a single 775-land multi-chip processor package (MCP) to provide much improved levels of performance of multi-media applications and multi-tasking usage models that take advantage of multiple cores. If we said that the majority of software applications on the market today takes full advantage of four or more cores it would be a lie, but the list of applications supporting four cores has been getting better as seen below.
Games Supporting 4+ Cores:
THQ Supreme Commander

Remedy Alan Wake

Valve Half-Life 2: Episode 2

Epic Unreal Engine 3

Ubisoft Splinter Cell: Double Agent
Multimedia Applications Supporting 4+ Cores:
Autodesk 3DSMAX 8 and 3DSMAX 9

Adobe After Effects 7/8

Adobe Premiere Pro 2/3.0

Adobe Encore DVD 2.+

Adobe Photoshop CS2

Maxon Cinema 4D v10 (TBD)

Pinnacle Studio dv 10

Quicktime Pro 7.1

XMPEG with DIVX 6.2

DVD Shrink 3.2

Pov Ray 3.7 Beta

Sony Vegas 7.0

Steinberg- Yamaha Cubase v4.5

TMPGEnc 2.524
Since many of the games and applications that support four or more cores are unreleased it is hard to look at the true potential of the Intel QX6700 processor. Legit Reviews has actually benchmarked the QX6700 with Intel last month and by using many of the above applications found that it was very impressive and showed a significant increase in performance. Since many of these applications have been covered this review will cover the standard benchmarks that LR has run for years to show how this flagship processor does on a wide variety of applications to better form an opinion on quad-core processors.