HyperX Cloud Alpha Gaming Headset Review
By
HyperX Cloud Alpha Gaming Headset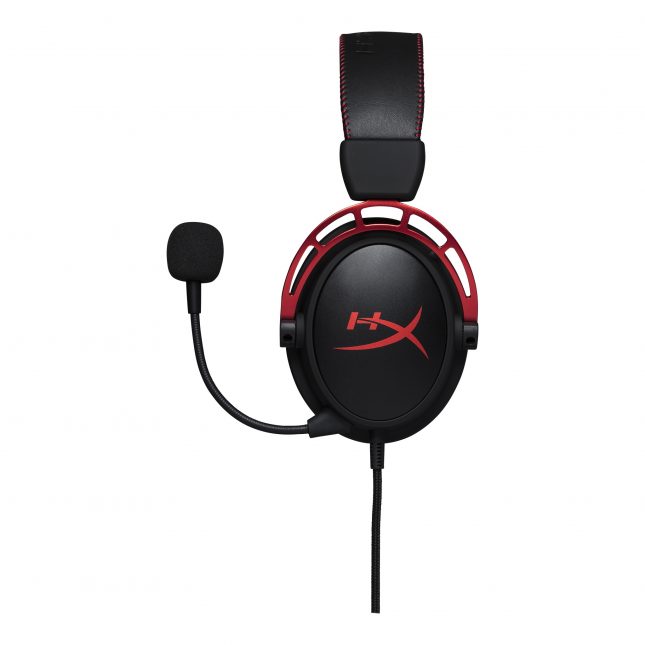 When it comes down to it, for any PC or console gamer who is interested in playing multiplayer games, a headset of some type is not just recommended, it borders on a necessity. Communication with your team will be ruined if a proper headphone and mic combination isn't used, as sound from standard speakers or television will create feedback over your mic. In short, unless you want your teammates to be upset and your housemates to hear all the lovely things your opponents have to say in response to you fragging them, a headset is a very wise investment. With so many options out there in the $99 range, which headset is worth your money? Today, we're looking at the latest headset from a brand, that over the past few years has become a major player in the gaming headset market, HyperX.
Beginning life as a division of Kingston in 2002, HyperX is a very popular manufacturer of products aimed at the PC enthusiast, including high performance SSD's, DDR4 memory and various peripherals. In 2014, along with with QPad, HyperX produced their first gaming headset, which is known as the Cloud (Model Number KHX-H3CL/WR). If you take a look at Amazon reviews for the original Cloud, you will see that HyperX has sold thousands of units and that they carry a 4.2 star review average. HyperX has produced other successful gaming headsets such as the Cloud Revolver, but the original Cloud, or the Cloud Stinger for those on a budget, have remained steady personal recommendations of mine for those looking for a solid gaming headset at a great price to performance ratio. The HyperX Cloud lineup have received countless recommendations and awards from tech sites around the world and long term consumer reviews tend to back up the greatness proclaimed by professional reviewers. In short, HyperX knows how to make a great gaming headset and have done very well in the crowded, hyper-competitive arena of PC gaming headsets over the last couple of years.
Not wanting to rest on their laurels in the face of competition, HyperX went back to the drawing board and have designed their newest headset, the Cloud Alpha, from the ground up in an effort to address the major concerns that users had with their previous headsets and deliver the absolute best gaming headset in the market for $99. The original Cloud, Cloud Core and Cloud II are all based around the Takstar Pro 80 and HyperX could only do so much with the original design. Notably, HyperX has made major design changes to the drivers of their latest headset in order to separate bass from the midrange and upper frequencies, in addition to several design changes to address user comfort. Can HyperX succeed and deliver on a promise to improve on an already-great product, or will their redesigned HyperX Cloud Alpha deviate too much from a great thing?
HyperX Cloud Alpha Specifications
HyperX Cloud Alpha Headset Specs (Model Number HX-HSCA-RD/AM)
Driver:
Custom dynamic, 50mm with neodymium magnets
Type:
Circumaural, closed back
Frequency response:
13Hz27,000Hz
Impedance:
65
Sound pressure level:
98dBSPL/mW at 1kHz
T.H.D.:
< 1%
Weight:
298g
Weight with mic & cable:
336g
Cable length and type:
Detachable headset cable (1.3m) + PC extension cable (2m)
Connection:
Detachable headset cable – 3.5mm plug (4 pole) + PC extension cable – 3.5mm stereo and mic plugs
Microphone Specs
Element:
Electret condenser microphone
Polar pattern:
Noise-cancelling
Frequency response:
50Hz-18,000Hz
Sensitivity:
-43dBV (0dB=1V/Pa,1kHz)
The HyperX Cloud Alpha (HX-HSCA-RD-AM) is available as of today on Amazon for $99.99, putting it in competition with wired gaming headsets like the Creative Sound BlasterX H7 and Logitech G433. The Cloud Alpha are covered by a two year warranty, which is comparable to Logitechs warranty on headsets, with companies like Creative, Razer and SteelSeries only providing a one year warranty. We feel that a two year warranty on a gaming headset is fully adequate and should cover any defects that are related to manufacturing, as beyond a certain point, wear and tear on a headset that gets normal use should be expected. With competing headsets offering just a one year warranty, the additional year offered by HyperX may give consumers a better sense of overall value and peace of mind that they are getting a well-made product.
The HyperX Cloud Alpha feature a very respectable frequency response specification, with the ability to dip down into the 13Hz range on the low end and topping out at 27Khz, where the competing SteelSeries Arctis 5 and Logitech G433 are capable of producing at 20Hz-20Khz. Whether you will notice the difference in frequency response capabilities when listening to these headsets is debateable, but the ability of the headset to cover a wider range of frequencies than competing units is impressive, on paper.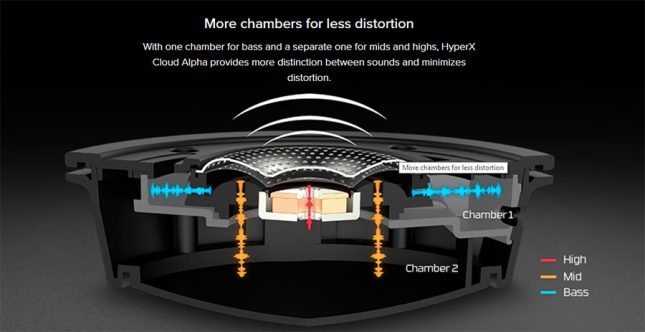 With 50mm drivers that have been designed from the ground up by HyperX to feature custom sound chambers that isolate bass from the midrange and upper frequencies, the Cloud Alpha definitely interested me when I first heard about them about a month ago. The previous HyperX Cloud has 53mm drivers, so the Cloud Alpha are actually slightly downsized. Like their predecessor, though, the HyperX Cloud Alpha feature a closed back design with brushed aluminum outer earcups that have been stylized with the HyperX logo. The closed back design of the HyperX Alpha means they will isolate you from outside sound better, but compared to open-back sets, the soundstage will be reduced. This hasn't been an issue for me in testing various gaming headsets, as closed-back designs have grown on me thanks to their ability to shut out outside noise and thus provide better isolation.
The HyperX Alpha have a 65 Ohm impedence, but aren't the type of headset that a high end DAC and amp combo are going to wake up, so extra budgeting won't be necessary to get the most out of this headset if you're already using a midrange or higher motherboard, given the improvements to onboard audio over the last few years. As long as you have a decent onboard audio solution, the HyperX Cloud Alpha should work well with your setup. Users who budget for a higher end audio setup with DAC likely will choose to go with a set of premium headphones and dedicated mic setup, at any rate.
Weighing in at 336g (about 11.85 OZ) with the mic and cable factored in, the HyperX Cloud Alpha are pretty lightweight, which for many people is a top consideration when considering a headset, though there are plenty of plastic-based units that weigh less. The Logitech G433, for example, are a little bit lighter than the Cloud Alpha headset, but also feature plastic construction and 40mm drivers, so the tradeoffs are there for consideration.
Let's take a closer look and see how HyperX has packaged their latest premium headset.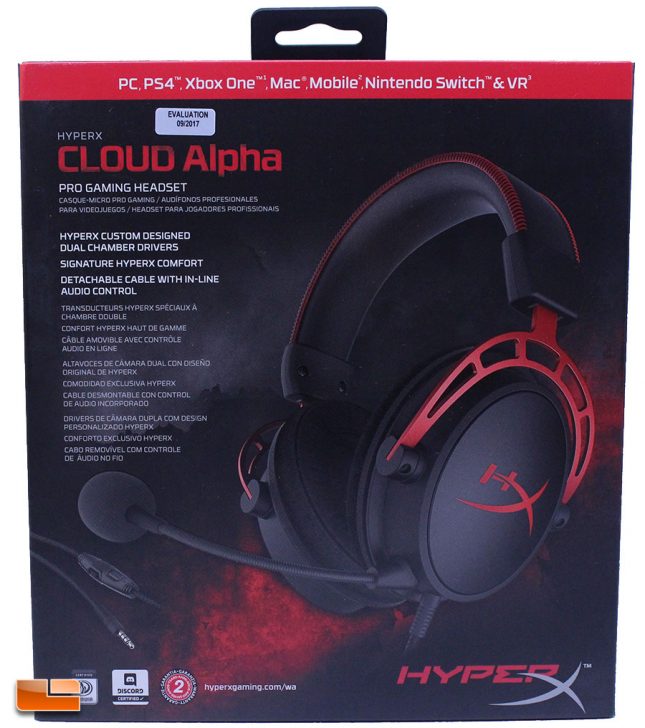 They HyperX Cloud Alpha box is very attractive and carries a premium feel about it, with an outer sleeve surrounding a box that pulls out. The graphics of the headphone are in a glossy, high resolution form that lets the headphone really pop and stand out from the background. Compatibility of the Cloud Alpha with various platforms clearly headlines the front top of the packaging and HyperX has even made sure to note support for the Nintendo Switch console. As HyperX has noted on the lower left front corner of the box, the HyperX Cloud Alpha is certified for Discord and Teamspeak, both very popular programs, with LegitReviews staff relying on Discord for in-game chat when we play together. HyperX has also wisely made sure to point out the 2 Year Warranty of the Cloud Alpha next to the Discord and Teamspeak certification logos.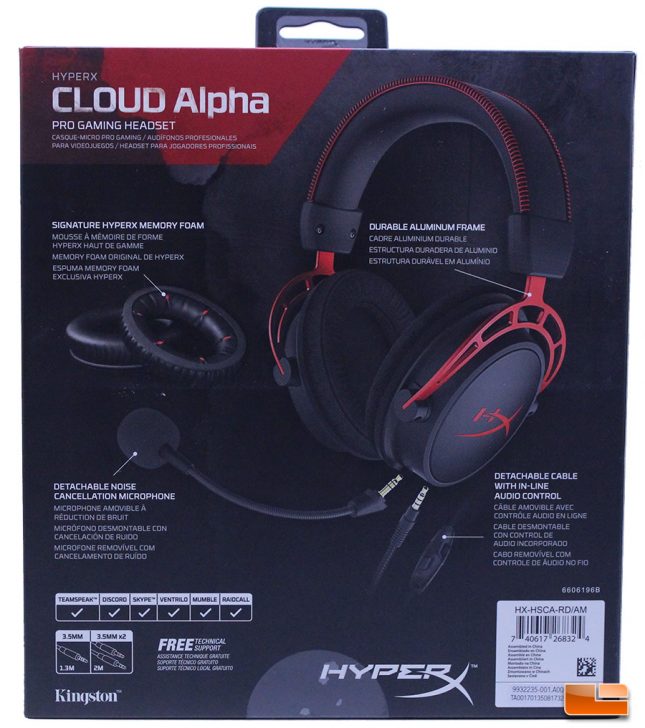 Touting compatibility with software or games that are popular is something manufacturers have done for quite some timem, since it definitely can't hurt sales. HyperX has made sure to note support for just about every major chat client, from Discord to Ventrillo, on the back of the Cloud Alpha box. The detachable cable with inline controls, memory phone earcups and the aluminum frame are other points of interest that HyperX points out on the box.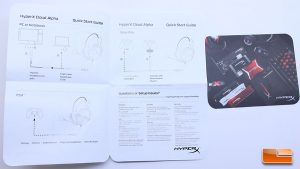 When you open the box for the HyperX Cloud Alpha, you are greeted by a user guide and product pamphlet for other HyperX products. The user guide is basic, but it covers how to install the headset on various platforms, including PC and XBOX One.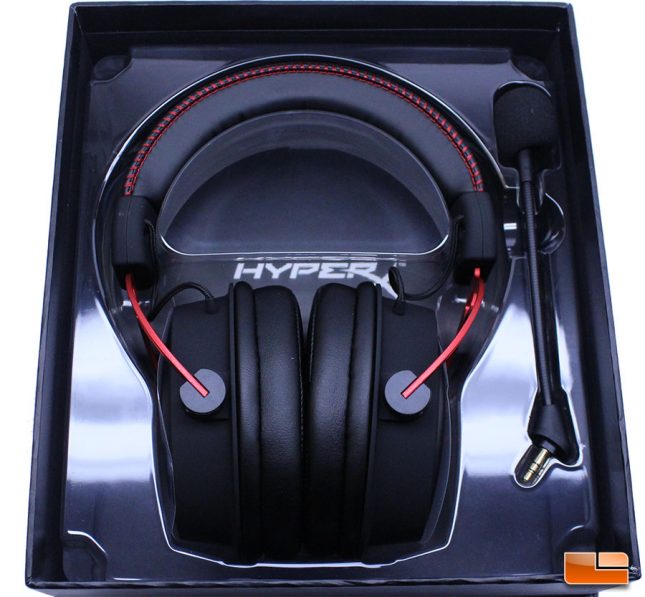 We come away with a great first impression with the Cloud Alpha, as they have been packaged very nicely in their clamshell. The headphones themselves are surrounded very snugly with a plastic clamshell over their cardboard packaging, to prevent things from moving around. The microphone is also packaged snugly and is kept in place during shipping.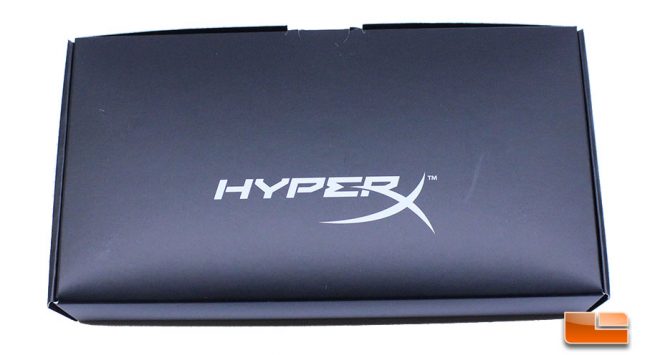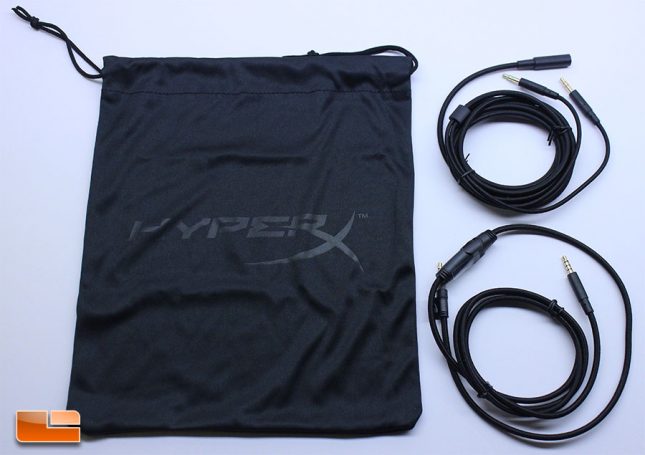 Beneath the HyperX Cloud Alpha is a branded box containing the cables for the headset, along with a carrying bag. The cables have been cleverly designed, with inline volume control and a mic switch on the cable that connects to the main headset. This gives the headset the ability to be plugged into console controller while ensuring the cable isn't too long and cumbersome for console users. The other cable included with the HyperX Cloud Alpha is designed for use with a PC, as it splits the microphone and audio signals. The cables included with the HyperX Cloud Alpha are braided, look good and have a nice build quality about them. The ability to use your own cable with the HyperX Cloud Alpha was a wise move, as many users who have suffered a severed headphone cable that can't be replaced will attest. The HyperX-branded carrying bag is made of a polyester material and should do well to protect the headphones from scratches and dings during transport.
Packaging is the first impression we get with the Cloud Alpha and HyperX certainly hasn't disappointed. Let's take a closer look at the HyperX Cloud Alpha headset and its design elements, now.