Logitech G433 7.1 Wired Surround Gaming Headset Review
By
Logitech G433 7.1 Wired Surround Gaming Headset Introduction
Those that keep up with current events in the tech space will notice that the timing of this review is coincidental as Logitech recently announced the acquisition of gaming headset maker ASTRO Gaming which is a big win for them. ASTRO Gaming made some of the best gaming headsets on the market so Logitech gets a nice boost in that department. However, at the present we have their G433 7.1 Wired Surround Gaming Headset sitting here begging to be played with, so we'll oblige and get to it.
No one wants to spend big dollars on a gaming rig with a $500+ video card only to have sub par audio ruin the experience. I'm probably showing my age but for many years it was all about the surround sound speaker system for gaming with a big subwoofer to really immerse yourself in the game. Not only was it expensive, but having the space and the right configuration to get true surround sound – especially for 7.1. There was no microphone but not really needed because gaming across the internet was in its infancy. Oh. and good luck hauling all that with you to a LAN party. Now, gaming headsets have really taken over and the quality just keeps getting better and better with increased comfort, quality of sound, and even 7.1 audio in a relatively inexpensive package. Logitech's G433 headsets have all of those qualities and a few other features that make it more than just a gaming headset as we'll get into.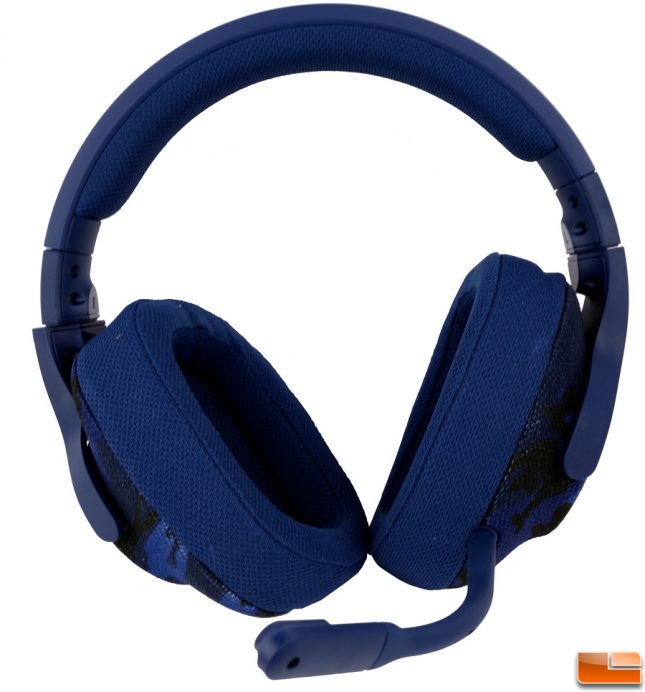 Logitech set out to make this more than a one trick pony by also making it configurable as just a normal audio headset. It can be used on everything from your PC via USB or 3.5 mm jack to consoles or even your phone to get high quality audio from games, movies or music. Harnessing 7.1 DTS Headphone:X technology virtual surround sound is easy to achieve. To really be versatile, on top of the technological features, it also needed to satisfy style and comfort requirements. So, they made it relatively light at just 259g so wearing them for long periods of time or while semi-active wasn't a literal pain in the neck. The covered it in fabric with an assortment of colors to make it more fashionable and bundled it with a number of accessories to allow it to operate on a number platforms – all of which we'll look at on the next page.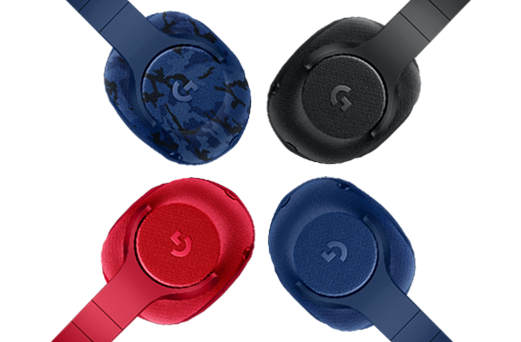 One of the interesting things about this headset is it's available in four colors – red, blue, and black are three of them but there's also a blue camo version that's only available at Best Buy as an exclusive. This is also the color we received. Currently, all colors (including the exclusive blue camo) can be found online for $99.00 shipped which puts it in the upper mid-range of gaming headsets in general as most fall in the $75-$100 bucket. I should point out that this is a wired headset which helps keep the cost down as well and most gamers still prefer the reliability of a wired connection.
Here's one of the marketing videos Logitech put together for your viewing pleasure.
Logitech G433 7.1 Wired Surround Gaming Headset Features and Specifications:
DTS Headphone:X 7.1 Surround Sound Positional Audio
Pro-G Advanced Audio Driver
Lightweight Comfort
Console Compatible
Detachable, Transformable
Part Numbers:

Black: 981-000708
Red: 981-000650
Blue: 981-000681
Blue Camo: 981-000682

Warranty Information:

2-Year Limited Hardware Warranty

System Requirements:

Windows 10, Windows 8.1, Windows 7, Mac, Nintendo Switch, PS4, Xbox One, tablets and mobile
3.5 mm audio port for console/mobile
Internet access for Logitech Gaming Software and 7.1 DTS Headphone:X software installation

Package Contents:

G433 wired gaming headset
USB DAC with 3.5 mm, 4-pole output
Detachable microphone boom with micro pop filter
Mobile cable with inline controls and mic
Console/PC cable with inline controls
PC splitter for separate mic and headphone jacks
Additional microfiber ear pads
Headset carrying bag
Accessories case (Blue Camo only)
User documentation

Physical specifications:

Height: 6.77 in (172 mm)
Width: 3.22 in (81.7 mm)
Depth: 7.17 in (182 mm)
Weight: (w/o cable): 9.14 oz (259 g)
USB DAC: 160 mm
PC Cable Length: 6.56 ft (2 m)
Mobile Cable Length: 4.92 ft (1.5 m)

Technical Specifications:

Headphone:

Driver: 1.6 in (40 mm)
Frequency response: 20Hz-20KHz
Impedance: 32 Ohms
Sensitivity: [email protected] SPL 30mW/1cm
Cable length: 2m

Microphone:
Microphone Pickup Pattern: Cardioid (Unidirectional)
Type: Back Electret Condenser
Size: 4mm
Frequency response: 100Hz-10KHz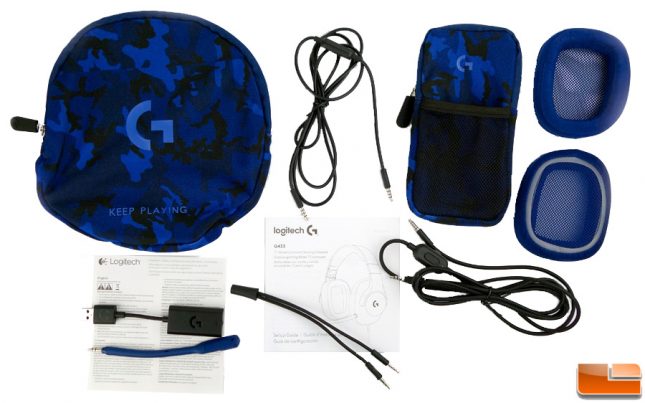 A whole bunch of goodies come with the G433 though the accessories case in the upper right only comes with the blue camo color. In addition to the parts and cases are the typical warranty/safety/legal brochure and a setup guide.
The carrying bag is nice accessory, especially since it's matching in color and the headset fits easily within and the fabric construction barely adds any extra weight or bulk. The accessories case (also a bag of sorts) is handy to have for corralling all of the extra parts for the various applications. Yes, you could just stuff everything in the larger bag but if the camo color appeals to you it's an extra perk that doesn't cost you a cent.
Let's get a closer look of the hardware!