HyperX Cloud Alpha Gaming Headset Review
By
HyperX Cloud Alpha Headset – Comfort Testing, Mic Test and Subjective Listening
For testing the Cloud Alpha, I used the audio ports on a Creative Sound Blaster X Katana, with any enhancements for audio processing turned off. The Katana runs at 24-Bit with 96,000Hz sampling. The headphone jack on the Katana isn't designed for high impedence headphones, but had no problem driving the HyperX Cloud Alpha to high, satisfying volumes that did not distort. I did some brief testing with a Sound Blaster GX5 external DAC and while it is able to push a bit more power than the Katana, the differences were very minimal. Testing with the Realtek audio provided by a Gigabyte Z97X Gaming 7 motherboard netted similar results to the Katana, with the Realtek audio actually able to output at higher volumes thanks to an internal amp designed to push up to 500Ohm headphones. So, ehile putting the HyperX Cloud Alpha on a decent sound card provides a slight improvement in sound quality, based on our experience, it isn't necessary and the HyperX Cloud Alpha will work great with decent onboard sound.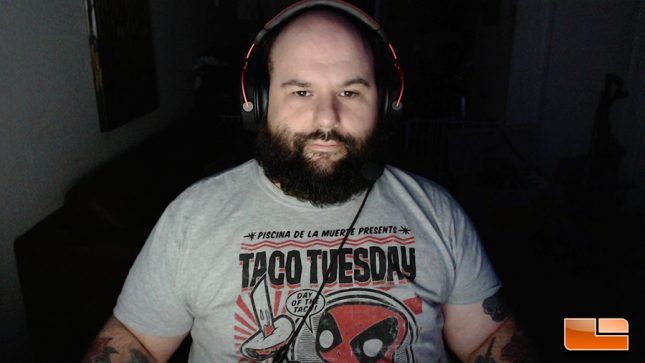 The clamping force of the HyperX Cloud Alpha was perfect for my head right out of the box once the height was adjusted. I have a larger head and it can take a bit of time for headsets to break-in, with the initial clamping force being a bit too much before some stretching of the unit. I did not have that problem at all with the HyperX Cloud Alpha. As I stated before, the earcups sat around my ears perfectly and always remained comfortable, which is something I often find issue with on even expensive headphones. Thanks to the excellent materials used throughout and an emphasis on comfort, the HyperX Cloud Alpha are one of the most comfortable headsets I've had the pleasure of using. Outside of gaming and home use, we could see somebody using the HyperX Cloud Alpha on a train ride home, in the gym, or any other number of applications, given their excellent comfort and build quality.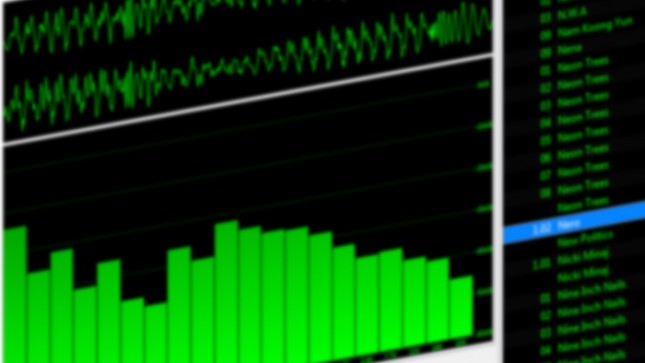 HyperX really touted their dual chamber technology as the biggest improvement they made with the Cloud Alpha. Does this new dual chamber technology work, in practice, or is it just marketing hype that I won't be able to actually hear? Based on what I've experienced since receiving the headset, it works great and HyperX has actually done a great job of engineering these drivers. The Cloud Alpha do an excellent job of separating bass from the midrange and upper frequencies, to give everything a more distinct, clear sound. While most gaming headsets tend to be bass-heavy, HyperX has actually managed to get the Cloud Alpha in the realm of having tight, controlled bass. For a $99 headset, the sound quality of the HyperX Alpha is really surprising. I felt that the original Cloud sounded good, with a sound that leaned towards having heavy bass and punchy highs, with the midrange a bit more flat and subdued. The Cloud Alpha, on the other hand, has a very distinct high and midrange along with tight bass, which is excellent when it comes to separating footsteps from explosions in an intense game of Battlefield 1. One thing I did notice was that with a standard 3.5mm cable that didn't come with the Cloud Alpha, the audio output was just a slight bit stronger than when using the included cable set. I have a feeling that even when they are set at full volume, the in-line controls may be giving a small bit of resistance. The difference in output between cables was negligible and I only noticed it at the upper volume levels.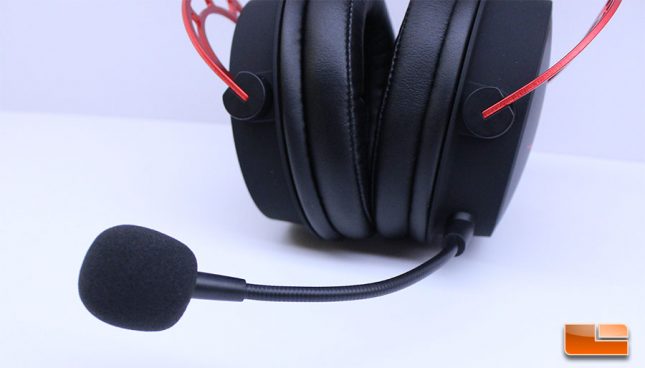 Certified for Discord and featuring noice-cancellation technology, the microphone on the HyperX Cloud Alpha should allow for acceptable use in gaming scenarios. HyperX includes a pop filter/moisture guard on the microphone that can be easily replaced, as well. I took a sample recording to help our readers get a better understanding of how the microphone on the HyperX Cloud Alpha sounds.
The HyperX Cloud Alpha mic quality was good when recorded through our Creative Sound Blaster Katana mic-in port, with no enhancements being used. The mic didn't have any cracking or unusual pops, though there was some minor sibilants that I was able to hear, which is common with these types of mics. Finally, the mic levels were set to 100 with no gain and for these recordings, I tried to talk in as subdued a voice as possible, to let the mics do the work.
Testing with on board audio, we can tell the sound isn't as crisp and we're not picking up as dynamic a range, but it's still suitable for gaming purposes. My onboard audio is an ALC1150 codec on the Z97X Gaming 7 from Gigabyte, which is decent, but pretty comparable to what you'll find on most "gaming" boards, these days.
To compare the HyperX Cloud Alpha with a decent desktop mic, here is a recording using the Blue Snowball Black under the same recording parameters. Keep in mind that the Snowball has its own built-in sound card, while the HyperX Cloud Alpha was tested using an external device, the Sound Blaster X Katana.
As you can hear by the differences between the microphones, while it's certainly no replacement for a decent desktop microphone like a Blue Snowball or Yeti, the HyperX Cloud Alpha has a great mic when compared to most other gaming headsets, especially those in the $99 range. I see no reason you couldn't use this mic for professional gaming where clarity is crucial and even feel it would be acceptable for basic Twitch streaming. It worked well with our various listening and input devices and I didn't have any issues with people hearing me clearly in multiple games of PUBG or Discord chat.
I tried to find fault in the HyperX Cloud Alpha and see if it came short in some areas, but it was such a versatile headset that I fell in love with very quickly and ended up using for more than just gaming. Since they have such a great base sound, the Cloud Alpha excel for music and movies and I am able to wear this headset for longer than any unit I've previously reviewed before discomfort sets in. In fact, I can't say that the HyperX Cloud Alpha have ever been taken off because of discomfort, generally I just get tired and give up. I've got a pair of Sennheiser HD598CS that the Cloud Alpha compare favorably with, with a very slight edge in comfort and soundstage going to the Sennheisers, which carry a $50 premium over the Cloud Alpha and don't include a mic or carrying case.
Let's wrap up this review with my overall thoughts on the HyperX Cloud Alpha and see where it stands compared to the current offerings in the competive gaming headset market.