Gigabyte, Intel and Corsair Summer Press Event Highlights
By
GIGABYTE, Intel and Corsair Press Update June 2016
For those of us that were not fortunate enough to attend Computex 2016, Gigabyte, Intel and Corsair held a private press event. At this event, they went over many of the items that were shown at Computex, but also provided us a few new pieces of information.

GIGABYTE
As always, Gigabyte is listening to the enthusiast market and releasing new models of their popular motherboard line-up with the latest features. With the release of Intels 10-core i7 Exteme Edition processor, they have updated their x99 motherboard line-up with three new models, while the more mainstream Z170 line-up has recently received two new models. Each of these feature a range of advanced features.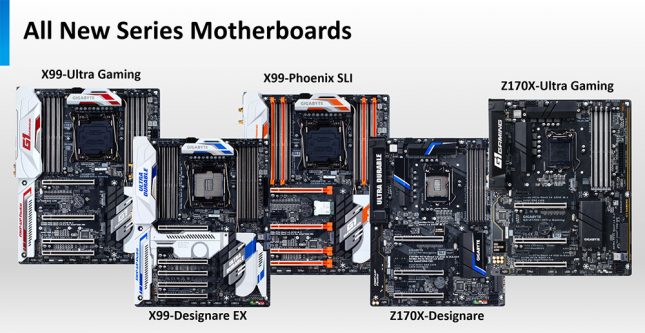 The new Designare line include Ambient Surround LED technology to light up various sections of the motherboard with RGB capable LEDs. In addition, the RGB LEDs are software controllable with their Ambient LED Application, which can also control certain third-party RGB LED strips through an on-board header allowing the colors to be synchronized.
That is just one of the many enhancements Gigabyte has done to their latest motherboards, here is a quick rundown on the various features you can find on select models:
Refreshed BIOS
Q-Flash Plus
G-Connector
Dual Hybrid Fan Headers – Designed for fans or water pumps can be controlled by PWM or Voltage
Anti-Sulfur Resistor Design – Extend life of motherboard resistors
Ultra Durable Armor – for both PCIe and DDR4 Memory Slots
Dual U.2 Onboard and 110mm M.2 Support
DDR4 XMP support has been increased up to 3400MHz with plans to go beyond that
Thunderbolt 3
3-Way PCIe x16 Support on X99
USB Type-C providing up to 100W Maximum power
In addition to motherboard updates, Gigabyte is also working on a couple new full system solutions. The BRIX Gaming UHD is expected to launch before the end of 2016, and should have a starting price point of around $1,299 depending on the particular configuration. This is a mini gaming system capable of 4K video playback and will utilize the Nvidia 950 GPU for its GPU power.
Compared to what we saw half a year ago at CES 2016, it is safe to say that the Brix Gaming UHD has been completely revamped (see below)!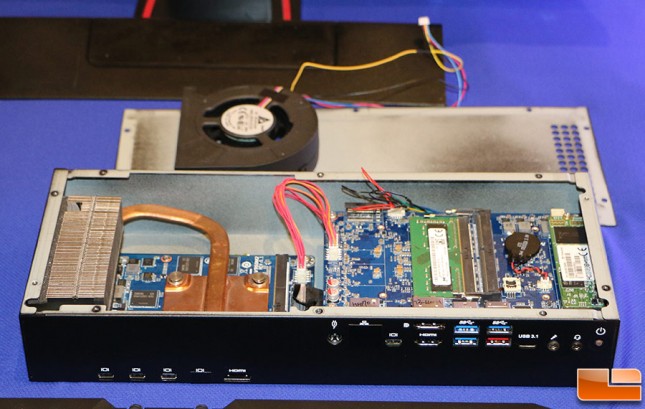 The BRIX isnt the only full PC that Gigabyte is prepping for release. They are entering the full-size gaming PC market with the Gigabyte PC. It is designed to be a user upgradable PC with a socketed CPU, full size DDR4, and standard storage options. Thats not all that it is capable of, it will also support a full length GPU inside the system. When it launches soon (rumor is August / September) you can expect it to start around $1,500, of course the final price will depend on the components.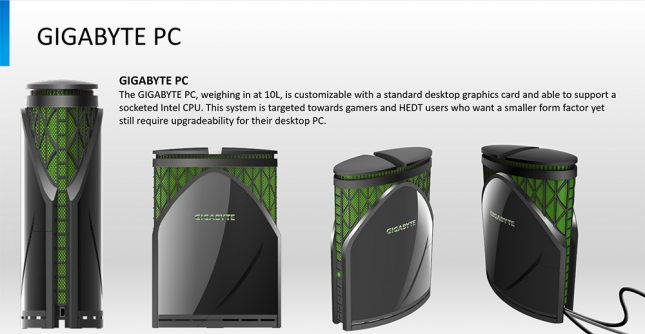 As we all know, NVIDIA has recently released their latest GPU the 1080. Gigabyte has a range of graphics cards designed for all segments of the enthusiast lineup. The Founder Edition is the base reference design, while the WindoForce OC begins implementing Gigabytes technology. The 1080 G1 Gaming is the standard 3-fan WindForce GPU. At the high end, we have the 1080 Xtreme Gaming. This is where Gigabyte is implementing their latest features.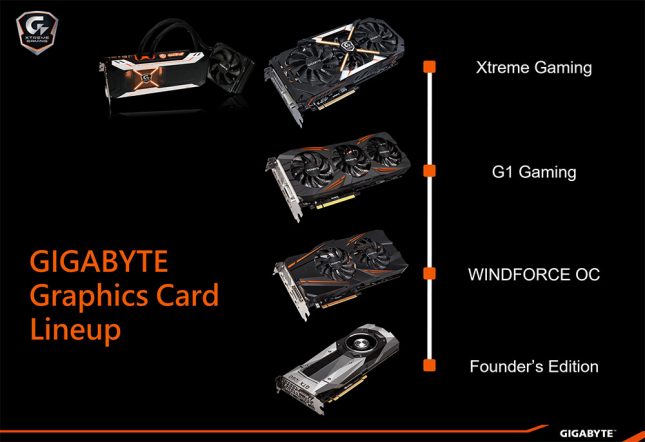 Gigabyte's 1080 Xtreme Gaming model has many of the features that you would expect from any NVIDIA 1080 graphics card. However, to make it the Xtreme Gaming model Gigabyte has increased some of the clock speeds which in turn has a few other minor changes as well. Taking a look at the Core Clock speed, Gigabyte takes it from the Founder's Edition base 1607MHz and the boost of 1733MHz to 1759MHz and 1898MHz in Gaming mode. Memory clock speed also increases from 10,000MHz to 10,211MHz. This boost from the Xtreme Gaming's Gaming mode provides between 3.6% and 7.3% increase in performance, according to Gigabyte. The OC mode on the Xtreme Gaming can increase that above 10%! Gigabyte also decided to manually underclock the Xtreme Gaming to match the Founder's Edition, and it still showed a very slight improvement, especially when it came to temperatures (due to the newly redesigned stacked WindForce cooler).
Just taking a look at Gigabytes presentation we can begin to see some of these new features. This includes a newly redesigned WindForce Cooling solution that includes 3 100mm fans in a stacked orientation. This eliminates the deadspace between the standard 80mm fans, which also increase airflow across the heatsink, providing around 10% higher cooling performance over the previous 80mm fan design. Of course putting fans in a stacked configuration, the card does become a bit thicker, taking up 2.5 slots rather than the normal 2 slot design.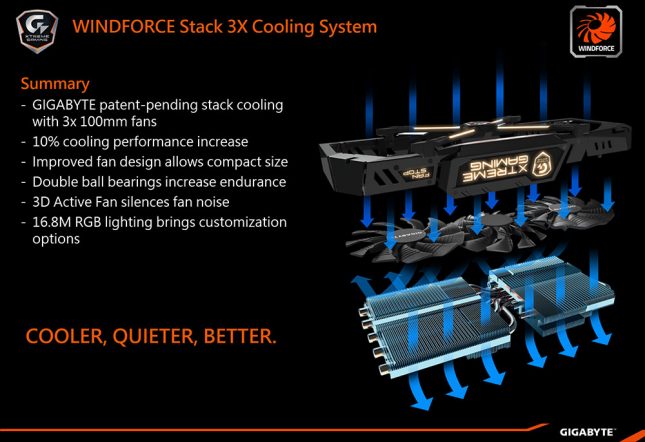 While were discussing the fans, Gigabyte has also redesigned the fans, giving the fan blades dual angle, allowing them increase the air flow, and making it easier for the fan blades to overlap. Next, the redesigned fans also utilize a double ball bearing to potentially increase the lifespan of the fans and GPU; not to mention that ball bearing fans have better heat endurance and efficiency over sleeved bearings.
The top edge of the GPU heatsink shroud has also been redesigned with LED lighting both on the top edge and the front of the graphics card. As RGB lighting is popular right now, Gigabyte has implemented RGB LEDs providing up to 16.8 million color combinations though their Xtreme Engine Utility. Perhaps one of the more important features is their new Fan Stop indicator. Automatically stopping the GPU fans isnt new, Gigabyte has been doing this for years. However, users never can tell if their fans are spinning or not without taking a good look. The new Fan Stop indicator lights up whenever the fans are not spinning! While many might feel this is unnecessary, I personally like this feature. In addition, with certain Gigabyte mothers that implement the Surround RGB LED lighting, Gigabyte is working synch the GPU RGB and the motherboards RGB lighting to match and have the same lighting effects.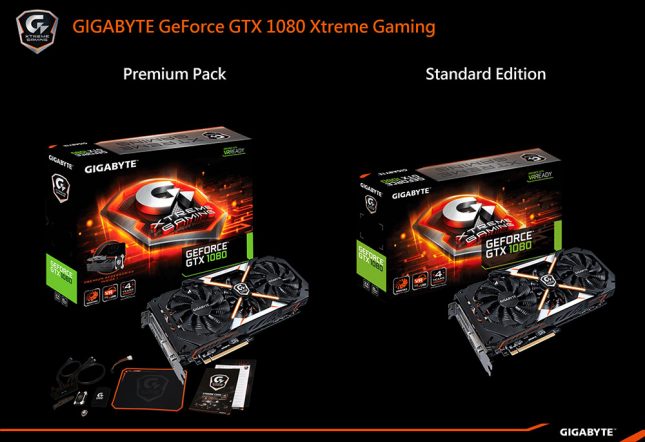 The 1080 Xtreme Gaming graphics card will be available in two different types of packaging. The first is the basic edition which includes just the graphics card, this package is expected to retail at $679.99. The second is the Premium Edition, with a retail of $699.99. The Premium Edition will include additional add-ons, such as an exciting XMP300 mouse pad, VR Link 5.25 device bay add-on, a VR-Link expansion slot bracket, and a newly designed SLI Bridge, designed specifically for the 1080 Xtreme Gaming GPU. Both editions of the card will also come with an extended 4 year warranty (once registered).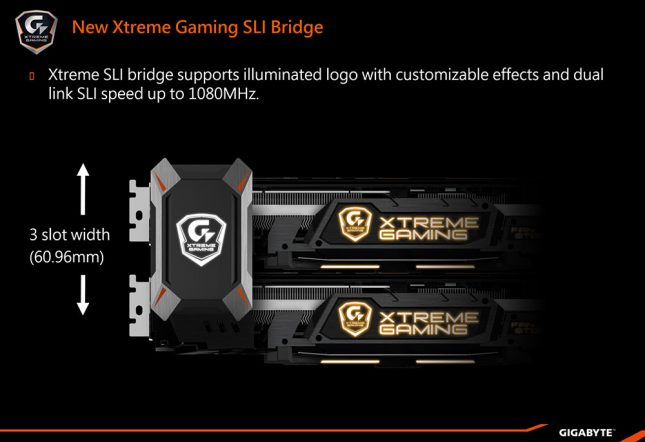 The new Gigabyte SLI bridge is designed for the expanded width of the 1080 Xtreme Gaming GPU. Instead of going with a boring flexible SLI bridge, Gigabyte has gone with a nice sturdy solid SLI bridge that also implements a lighted Gigabyte Xtreme Gaming logo with several different lighting effects.