GIGABYTE Brix Ultra Small Form Factor PC & Projector Review
By
GIGABYTE BXPi3-4010 PC & Projector
When Intel first released the NUC (Next Unit of Computing) it was intriguing to me to see where PC computing was going, it was getting smaller and smaller. Personally I wasn't convinced about the next wave of computing, I've always been one who's looking for more power, more speed and just more. Just recently I was given GIGABYTE's take on the NUC, or at least one of their takes. The GIGABYTE Brix Mini-PC from GIGABYTE has several different versions each with different specifications:
The defining difference between each of these units is the processor, well with the exception of the GB-BXPi3-4010. The GB-BXPi3-4010 has a feature quite unlike the others, a built-in WVGA projector that is capable of a 864 x 480 screen resolution! Each of these units is a barebones system, so keep that in mind. You will have to add a mSATA drive and memory to the GIGABYTE Brix of your choice.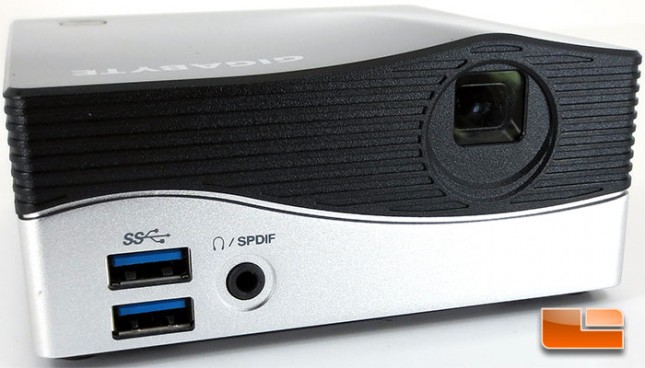 The GIGABYTE Brix BXPi3-4010 projector is rated for a screen size ranging from 7″ to 85″, not bad for an ultra compact PC and Projector in one! The chassis isn't only attractive, it's also functional. The aluminum construction of the Brix adds durability as well as heat dissipation.
GIGABYTE BXPi3-4010 PC & Projector Specifications
Dimension

48.9 mm x 107.6 mm x 114.4 mm (1.93″ x 4.24″ x 4.5″)

Motherboard
CPU

4th generation Intel Core i3-4010U 1.7GHz

Memory

2 x SO-DIMM DDR3L slots (DDR3 1.35V)
1333 / 1600 MHz
Max. 16GB

LAN

Gigabit LAN (Realtek RTL8111G)

Audio
Graphics
HDMI Resolution (Max.)
Mini DP Resolution (Max.)
Expansion Slots

1 x mSATA slot
1 x Half-size mini-PCIe slot occupied by the WiFi+BT card

Front I/O

2 x USB 3.0
1 x head phone jack with SPDIF

Rear I/O

1 x HDMI (1.4a standard)
1 x Mini DisplayPort (1.2a standard)
2 x USB 3.0
1 x RJ45
1 x DC-In
1 x Kensington lock slot

Power Supply

Input: AC 100-240V
Output: DC 19V
3.42A

Projector type
Projector Resolution
Projector Aspect ratio
Projector Image size
Projector Brightness
Projector Contrast Ratio
Projector Lifecycle
Projector Input
Projector Speaker

PC: Dolby technology (1.5W)
HDMI IN: SRS technology (1.5W)
Now that you've memorized the specifications for the GIGABYTE Brix BXPi3-4010 (there will be a test later) we can move on the packaging, inside and outside, and the build. Once that's all complete we will look at the performance of the unit, head on to the next page and we can get started!