Fnatic Gear Rush Backlit Gaming Mechanical Keyboard Review
By
Fnatic Gear RUSH Software
The keyboard software can be downloaded from the Fnatic website. This program is used to program the profiles and macros stored on the keyboard's onboard memory.
The software menu has a list of macros and their assigned function, a graphic of the keyboard to the right, and the bank of profiles on the top.

Clicking a macro button on the right so that it flashes allows it to be bound to a key by clicking on the keyboard graphic. Most keys can be used except those in the darker shade of gray.

Selecting the dropdown next to each macro shows the commands that can be assigned. Many of these are hotkeys, but selecting Macro will open a macro recorder popup, and selecting Launch will open Windows Explorer to select a program or file.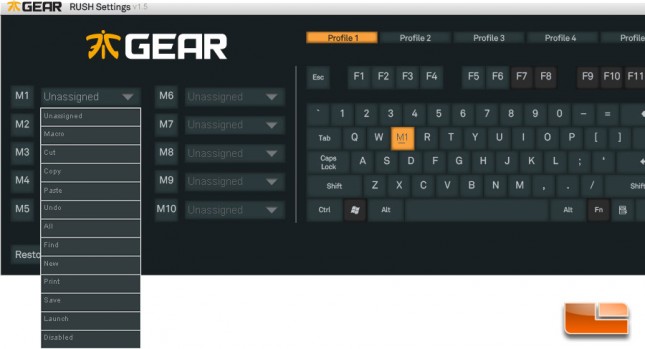 The macro recorder allows a string of keypresses to be recorded, exported, and imported. Functionality is fairly limited as macro strings cannot be edited after recording and delays are not supported. There are options for the macro to run one time when presses, repeat as long as it is held, or repeat until another key is pressed.