EVGA GeForce GTX 960 SSC 4GB Video Card Review
By
EVGA GeForce GTX 960 Super SuperClocked 4GB Review
The NVIDIA GeForce GTX 960 has been a popular video card since it was released on January 22, 2015 as comes in at the rather affordable $199 price point. If you want to step up to the next card in the GeForce product stack, the NVIDIA GeForce GTX 970, you are looking at spending $329. According to the August 2015 Steam Hardware Survey, most Windows PC gamers (34%) are playing games on displays sporting a 1920 x 1080 screen resolution with an astonishing 28% are playing at 1366 x 768. The good news for those using a 1920 x 1080 monitor for desktop gaming is that you don't have to spend several hundred dollars on a video card as the NVIDIA GeForce GTX 960 is more than capable of 1080P gaming and we've seen board partners selling GeForce GTX 960 2GB models priced as low as $155 after promotional rebate offers.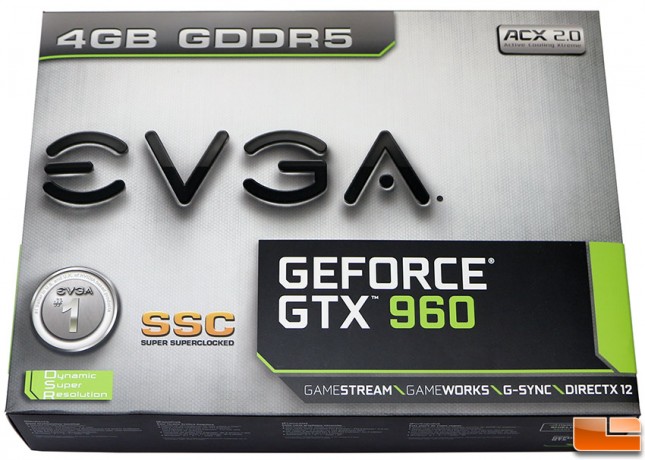 The GeForce GTX 960 card that we are taking a look at today is the EVGA GeForce GTX 960 SSC 4GB model that is sold under part number 04G-P4-3966-KR. The card ships with an accessory budle that includes a 6-pin to 8-pin PCIe power adapter, a DVI-to-VGA adapter, poster, stickers, and the driver disc. This card features the NVIDIA GM206 Maxwell GPU (fully enabled with 1024 CUDA Cores) with a base clock of 1279 MHz and a boost clock of 1342 MHz. The 4GB of GDDR5 memory comes set to 1753 MHz or 7010 MHz effective. The NVIDIA GeForce GTX 960 reference card is clocked at 1127 MHz base, 1178 MHz boost and has the memory clocked at and 7010 MHz memory, so this is a fairly aggressive 13.5% increase on the base core clock, 13.9% on the boost clock and no increase on the GDDR5 memory frequency. With these clock speeds you are looking at a texture fillrate of 81.9 GT/s and a memory bandwidth of 112.16 GB/s.
When it comes to pricing you are looking at an MSRP of $239.99, but online you'll be able one for $239.99 shipped on Amazon or for $209.99 shipped after a $20 rebate on Newegg. You can get the 2GB version of this card for $185.99 shipped after a $20 rebate if you wanted something a little more affordable, but keep in mind that it doesn't come with the backplate and that costs an extra $19.99 plus shipping if you wanted to buy it later. If you want to step up to a 4GB frame buffer and a backplate it is likely worth spending the extra money up front.

EVGA offers not one, but SEVEN different GeForce GTX 960 video card models. You have the base model that is only available with a 2GB frame buffer and NVIDIA GeForce GTX 960 reference clock speeds and then from there you move up to the overclocked cards that come with either 2GB or 4GB of GDDR5 memory. Those three models are the Superclocked (SC), Super SuperClocked (SSC) and the For The Win (FTW) edition cards. As you move up in speed you generally get more features and the table above shows how the higher-end cards come with more power phases, double vBIOS chips, backplates and the beefy EVGA ACX 2.0+ GPU cooler. You can watch the video clip below for more information about the EVGA GeForce GTX 960 SuperSC ACX 2.0 and the new cooler design.
The NVIDIA GeForce GTX 960 also features all sorts of proprietary NVIDIA technologies, including MFAA anti-aliasing for the smoothest and clearest images, Voxel Global Illumination (VXGI) that accelerates dynamic lightning for vivid and immersive graphics, and Dynamic Super Resolution technology for 4K-quality details even on 1080p displays. It also features NVIDIA G-Sync technology that synchronizes display refresh rates to the GPU on G-Sync supported monitors for tear-free gaming. You can even use this card to stream PC games to NVIDIA SHIELD with NVIDIA GameStream or better yet use NVIDIA GameStream Co-Op so your friends can watch you play, take control of your game with mirrored controls or play along with you in game titles like Trine 3, Gauntlet, FIFA 15, NBA 2K15, and Mortal Kombat Komplete that have multi-controller support.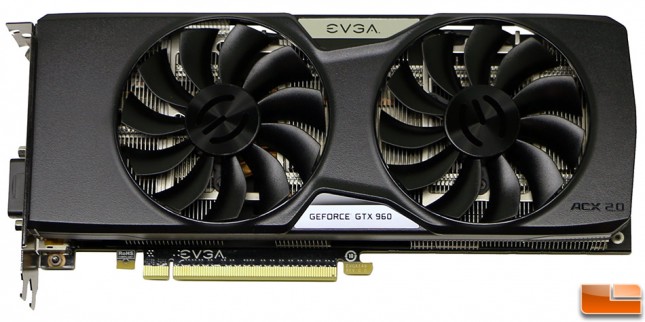 The EVGA GeForce GTX 960 SSC 4GB video card has that familiar look that has been around for some time. We've noticed some gamers are starting to say that the EVGA fan shroud is plain and that EVGA is in need of a refresh to keep up with the designs that other companies are coming out with. The EVGA GeForce GTX 950 and GeForce GTX 960 share the same PCB design and GPU coolers, so if you are looking at different models you aren't losing your mind if they look identical besides the name plates. . The EVGA GeForce GTX 960 SSC measures 256.5mm in length or 10.1 inches.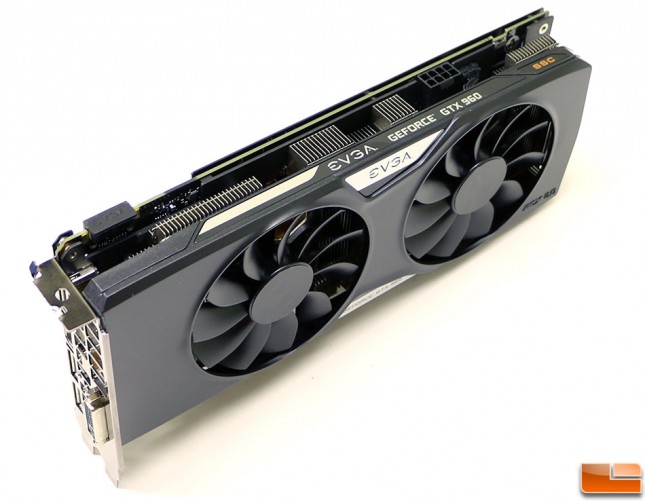 The EVGA ACX 2.0+ GPU cooler uses three copper heatpipes that help transfer the heat from the GPU to the two cooling fin arrays. The two double ball bearing fans on the card have are 0db models, so they'll only spin up when the card reaches a certain operating temperature. Along the top edge of the EVGA GeForce GTX 960 SSC you'll find a single NVIDIA SLI multi-GPU interconnect, front-facing 8-pin PCIe power connector and the Quick Switch Dual BIOS (QSD BIOS) switch for the cards two BIOS chips (dBi BIOS or SSC Performance BIOS).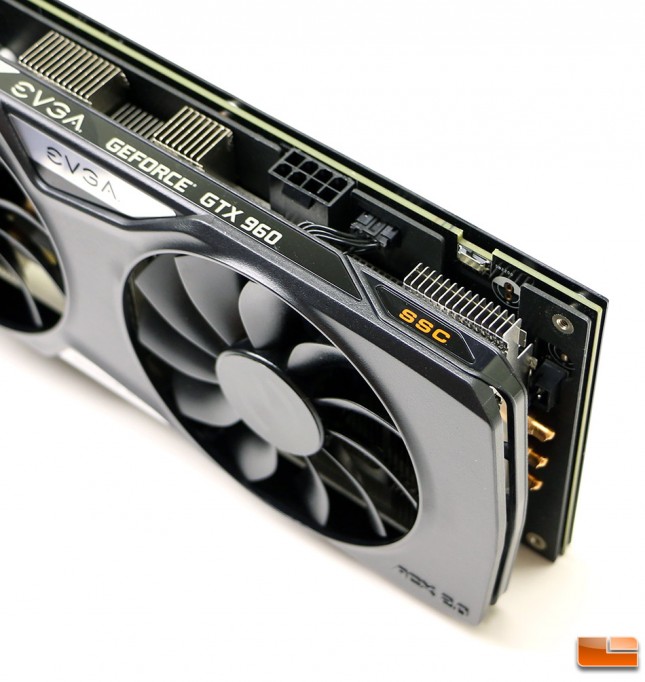 In the image above you can better see the 8-pin power connector, QSD BIOS and even see the end of the three heatpipes peaking out the end of the graphics card. With the 8-pin power design it means that this card can get 225 Watts of power from the system even though it's only got a total power draw of 160 Watts. EVGA suggests just a minimum of a 400 Watt power supply for proper operation of one graphics card.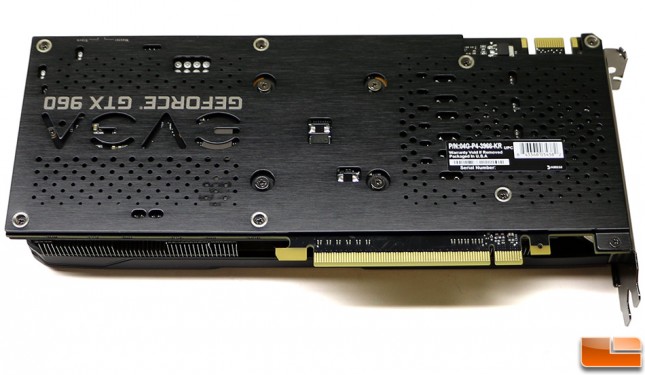 The EVGA GeForce GTX 960 SSC 4GB comes with a full coverage black back plate that is closely seated to the back of the card and should not interfere with memory slots or any other components located directly behind the primary PCIe slot.
The Memory/MOSFET cooling plate on the GeForce GTX 960 SuperSC ACX 2.0+ video card helps keep the memory 9C cooler and the GPU MOSFETs an impressive 11C cooler than the NVIDIA reference design.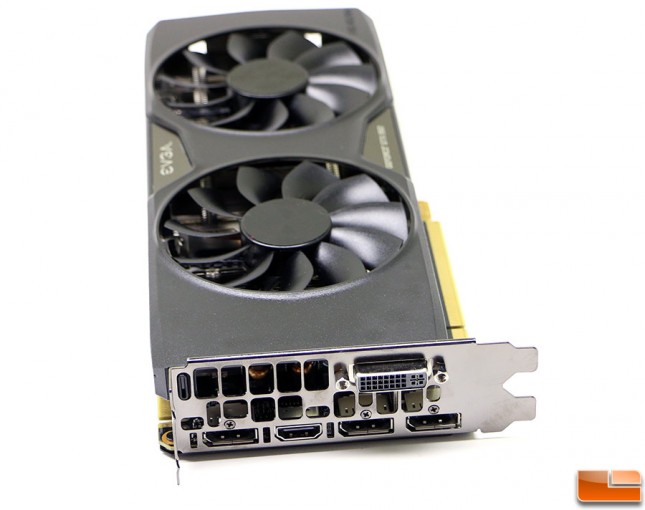 EVGA went with three DisplayPort 1.2 outputs as well as single HDMI 2.0 and one Dual-Link DVI-D header when it comes to video outputs. Up to four of these outputs can be used at any given time for those wanting to run a multiple panel desktop!
Now that we have a good understanding of what the EVGA GeForce GTX 960 SSC 4GB video card is all about we can take a look at the test system and get straight into testing!