Deepcool Captain 240 EX AIO Liquid CPU Cooler Review
By
Captain 240 EX Benchmarking
In the benchmarks that will be run, we used an Intel 4770k clocked at 3.5GHz with Turbo Boost and the low power state enabled. Turbo Boost allows the 4770k to hit up to 3.9GHz right out of the box.
To record temperatures, we used Core Temp, logged the temperatures for 15 minutes or while each program was active, and averaged all 4 cores.
Slimming down on the benchmarks from previous reviews, well be strictly using Prime95 to stress the CPU and no games. This will peg all four cores and eight threads to 100% with the In-Place Large FFT test, which will help us to understand exactly how hot this CPU can get with each cooler. This will allow you to judge if the extreme punishment from Prime95 will be sufficient for your gaming or encoding needs, as you will never see above these load numbers.
Ambient temperature during all testing was 74 degrees Fahrenheit.
I have reviewed several other air and liquid CPU coolers in the past and you will find them in the charts below for comparison purposes. I have also included the results for Prime95 with the CPU overclocked to 4.3 GHz on this page.
** Click any image below for a larger and clearer view **
Idle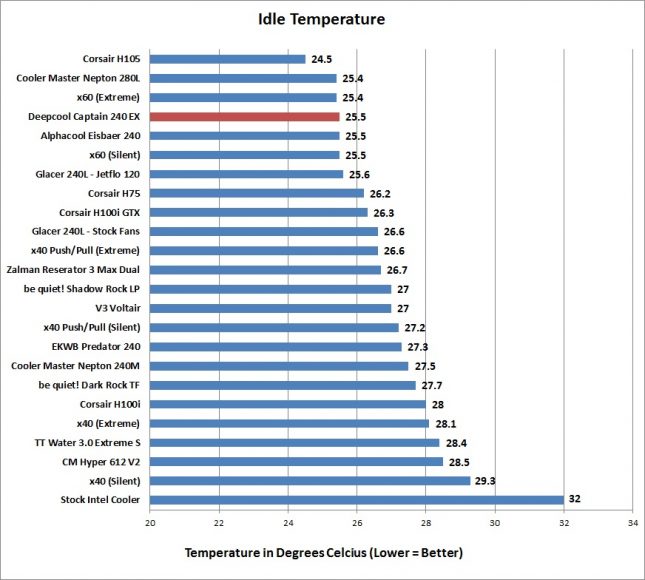 Prime95 (3.9 GHz)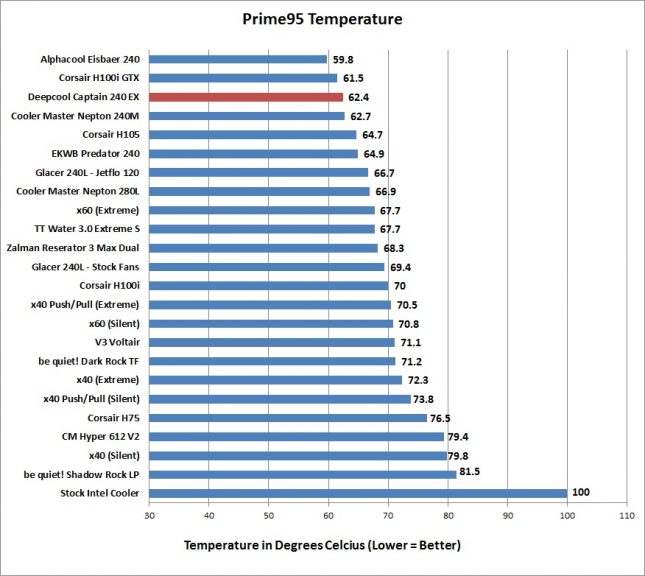 Prime95 (4.3 GHz)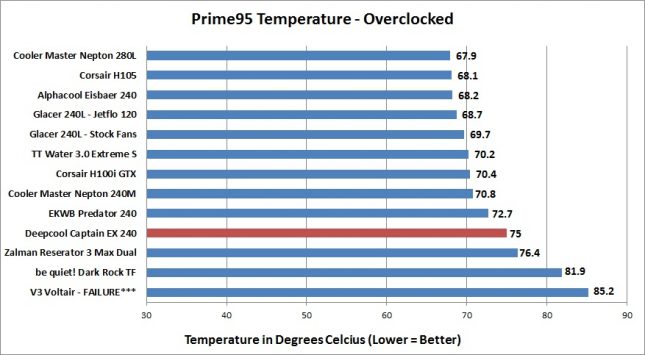 Overall Results: Comparing the Captain 240 EX to the other coolers, we found that it performed very well with the stock configuration, coming in nearly at the top. When it came to overclocking the 4770K to 4.3GHz, the cooler seemed to struggle a bit in comparison to the stock frequency numbers, but still performed quite well.