Deepcool Captain 240 EX AIO Liquid CPU Cooler Review
By
Introduction to the Deepcool Captain 240 EX AIO Liquid CPU Cooler
Launching in April and under its sub-brand Gamer Storm, Deepcool launched a newly upgraded cooler series called the Captain EX. Under this all-in-one (AIO) series, you will find 120mm, 240mm, and 360mm variants, which feature several features, such as their patented SS Design (Separated Section), a steam punk appearance, visible liquid flow, and LED lighting. New features with these coolers include things like upgraded high-density water micro-channel, anti-explosion rubber, unique silent TF 120 double-blade fan, as well as tooling free installation solution. These features do sound promising, so hopefully they allow the cooler to perform well. The Captain EX series visually looks similar to the former Captain series, but Deepcool upgraded a few features. See the chart below for a comparison of the two coolers.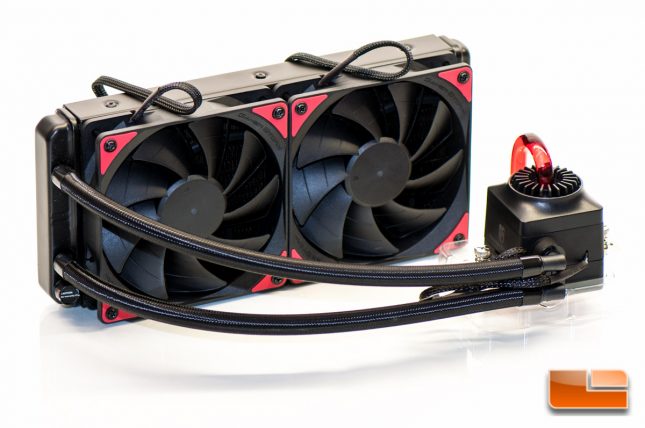 Deepcools idea behind the high-density water micro-channel, is that every last drop of liquid inside the cooler will be able to absorb and dissipate heat efficiently. Couple that with their anti-explosion rubber tubing, and theyre promising you that the safety and stability of the self-governed circulation channel in the cold plate. Deepcool includes two TF 120 fans, which are designed for high static pressure and low noise. The fans also feature an anti-vibration rubber to absorb most of the fans operating noise. Overall, on paper, this cooler is sounding great, but we will have to see how it performs in our testing.
The Captain 240 EX was made very affordable, with an MSRP of $109.99 and selling for $89.99 shipped on Newegg or $106.61 shipped on Amazon right now. Like all of their other liquid cooling products, Deepcool has placed a 3-year warranty on the Captain EX. Should you find something go wrong with your cooler, you sure do have a nice guarantee behind it.
Not a whole lot has changed between the original Captain series vs. the Captain EX series, but take a look at the chart below for a comparison.
Deepcool Captain 240 EX Technical Specifications:
Captain 240
Captain 240 EX
Fan Dimensions
120X120X25mm
Net Weight
118310g
124910g
Fan Speed
600200~220010%RPM
500200-180010%RPM
Fan Air Flow
182.24CFM (MAX)
153.04CFMïMAX)
Fan Air Pressure
3.71mmH2O(MAX)
3.31mmH2O(MAX)
Fan Life Expectancy
100000 hours
50000 hours
Fan Noise Level
17.6~39.3dB(A)
17.6~31.3dB(A)
Fan Bearing Type
FDBïFluid Dynamic Bearing)
Hydro Bearing
Fan Connector
4-Pin
Fan Rated Voltage
12VDC
Fan Rated Current
0.2610%A(MAX)
0.1210%A(MAX)
Fan Power Consumption
3.12W
1.44W
Main System Dimensions
89X65X82mm
92.5X93X85mm
Radiator Dimensions
274X120X27mm
Radiator Material
Aluminum
Pump Life Expectancy
120000 hours
Pump Connector
3-Pin
Pump Operating Voltage
6~13.8VDC
Pump Rated Voltage
12VDC
Pump Speed
220010%RPM
Pump Current
0.1615%A
Pump Power Consumption
1.92W
For being a relatively inexpensive AIO cooler, will the price tag on the Captain 240 EX match the performance? That's something we will have to find out in the coming pages! Let's move on and take a quick look at the packaging and what comes inside the box, and follow that up with a performance review of this wicked liquid CPU cooler.