DeepCool Captain 120 AIO Liquid Cooler Review
By
DeepCool Captain 120 AIO CPU Liquid Cooler
DeepCool was founded in 1996 producing cooling accessories for desktops and servers. With personal computers becoming one of the most important tools of our time, they expanded into AIO liquid cooling, cases and power supplies. In September2014, they introduced the Captain AIO liquid cooler series that features a Patented SS design (Separated Section) that divides the pump and cold plate into two blocks, connected by a unique transparent connection tube makes the water flow visible. The cooler is topped off with an LED light on the top to give it the nuclear-reactor like appearance that the designers were going after.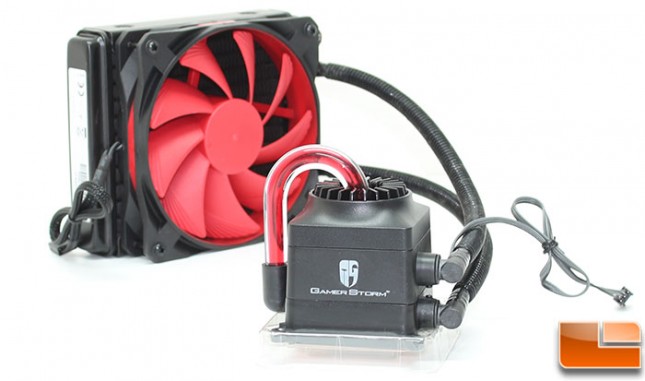 The Captain series of AIO liquid coolers, is available in three sizes, 120mm, 240mm and 360mm. DeepCool sent over the Captain 120, which features a 120mm radiator that is 27mm thick with a single 120mm fan. The Captain 120 can be found online starting around $79.99 plus shipping and increasing from there depending on the retailer. If you wanted to go something larger you can step up to the 240mm ($119.99) or 360mm ($139.99) models if your budget and case will allow it. Today, we'll be looking at the entry-level DEEPCOOL Gamer Storm CAPTAIN 120 CPU Liquid Cooler AIO Water Cooling solution.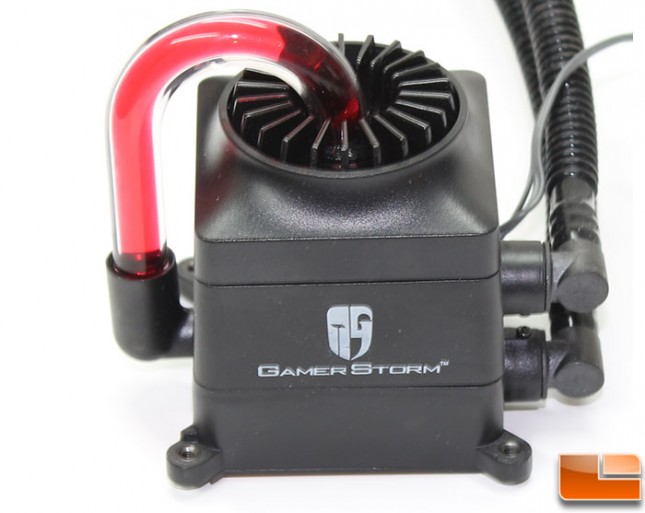 Following similar principles of other AIO Liquid Coolers, the Captain 120 uses a pre-filled and sealed pump and reservoir that is connected to the radiator with rubber tubes that are 326mm (12.83in) in length, allowing for a wide variety of install locations. The pump uses a durable zirconia ceramic bearing that has a 120,000 hour life expectancy, which is about 13.7 years of use. DeepCool placed a 3-year warranty on all of the CAPTAIN CPU Coolers, so if something should fail during that time period it will be highly unlikely to be the pump bearing.
DeepCool Captain CPU Cooler Features and Specifications
AIO liquid radiator with original Separated Section design, self-governed circulation channel to offer more efficient heat dissipation
Amazing transparent connection system, visual liquid flow design
Crazy steam punk appearance & the unique reactor-style pump housing
Three-phase induction motor built-in the powerful closed impeller, the stronger liquid flow & bigger delivery head
Long lifetime ceramic bearing with MTBF 120,000 hours
0.2mm high-density water microchannel (Skiving Fin technics), 100% pure copper base
120mm rubber-covered PWM fan with de-vibration design, unique FDB bearing owned a lower noise &longer lifetime
Patented detachable fan impeller easy to clear dust& lubricating oil recruited, DIY top-priority mounting
Bionic red LED breathing light lightening up while operating
DeepCool Captain 120 Specifications
Water Block
Copper
Pump
Motor Speed: 2800 +- 150RPM
Rated Voltage: 12V
Power Consumption: 3.0W
Fan
Dimension: 120 x 120 x 25mm
Speed: 600 – 2200RPM
Noise Level: 17.6 – 39.3dBA
Rated Voltage: 12V
Max Air Flow: 91.12CFM
Connector: 4 Pin
Radiator
Dimension: 154 x 120 x 27mm
Material: Aluminum
Tube
Length: 326mm
Material: Rubber
Compatibility
Intel: LGA 2011 / 1366 / 1150 / 1155 / 1156
AMD: FM2+ / FM2 / FM1 / AM3+ / AM3 / AM2+ / AM2
Warranty
3 Years
Now that we are familiar with the DeepCool Captain 120, let's get to unboxing it and prepare for installation.