Crucial Ballistix Tactical LP and Sport VLP 1600MHz DDR3 Memory Kit Review
By
The Test System
The Test System
Before we look at the numbers, let's take a brief look at the test system that was used. All testing was done on a fresh install of Windows 7 Ultimate 64-bit and benchmarks were completed on the desktop with no other software programs running. We went with an Intel Core i7-3770K Ivy Bridge processor and a Gigabyte Z77X-UD5H motherboard for testing since they are the latest and greatest available.
Our CyberPowerPC Zeus Thunder 2500SE Features:
Intel Core i7-3770K Quad-Core Ivy Bridge CPU
Asetek 570LX 240mm CPU Water Cooler
Gigabyte GA-Z77X-UD5H Motherboard
1TB SATA III 6.0Gb/s 7200RPM Hard Drive
120GB Corsair Force GT SATA III 6Gb/s Solid-State Drive
LG 12x Blu-Ray Player & 24x DVD-R/-RW Dual Layer Optical Drive
Corsair TX850 V2 850 Watt Power Supply
NZXT Switch 810 Case (White)
Windows 7 Home Premium 64-Bit
Xtreme Gear USB Keyboard & Mouse
Intel Z77 Test Platform: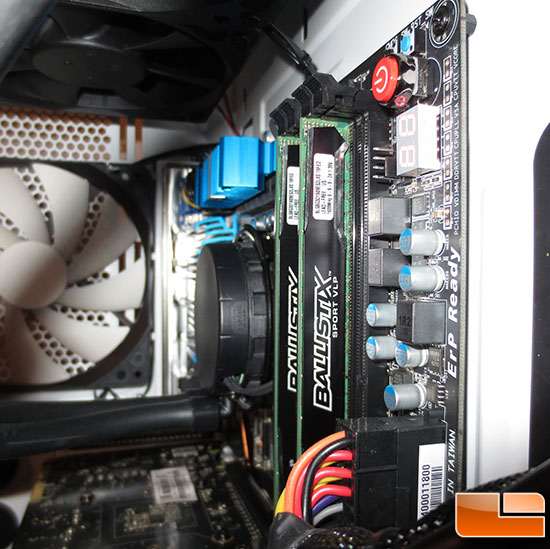 The Intel Z77 platform that we used to test the Crucial Ballistix Tactical LP and Spory VLP memory kits was running the Gigabyte GA-Z77X-UD5H motherboard with BIOS F6 that came out on 4/26/2012. The processor was an Intel Core i7-3770K that was overclocked from 3.50GHz to 4.50GHz. This 1GHz overclocked was achieved by changing the CPU multiplier from x35.0 to x45.0 and raising the CPU Voltage to 1.250V.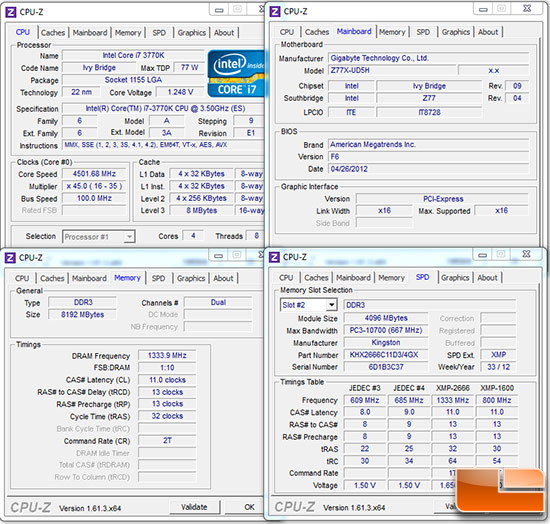 Let's get on to the testing!