Crucial Ballistix Tactical LP and Sport VLP 1600MHz DDR3 Memory Kit Review
By
Crucial Ballistix Goes Low Profile and Low Voltage DDR3!
I started writing about DDR3 memory modules in May 2007 before the supporting motherboards came out, so it takes quite a bit to get me excited about memory after writing about it for nearly six years of doing so. In fact, buying a memory kit is one of the more boring aspects of building or upgrading a PC as they are all so similar. Most consumers buy a memory kit based on price and how it looks after figuring out what speed memory they want to go with. Today, I'm looking at two 16GB (2x8GB) 1600MHz DDR3 memory kits from Crucial that are a little different from the dozens of other kits at this very popular memory speed. The kits that I'm about to show you both have low profile designs and run at just 1.35V! No other brand has a memory kit on the market that has both of these features, so it is interesting to see Crucial breaking the 'norm' and doing something different than all the other memory companies.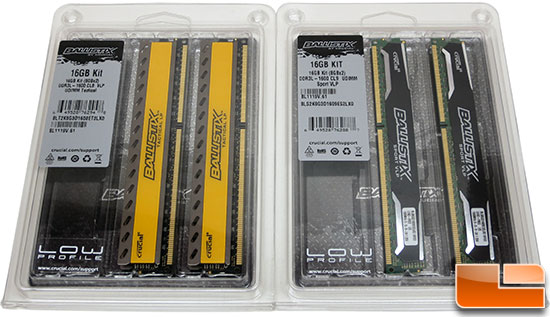 The two memory kits that we will be looking at today are the Crucial Ballistix Tactical LP (BLT2K8G3D1608ET3LX0) and the Crucial Ballistix Sport VLP (BLS2K8G3D1609ES2LX0). Both kits are similar, which is why I'm reviewing them together, but they are slightly different.
Crucial Ballistic Memory Module Specifications

Model
Tatical LP
Sport VLP
Part Number
BLT2K8G3D1608ET3LX0
BLS2K8G3D1609ES2LX0
Memory Type
DDR3 240-pin
DDR3 240-pin
Memory Speed
PC3-12800
PC3-12800
Memory Speed MHz
1600MHz
1600MHz
Memory Size
2 x 8192MB
2 x 8192MB
Total Memory Size
16GB
16GB
PCB Color
Black
Green
Heatspreader Color
Yellow
Black
Module Height
18.75mm
25.50mm
XMP Profiles
Yes, XMP 1.3
Yes, XMP 1.3
Memory Timings
8-8-8-24 2T
9-9-9-24 1T
Voltage
1.35V
1.35V
ECC
No
No
Memory Buffer
Unbuffered
Unbuffered
Price
$132.10 shipped
$106.99 shipped
As you can see from the data table that I complied above, the main difference between the modules are the height, colors and memory timings. There is also a just over a $25 price difference between the two memory kits, so it will be interesting to see how they perform. The Crucial Ballistix Tatical LP memory kit has tighter timings, but the command rate is set to 2T in the XMP 1.3 profile. It will be interesting to see if that hurts performance!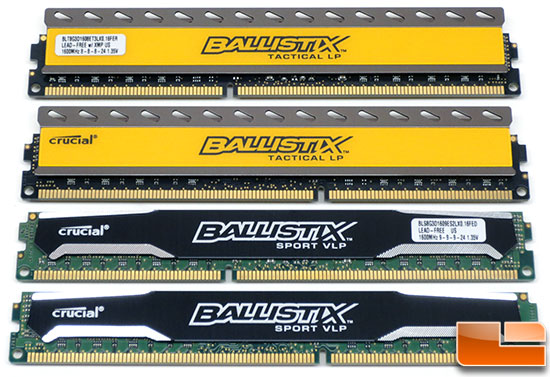 The Crucial Ballistix Tactical LP series is aimed at gamers, power users, and performance enthusiasts. These modules feature a black PCB and an enhanced heatspreader design for improved thermal performance. The 16GB (2x4GB) DDR3-1600MHz memory kit also has lower latencies (8-8-8-24) than the Sport VLP series. They also feature Intel Extreme Memory Profile (XMP 1.3) which enables easy setup.
The Crucial Ballistix Sport VLP on the other hand is designed to provide mainstream users and general PC enthusiasts with an affordable, reliable, no-hassle gaming experience. The Crucial Ballistix Sport VLP series offers looser timings (9-9-9-24), but the voltage remains 1.35V for maximum memory stability and system compatibility. The PCB is now green on these modules, but not much of it will be shown after it is installed into the 240-pin DDR3 slot on the motherboard and clipped in.

Being a low profile design, these memory modules allow for extra clearance around your CPU coolers for better airflow. This is great news for those building a system and want to have the best airflow around the processor!
The Crucial Ballistic Sport VLP module stands just 18.75mm tall and the Crucial Ballistix Tatical LP is 25.50mm in height. A normal DDR3 memory module module with a heatspreader on it is around 32mm in height, so these are substantially lower. Super high-end performance memory like the Kingston HyperX T1 module stands 60.95mm tall, but the Corsair Dominator GTX module tops them all at 64.30mm tall!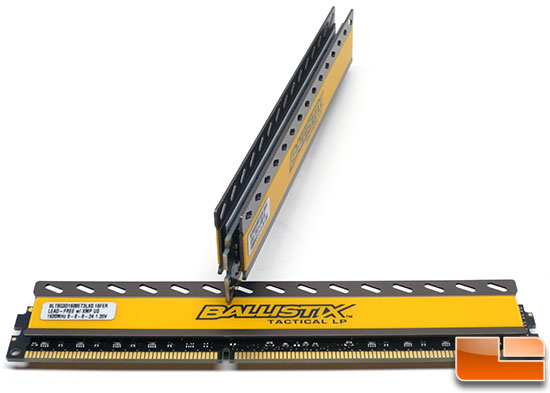 The Crucial Ballistix Tatical LP memory kit has a heatspreader on it that is taller and looks more aggressive, but it is safe to assume that it's just for looks and doesn't have any major cooling benefit.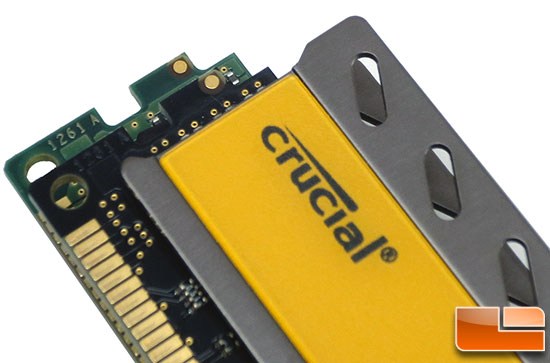 Before we move on to testing, I wanted to point out that both memory kits use the same exact PCB despite them being different colors. Both are marked 1261A on one side and on the other side is marked E85792 and CK 77-1 3. I looked up the manufacturer code and it looks like APCB Inc. is the maker of this PCB and then Crucial buys them and assembles the modules with Micron DDR3 memory IC's. The memory chips appear to be the same, but our sources inside Crucial informed us that the Ballistix Tatical LP memory modules are using better binned chips that are tested to a higher standard. This makes sense as they are running tighter CL8 timings, but we'll have to see how both overclock later on.
Now that we have a good understanding about these two memory kits we can get on to testing them on our Intel Z77 test system!