Cougar Gaming Puri TKL Mechanical Keyboard Review
By
Cougar Gaming Puri TKL Mechanical Keyboard
When looking at the PC peripheral landscape today, we can find a variety of mechanical keyboards available from many manufacturers, some of them billion dollar companies with huge R&D budgets, others smaller companies looking to carve out a piece of the market for themselves. I recently looked at a $149 wireless keyboard from Logitech, the G613. While the G613 is a great wireless mechanical keyboard with a lot of solid features, the $149 price point is prohibitive to many consumers. Corsair, Razer, SteelSeries and others also offer heavily featured mechanical keyboards that ring in above the $100 price point. While these keyboards definitely have a market, many users simply can't justify dropping more than $100 on a keyboard, regardless of the features it can offer.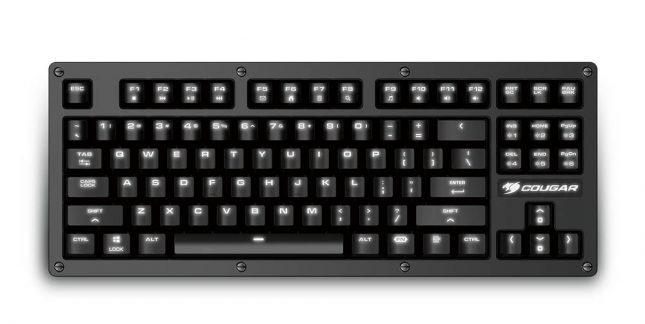 The Puri TKL, featuring Cherry MX mechanical switches, is the latest keyboard from Cougar Gaming
Cougar Gaming, a manufacturer of computer cases, power supplies and peripherals, knows that there are budget-oriented PC gamers out there who want a well-built backlit mechanical keyboard with Cherry MX switches that won't cost them a small fortune. Today, we're looking at the Cougar Puri TKL, a no-nonsense Tenkeyless keyboard with German-made Cherry MX key switches and single-color white LED backlighting that is available exclusively from Newegg for $69.99 shipped with either Cherry MX Blue or Cherry MX Red switches.
Since my initial experiences with mechanical keyboards in the late 1990's, I have never felt a desire to turn back to membrane keyboards. With rubber dome keyboards, users typically can expect one common characteristic: mushy and inconsistent. Mechanical switches offer responsiveness and consistency not afforded by the switches of a membrane keyboard, in addition to offering unique tactile and audible feedback characteristics that vary between switch types. Currently, my favorite switch types are the Logitech Romer-G and Cherry MX Brown, which both offer tactile feedback with a low noise profile. You will find plenty of people who dislike these switches and prefer Cherry MX Blue switches, or Razer Greens. One of the best parts about mechanical keyboard switches is that so many are available, consumers are able to find the switch that suits them best, though acquiring and testing keyboards outfitted with various switches might be a bit taxing on the wallet.
While I have found excellent key switches from Gateron, Omeron and Topre, Cherry MX remains the industry standard for high quality, mechanical key switches. While companies like Razer and SteelSeries have opted to use their own branded switches made by Kailh, there are many enthusiasts who refuse to buy a mechanical keyboard with anything other than Cherry MX switches. We understand companies not wanting to be stuck with just one supplier and steering away from Cherry MX switches to save on manufacturing costs, but it's pretty tough to sell an unproven entity against a product with an excellent long-term track record. Cherry MX switches cost more than those made by Kailh and Gateron at wholesale, so you tend to see the Cherry MX switches reserved for use on premium keyboards. With the Puri TKL, Cougar gives users the choice between five different Cherry MX switches, which makes the $69.99 MSRP even more appealing, since at this price point we usually start to dip into off-brand switch territory.
Cougar Puri TKL Mechanical Gaming Keyboard Specifications
Warranty
One Year Limited
Key switch
Mechanical Cherry MX (MX Blue PN: PURI TKL3, MX Red PN: PURI TKL1)
N-key rollover
Yes (USB mode support)
Key Backlight
White LED
Game type
FPS / MMORPG / MOBA / RTS
Polling rate
1000Hz / 1ms
Material
Steel / Plastic
Interface
USB plug
Magnetic Protective Cover
Yes
Cable Length
1.8m Braided
Detachable Cable
Yes
Dimension
150(L) X 370(W) X 40(H) mm
5.9(L) X 14.56(W) X 1.57(H) Inch
Weight
1.2kg (2.64 lbs)
The Cougar Gaming Puri TKL is backed by a one year warranty and features a low profile design that will save desktop space. The Puri TKL has a Windows-compatible 87 key US layout, which is also known as tenkeyless, or TKL. If you don't use the number pad, a TKL keyboard is a great choice, as it allows for improved ergonomics over a standard full size keyboard, thanks to a shorter throw distance to the mouse. Many professional gamers use TKL keyboards during competition because it gives them more real estate for mouse movement. I have used TKL keyboards for several years, with my current favorites being the Ducky One TKL RGB and Logitech G Pro.
Cougar is advertising the 1MS response time/1000HZ polling rate of the Puri TKL, which is fine, but most keyboards these days are running at 1MS. It is interesting that they list which types of games this keyboard is for and include the types of games that users would commonly use macros with. I am not saying the Puri TKL can't be used for MMO and RTS games, it certainly can, it's just that products advertised towards these types of games tend to have macro support/extra buttons.
The Puri TKL supports n-key rollover from within the OS, meaning that the OS can register multiple key presses at the same time. Unless you are going haywire with your button presses, n-key rollover isn't a functionality that should ever come into play, but it is nice to have.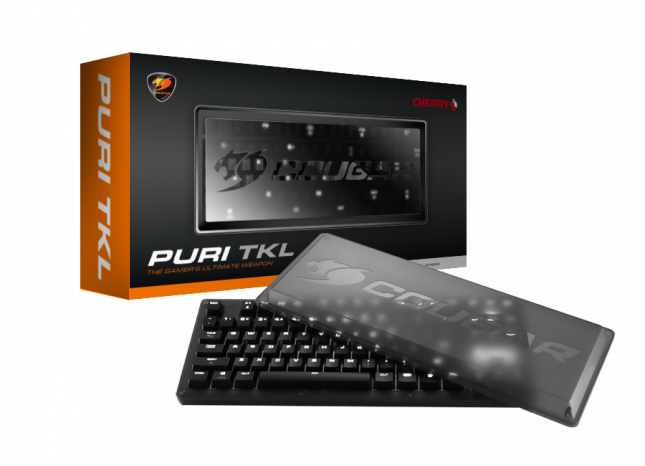 There are several different backlighting modes on the Puri TKL, all of them in white. There are twenty preset modes (uniform, wave, breathing, ripple) and you can also program different modes, though the Cougar logo is not able to be toggled off when LED modes are active.
There are a large number of PC gamers who can't use a tenkeyless keyboard because they absolutely need the number pad and for them Cougar does offer a full size version of the Puri for $79.99. My research and talks with various people in the keyboard industry affirm that while TKL keyboards are definitely a worthy market segment, an overwhelming majority of people still prefer full-size keyboards.
Let's take a closer look at the Cougar Gaming Puri TKL and the accessories that are included in the retail package, next.