Cougar CMX v.3 850W Power Supply Review
By
Cougar CMX v.3 850W Power Supply Review Conclusion
The Cougar CMX v.3 850W power supply has left us with mixed feelings. Even though it is a very good product, there are certain points which can certainly be improved. It does however achieve a very good balance between quality, performance and aesthetics, which many users will certainly find appealing.
HEC/Compucase has been a reputable OEM of power supplies for decades and the Cougar CMX 850W PSU reflects that. It is a very well made product and the company chose some of the best quality components currently available, such as the Panasonic APFC capacitors and the CapXon solid-state capacitors at the secondary. The body of the power supply is also very well made, with a very good paint job, making the CMX 850W visually unique and appealing – granted that you like dark orange as a color. The only hiccup is the huge, unguarded cables hole, which, along with the cable sleeving ending abruptly right at the opening, looks as an unfinished job.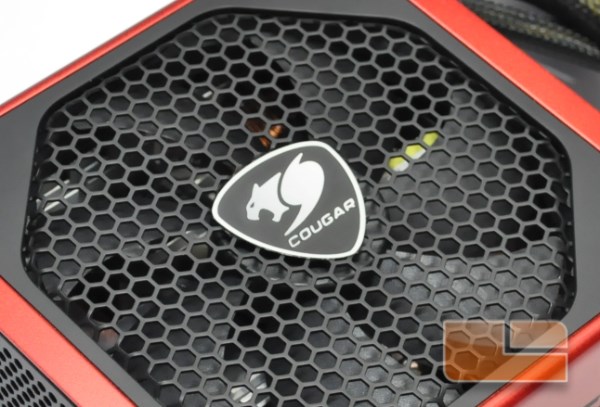 The performance of the CMX 850W is not stellar but it certainly is satisfactory for the class of the power supply. The new revision of the CMX 850W unit displayed very good electrical performance, with excellent regulation and good ripple suppression. Perhaps the most notable point however is the efficiency, which is high for an 80Plus Bronze certified power supply.
The new revision of the CMX 850W power supply has clearly been designed in order to entice enthusiasts who do want a high power output, a unique appearance and good overall performance, yet do not really care about getting the highest 80Plus efficiency rating possible. However, almost every manufacturer has a similar product and users have plentiful alternatives, therefore Cougar might have a hard time facing the competition if the retail price of the PSU will not be appealing at the time of its launch in the US. Cougar informed us that the CMX v.3 850W power supply will be available to US customers in early November.
CMX v3 700W newegg MSRP is $109.99
CMX v3 850W newegg MSRP is $129.99
CMX v3 1000W newegg MSRP is $159.99
Legit bottom line: The Cougar CMX v.3 850W certainly is a very interesting product, with its own unique advantages and disadvantages. Depending on the retail price after it hits the stores, it could prove to be a formidable adversary for many other equivalent products.