Corsair VX450W Power Supply Review
By
Final Thoughts and Conclusions

The Corsair VX family of power supplies appears to continue Corsair's tradition of bringing out high quality parts to consumers as well as Corsair's attack on markets from the top to the bottom. The Corsair HX620W and HX520W power supplies were found to be some of the best power supplies that money could buy with the HX620W being able to run power hungry systems like AMD's QuadFX platform without as much as a hiccup. Now that Corsair has been in the power supply industry for a year they have launched the VX family aimed directly at the mainstream consumer that is building a moderate multimedia system or a HTPC user that wants both power and low noise.
With a targeted street price of $69, the Corsair VX450W would be priced just under competing brands in the 430-450W power supply market. At this price point, the Corsair VX450W was found to be a very robust power supply, but lacked modular cables. With modular power supplies being on the market for so long now it's interesting to see that Corsair didn't fit the VX family with modular cables, but it shouldn't be a deal breaker for many in this market as case windows aren't too common. An example of this would be the Antec Fusion HTPC case that we used in this review. The extra cables were simply zip tied and stuffed aside and since it's going in the electronics cabinet, no one will ever know.
In terms of noise and efficiency, the Corsair VX450W power supply got high scores in our books. The ambient background noise of the test lab was higher than that of the fan in the power supply, so it was tough to get a reading on it, but it appeared to be below the noise level of the room (22dBA).
Corsair stands behind VX product family with a 5 year (60 months) warranty, so consumers can have piece of mind as most consumers usually update their computer at least once every five years. Corsair also has become aware that questions about their products can occur at all hours, on-line customer support is accessible 24/7 at askthepowerguy.com.
After you figure in the five year warranty, customer support staff, product quality and price point it is hard to ignore the fact that Corsair has come out with a great power supply for mainstream consumers.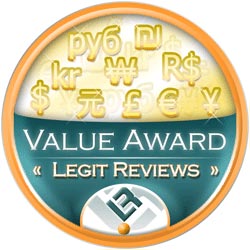 Legit Bottom Line: The Corsair VX450W is a highly efficient 450W power supply that can easily handle today's dual-core processors and is ideal for HTPC where silence and efficiency are key.