Corsair VX450W Power Supply Review
By
Corsair Introduces A 450W Mainstream PSU
Now that Corsair HX620W and HX520W power supplies have been released for nearly a year, it's time to release some new models. Why bother with a 450W model when the 520W and 620W models are doing so well? Price, of course! The new Corsair VX family of power supplies incorporate a single +12V power rail that is designed to deliver continuous power under heavy loads while keeping things simple inside the unit. By reducing the specifications on the VX450W, the power supply is significantly less expensive than the HX620W power supply. Corsair informed LR that the MSRP is $85 and street price is going to be around $69~$79, which is a bargain seeing how the MSRP on the HX520W was $119 and the HX620W was $169.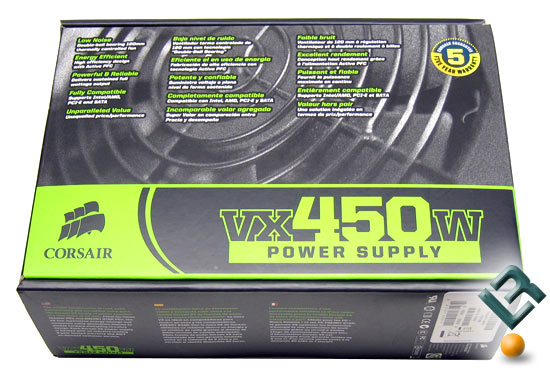 The Corsair VX family of power supplies was launched with home theater PCs and ENERGY STAR PCs in mind. Corsair claims that the V450W power supply has 80% efficiency when at 20%, 50% and 100% load, but has not had the power supply 80 plus certified as of yet. The VX line maximizes energy savings and keeps the noise level down thanks to double-forward switching circuitry design. Each Corsair VX power supply is backed with an industry-leading 5-year warranty. Speaking of features, lets take a look at the full list.
Specifications:
ATX 2.2 and ATX 2.01 compatible
Ultra-quiet 120mm double ball-bearing thermally controlled fan
High efficiency, up to 85% under a wide load range
Single +12V rail offers maximum compatibility with latest components
Supports SATA and PCI-E devices
High-quality Japanese capacitors
Active Power Factor Correction (PFC) with PF value of 0.99
Auto-Switching universal AC input from 90~264V.
Over Current/Voltage/Power Protection, Under Voltage Protection, and Short Circuit Protection
Extra long fully-sleeved cables support full size tower chassis
Standard ATX PS/2 size: 5.9″(W) x 3.4″(H) X 5.5″(L) 50mm(W) x 86mm(H) x 140mm(L)
MTBF: 100,000 Hours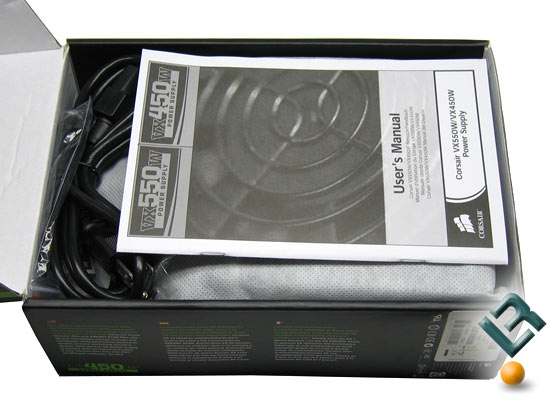 The presentation of the retail package was superb and the inside was found to be just as cleanly laid out.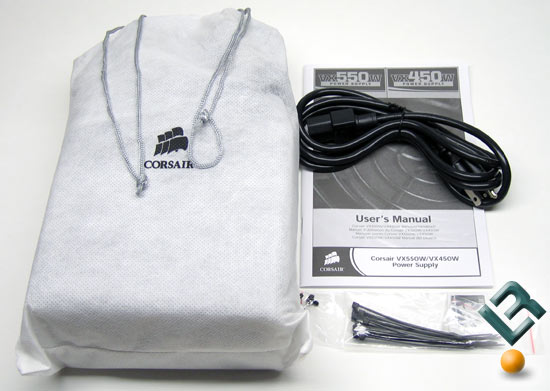 The Corsair VX450W comes with the the power supply, user's manual, power cord, screws, zip ties, case badge, and power supply bag. The zip ties come in handy when routing all the power cables in your case and will give you the nice clean look that you are craving if you spend the time to do it right.