Corsair VOID Surround Gaming Headset Review
By
Corsair VOID Surround Gaming Headset
A non-RGB headset was notably absent when Corsair announced and later launched its new lineup of VOID gaming headsets late last year. Today we're taking a look at the VOID Surround which serves as the more appropriate successor to the Corsair Gaming H1500 USB headset, but with something new and different to improve device compatibility.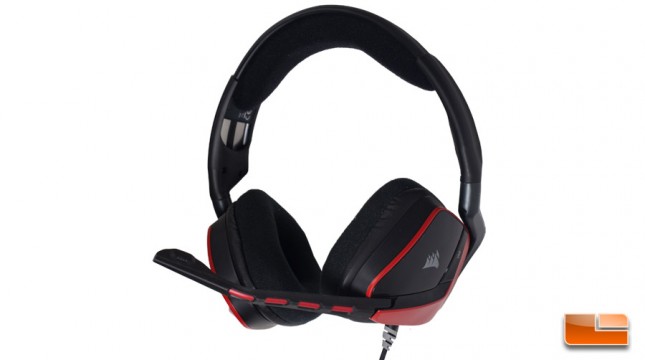 USB gaming headsets gain the benefits of codecs that can provide novel features such as Dolby Surround in the case with the Void Surround. However, those codecs, audio processors, or audio controllers require USB for electrical power and system interfacing. As such, this renders these headsets compatible only with computers. What Corsair has down is take the audio codec out of the headset and placed it into a USB dongle while bundling the analog headset for maximum device compatibility.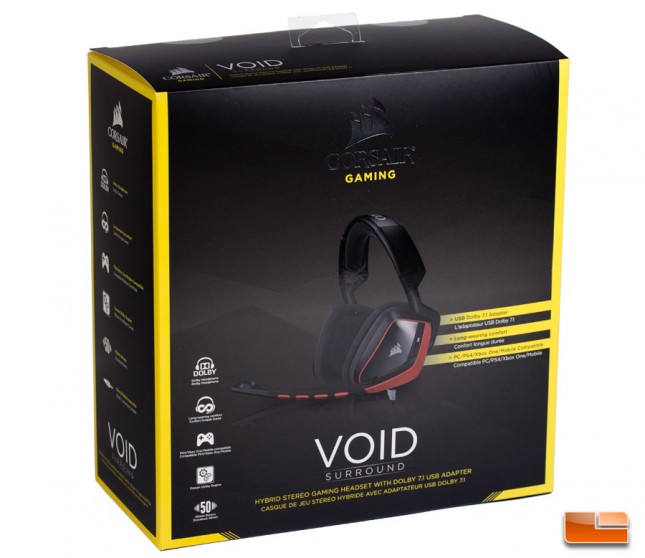 The VOID Surround uses the same VOID headset design among which we have previously reviewed the VOID RGB Wireless headset. Shared features include memory foam earpads covered in microfiber, volume and microphone controls on the headset, and a swiveling microphone with a bendable tip. Unlike the other USB VOID headsets, the VOID Surround has an analog headset similar to that of the Void Stereo and as such does not have RGB lighting. Like all other Corsair headsets, the VOID Surround is backed by a 2 year warranty. Currently, Newegg is having a special for the VOID Surround where it being sold at the discounted price of $59.99 with free shipping.
Corsair VOID Surround Gaming Headset Features:
Microfiber/memory foam earpads
Noise-cancelling mic
PC/Mac, PlayStation 4, Xbox One (audio adapter may be required), and mobile compatible
On headset controls
Corsair VOID Surround Gaming Headset Specifications:
Connector: 4-pole 3.5mm
Headphones
Frequency Response: 20 Hz 20 kHz
Impedance: 32 Ohms @ 1 kHz
Sensitivity 107dB (+/-3dB)
Drivers: 50mm
Microphone
Type: Unidirectional noise-canceling with adjustable, rotatable boom
Impedance: 2.2k Ohms
Frequency Response: 100Hz 10KHz
Sensitivity: -38 dB (3 dB)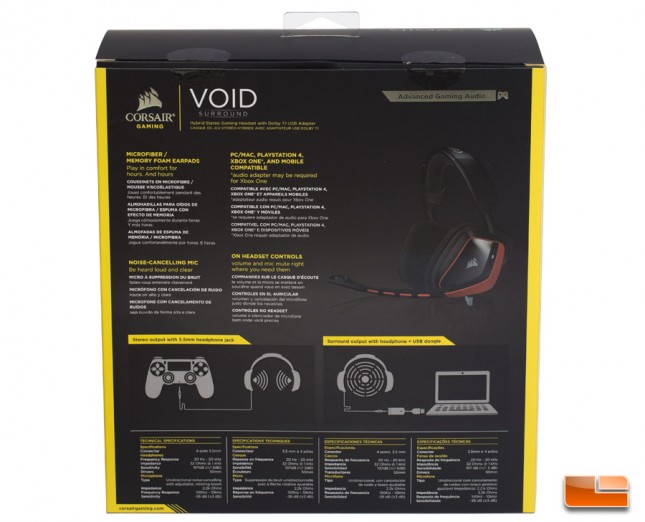 Corsair has packed the VOID Surround in an elaborate system of yellow cardboard filler boxes is mostly unnecessary since the outer cardstock packaging doesn't have any windows. One twist tie secures the headset to the box which has to be undone from the backside. The USB dongle is taped in a bag around the headset. The quick start guide and warranty information is hidden in between the filler boxes and could be easily missed and overlooked.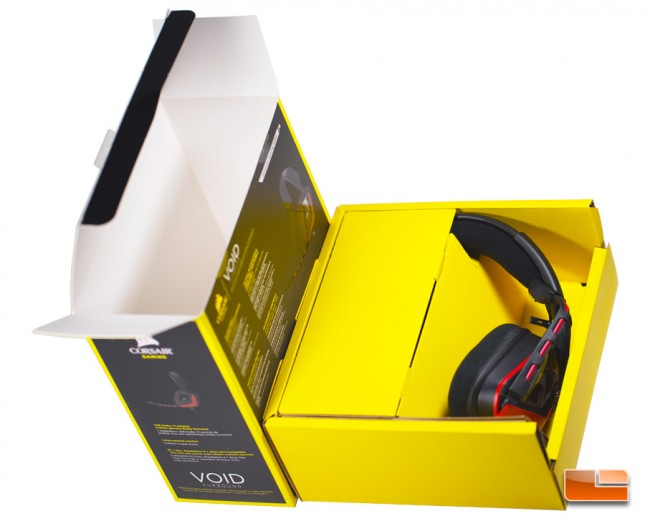 Laying out the contents, we have a headset, USB dongle, quick start guide, and warranty information. Software is not included and must be downloaded in order to use dongle's Dolby Surround feature. Something to note is that this headset ships with its microphone already bent which seems to be Corsair's way of showing everyone how that flexible boom is supposed to be used. On the next page, we take a closer look at the headset and USB dongle.