Corsair Vengeance 1400 Gaming Headset Review
By
Corsair Vengeance 1400 Gaming Headset
Corsair has been busy the past year improving its peripheral lineup. We previously reviewed both Vengeance mechanical keyboards and noticed that the biggest changes to those products over their predecessors were implemented from community response. We were impressed at how well Corsair was able to adapt to all the feedback and improve already likable keyboards. However, those aren't the only gaming peripherals Corsair has worked on. We're about to take a look at all of Corsairs new headsets for 2013 in a series of reviews starting with the Vengeance 1400.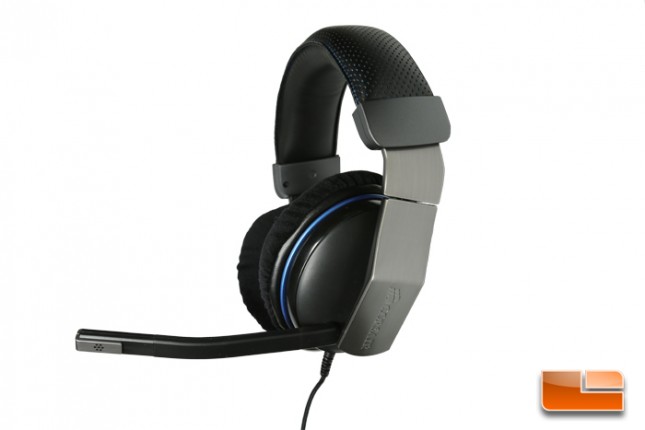 The most obvious visual changes to the entire range of 2013 Vengeance headsets over the 2012 predecessors are the new color scheme and thicker axle in the rotating joint. The older Vengeance headsets were primarily black or silver while the newer headsets have gunmetal gray tones. The thicker axles comes from complaints from Vengeance headset owners who complained of poor build quality. Corsair has also claimed that the sound signature has been redone with deeper bass and a more vibrant treble. Well examine all of these in a bit.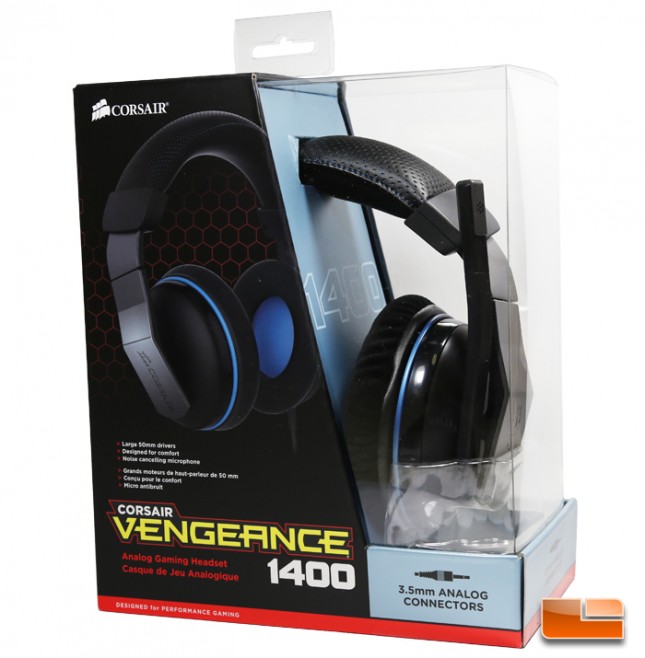 The Vengeance 1400 is the direct successor of the Vengeance 1300. These headsets plug into devices with dual 3.5 mm analog plugs unlike the other Vengeance headsets which plug in via USB. It is for this reason that the Vengeance 1400 is intended for gamers with dedicated sound cards. Alternatively, an informal survey on Corsairs Facebook page has made apparent that there are many who have a general preference for the analog audio connectors. The Vengeance 1400 can be found online for $74.99 shipped, which is $10 more than what the Vengeance 1300 sold for at $64.98 shipped. The Corsair Vengeance 1500 (and 1500V2) are priced around $110, so the and Vengeance 1400 comes in at a lower price point, but the features are very similar to the Vengeance 1500 v2 gaming headset and to that of the preceding Vengeance 1300. The 50mm drivers, braided cable, retractable unidirectional microphone, full-sized closed-back design, and foam padding are all conserved and shared across all Vengeance headsets with the exception of the discontinued Vengeance 1100.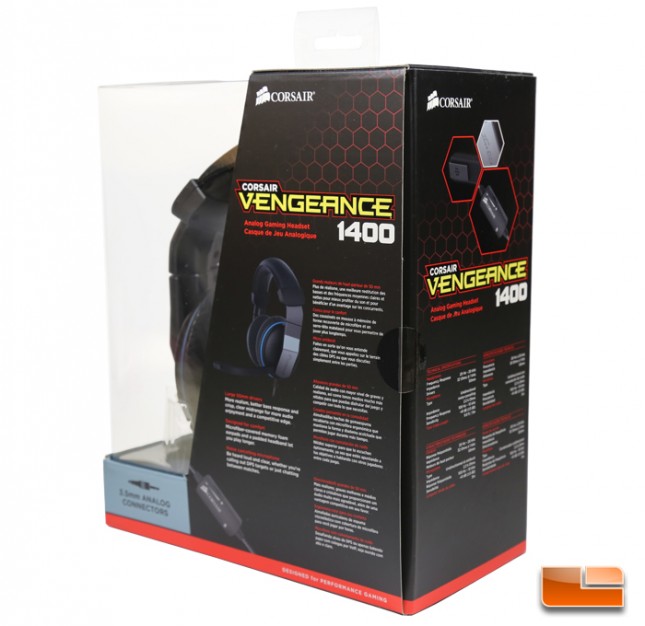 Corsair Vengeance 1400 Gaming Headset Features:
Large 50mm drivers
Designed for comfort: Microfiber-covered memory foam earpads and a padded headband let you play longer
Noise cancelling microphone
Corsair Vengeance 1400 Gaming Headset Specifications:
Headphones

Frequency Response: 20 – 20,000 Hz
Impedance: 32 Ohms @ 1 kHz
Dynamic Range: 95dB (A-weighted)
Drivers: 50mm
Connector: 3.5mm male

Microphone

Type: Unidirectional noise-cancelling condenser with adjustable, rotating boom
Impedance: 2.2k Ohm
Frequency Response: 100 – 10,000 Hz
Sensitivity: -41 ( 3dB)

Connector: 3.5mm male
Total Cable Length: 9.8 ft / 3 m
2-year warranty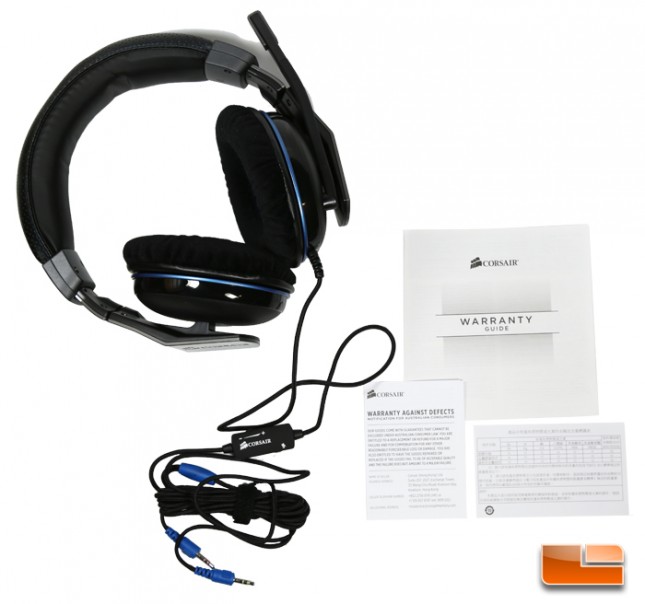 Unlike the older 2012 Vengeance headset retail boxes, the new 2013 boxes more prominently display the headset through the clear plastic. The rest of the box reserves fewer product images to list features and specifications in multiple languages.
The Vengeance 1400 headset comes with no accessories. All thats included are warranty notices outlining details of the 2-year warranty.
Lets now get started looking at the Vengeance 1400 for our first 2013 Corsair headset review!