Corsair ML140 Pro RGB Fan Kit Review
By
Corsair ML140 Pro RGB – Magnets Get Attractive
As LegitReviews looks forward to the technological developments that 2018 will bring and I assess the year that has passed, it stood out that many of the peripherals that I reviewed over the year featured RGB lighting. I had a talk with a friend of mine the other day and I offered him a replacement keyboard for one of his that recently developed Coca-Cola induced key chatter, but before accepting the keyboard that I offered, he made sure to ask if it has RGB lighting. While some people view RGB lighting for computers as unnecessary and costly, we've arrived to a point where some PC enthusiasts and gamers won't buy, or even let you give them peripherals that don't feature RGB lighting. Given the current trends and landscape of the DIY PC industry, there will be no shortage of development of new RGB components and peripherals for the foreseeable future.
If you've been a PC enthusiast or gamer at any period in time in your life, chances are very strong that you've used a Corsair product of some type. California-based Corsair is one of the premier peripheral and component manufactures in the PC industry and are a leader in producing peripherals featuring RGB lighting, with competitors like NZXT and Razer also constantly releasing high end products within their own RGB ecosystems. Over a decade ago, Corsair developed the first DDR memory modules with an LCD display and activity bars built into the heat spreader, the XMS Xpert Series, which was quite the technological achievement and something we haven't seen, since. Today, Corsair is still a premier manufacturer of high performance system memory and are currently producing their Vengeance series DDR4 modules with integrated RGB lighting, but they have expanded their focus to just about every computer peripheral imaginable. Today, you can find Corsair headsets, mice, keyboards, fans and more outfitted with RGB lighting. There is an ongoing meme within PC enthusiast circles that questions "What will Corsair RGB next?" Well, I actually have the answer for that. Corsair is going to bring RGB to some of the best computer fans on the market, next.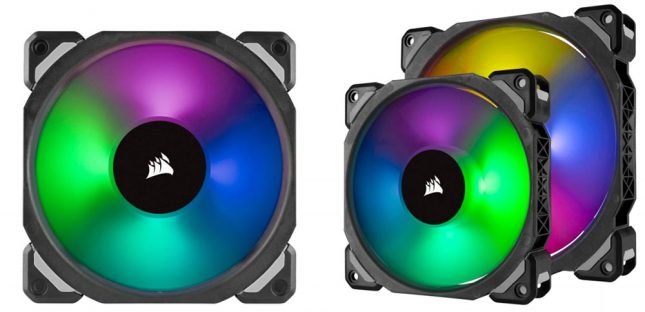 When I reviewed the Corsair LL RGB series of fans, I came away thoroughly impressed, as they offered great looking RGB effects and moved a good amount of air while remaining very quiet. The Corsair LL RGB series of fans would go on to earn the Legit Reviews Recommended Award, but I did fathom when Corsair would take the next step and bring RGB lighting to their incredible series of ML Pro fans, which feature magnetic levitation bearings and custom designed rotors to allow for low-noise, high airflow operation. Corsair ML (Magnetic Levitation) Pro fans are considered some of the best case fans on the market by enthusiasts, with Corsair touting them as being the fans NASA would develop for PC. While the Corsair ML series of fans have been available with single-color LED options for some time, it was only natural that Corsair would take their best fans and add programmable RGB lighting, allowing them to now fit into the Corsair LINK ecosystem. Now, PC enthusiasts who have been waiting for Corsair to bring RGB lighting to their ML Pro fans can fork over their money for some low-noise, high airflow RGB goodness.
Corsair ML140 Pro RGB Technical Specifications
Dimensions: 140 mm x 140 mm x 25 mm
Rated Voltage Fan: 12V
Rated Voltage RGB LEDs: 5V
Fan Operating Voltage: (10.8V-13.2V)
Fan Startup Voltage: 5V
Rated Current Fan: .0069 A
Rated Current RGB LEDS: .2 A
Speed: 400-1200 RPM +/- 10%
Airflow (at 12V): 55.4 CFM
Static Pressure (at 12V): 1.27 mm-H2O
Sound Level (at 12): 20.4 dBA
Connection Cable: 4-pin
Pulse Width Modulation (PWM): Yes
Bearing Type: Magnetic Levitation
Cable Length Fan: 600 mm/23.62 inches
Cable Length RGB LEDs: 600 mm/23.62 inches
MSRP:
The Corsair ML Pro RGB fans are available in either 120 or 140 mm editions, with the ML120 Pro RGB running $34.99 a fan, while the ML140 Pro RGB runs $39.99 a fan. I've received the $99.99 ML140 Pro RGB Twin Pack (Corsair Part Number CO-9050078-WW) for review. When I heard that the ML Pro fan would be getting an RGB makeover, I figured they would carry quite a price premium over the ML Pro LED fans, but the RGB editions carry just a five dollar MSRP price premium over their single-color LED brethren. Unlike the Corsair LL RGB fans that I recently reviewed, which have an outer lighting ring, the Corsair ML RGB fans only have a center ring with four lighting zones. The emphasis on the Corsair ML Pro RGB fans isn't as much on the RGB lighting, but rather on that the actual airflow, low noise operation and build quality of the fan, which are tops in the Corsair lineup. With that said, I am very interested in seeing how the ML Pro RGB fans stack up next to the LL RGB fans, since those were already very quiet and capable of moving a decent amount of air.
I am not quite sure why Corsair has toned down the specs on their ML140 Pro RGB from the Corsair ML140 Pro LED fans, which are capable of running at a higher RPM (2000) and delivering more static pressure (3.0 mmH20) and airflow (97 CFM). The ability to run at a wider RPM range with the ML140 Pro RGB would have been nice and I just can't fathom why this RPM limitation was put into play. Perhaps it was brought about due to the RGB LED components taking up more room in the hub than the single-LED design and thus limiting the ability of the ML bearings, but I am just not sure. I've reached out to Corsair for comment on why the ML140 Pro RGB has a lower maximum RPM than the other ML Pro fans and will update this article if and when I get a response.
The Corsair Lighting Node Pro and LINK compatibility is limited to Windows 7, Windows 8 and Windows 10, so users of other operating systems will be left in the dark. The Corsair Lighting Node Pro and Corsair Fan Hub each require their own SATA power connection and a free 9-Pin USB port is required to connect the Lighting Node Pro.
Users who are wondering about what seems to be a price discrepancy, with the ML140 Pro RGB Twin Pack and ML120 Pro RGB Triple Pack actually costing more than it would be to buy individual fans, keep in mind that the multi-fan kits include the Corsair Lighting Node Pro and Corsair Fan Hub, which explains the added $15-20 cost. It is odd that the Lighting Node Pro and Fan Hub add $20 to the cost when it is factored into the price of the ML140 Pro RGB Twin Pack, but it adds $15 to the cost as part of the ML120 Pro RGB Triple Pack.
I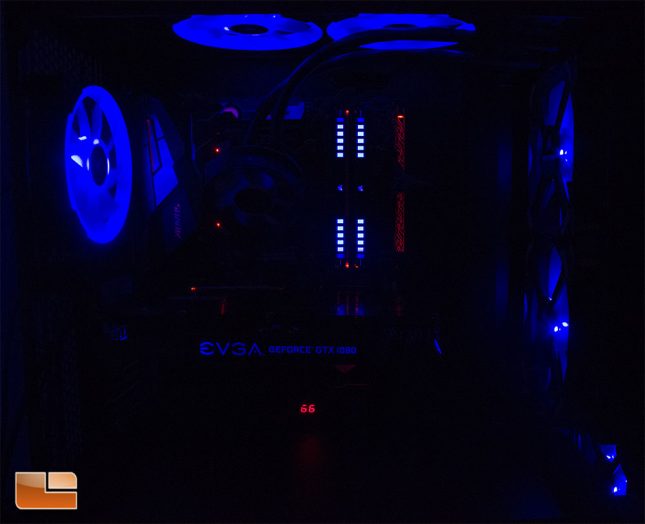 Messing with RGB effects is fun, but I tend to end up setting my system to a couple of static colors rather than going full blown unicorn mode.
With competitors like NZXT and Thermaltake making RGB fans of their own, Corsair is really pulling out all of the stops and doing their best to win the fan race. The best part of this is that the competition is only getting started and we will continue to see development in this arena, with manufacturers hopefully continuing to put emphasis on improving performance and noise levels of the fans, in addition to making the RGB effects as uniform as possible. RGB fans have great aesthetic potential, but Corsair is also making sure to bring along the performance and build quality with their ML Pro RGB fans.
Let's take a look at the Corsair ML140 Pro RGB Twin Pack and what is included in the retail package, next.