Corsair LL120 RGB LED Fan Triple Pack Review
By
Corsair LL120 RGB LED Fan Triple Pack
When it comes to releasing relevant, high quality computer peripherals that feature RGB lighting, Corsair has cemented themselves as one of the best in the industry, with a solid lineup of RGB-capable products constantly being released. Corsair began life as a cache memory manufacturer in 1994 and later expanded into the high performance DDR memory industry, competing with companies like Mushkin, OCZ and others. Corsair is still a respected DRAM manufacturer and even has a lineup of RGB DDR4 memory available, but they have also expanded into other territories with amazing success. Today, you will find many PC enthusiasts whose rigs feature Corsair AIO coolers, cases, fans, keyboards, memory, power supplies and more. I have been using Corsair components for over sixteen years, beginning with a set of their DDR memory on an AMD Thunderbird build, so seeing their expansion into a powerhouse peripheral manufacturer has been interesting.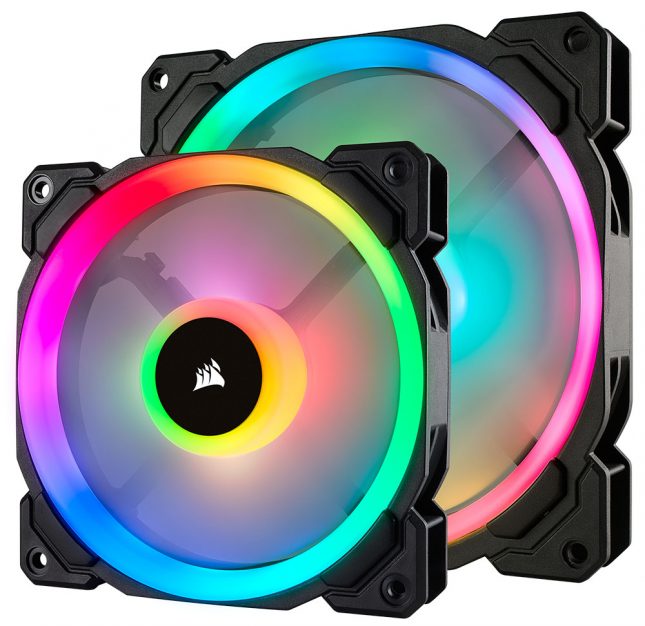 The LL120 and LL140 RGB LED Fans are the latest in a long line of RGB capable products from Corsair
When I began covering the industry in 2000, windowed side panels and cold cathode lighting were considered cutting edge PC modifications. It seems like in just a blink of an eye, we went from boring beige peripherals to a point where RGB LED lighting has hit almost every PC peripheral and component possible, from keyboards and mice, all the way to mouse pads and case fans. There are even 80+ Titanium rated RGB power supplies available. RGB lighting on PC accessories and components seems to be an undeniable trend that isn't going away anytime soon, especially now that the top motherboard manufacturers are integrating RGB lighting into their boards, along with headers for RGB LED strips. With the RGB trend continuing upward, it only makes sense that Corsair would continue to invest heavily in developing new products in the arena that they helped grow.
So far, Corsair has produced two successful lines of RGB fan in their HD and SP series, which are both designed with specific functionality in mind. The Corsair HD series of fans are my personal favorite series of RGB fan, as they offer good performance on radiators thanks to a decent static pressure rating (2.25 mmH20), while offering good airflow (54.4 CFM) and relatively quiet operation (18-30 dBA, depending on RPM, specs taken from the HD120). Featuring four center mounted LED's for a more subtle lighting effect, the SP series are also good, but are aimed towards more budget-oriented consumers who want to bask in glorious RGB without burning their wallets too badly.
Today, we are looking at Corsair's latest entry into the RGB fan market, the LL120 RGB case fan, which were shipped in a Triple Pack ($119.99 shipped) that includes the Corsair Lighting Node Pro, sans LED light strips.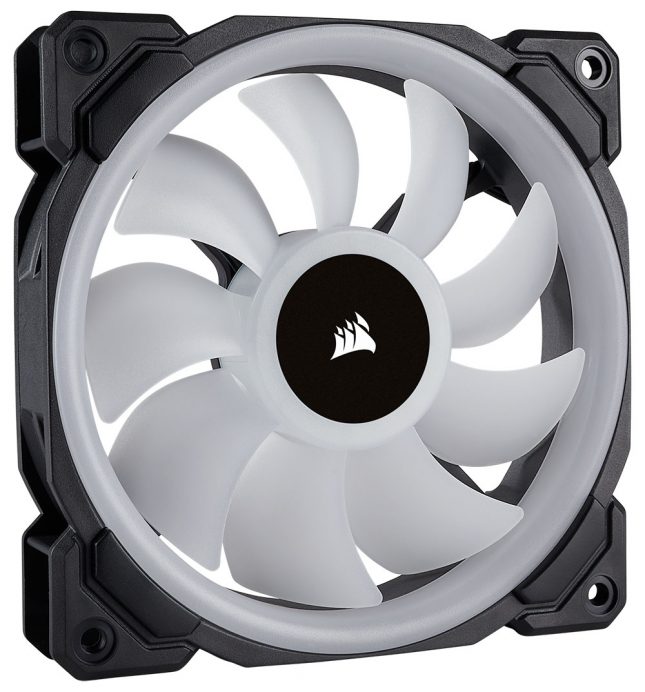 The LL RGB fans feature semi-translucent, frosted fan blades and have 16 total RGB LED's, with twelve in the front outer loop that surrounds the blades and four in the hub of the fan. While the Corsair LL RGB series fans don't feature the static pressure rating of the HD series fans, their design has them suited well for quiet operation at even maximum RPM (24.8 dBA at 1500 RPM on the LL120 RGB), while the dual LED rings with sixteen total RGB LED's give the LL RGB series the ability to deliver some new transitional lighting effects that previously released RGB fans aren't capable of.
The LL RGB series of fans compete with the NZXT AER RGB ($76.65 on Amazon for a set of three, requires the $53 HUE+ controller to work), which feature an outer LED lighting ring with 8 RGB LED's and are capable of various light effects, but do not have lighting from the hub of the fan. Right now, I would consider Corsair and NZXT the two top companies when it comes to producing functional, good looking RGB case fans. Thermaltake and others also have RGB fans available, but the best overall build quality, lighting effects and control software currently comes from Corsair and NZXT.
Let's take a look at the LL120 RGB LED Triple Fan Kit and the included Corsair Lighting Node Pro components, next.