Corsair iCUE 5000X RGB Case Review
By
iCUE 5000X RGB: Interior Review
The interior of the iCUE 5000X RGB is very spacious with E-ATX motherboard support. There is 380mm of clearance for a graphics card, which is more than enough for most custom water-cooling builds to fit large graphics cards and water-cooling components. Behind the cable bar are two rubberized cable cutouts and the motherboard tray fan mounts.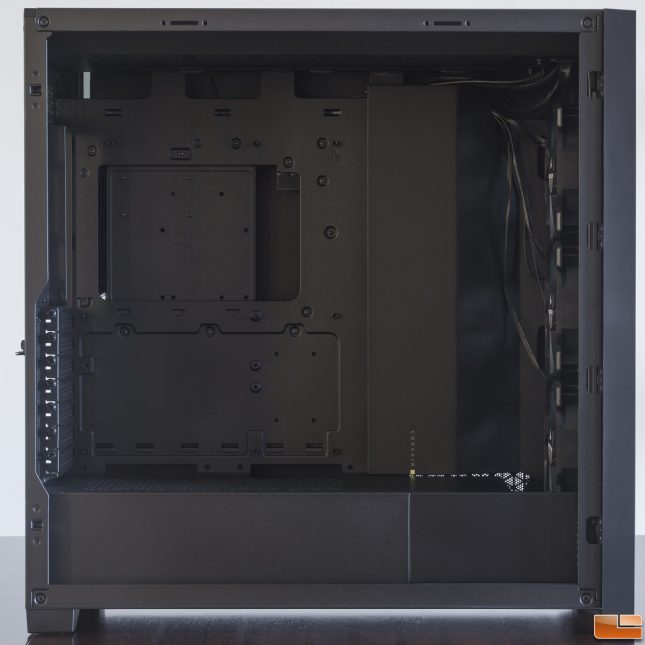 Behind the motherboard tray are the fan mounts and a door to hide the cables to the system. The door is magnetic and swings out to allow access to work behind the motherboard tray. I always enjoy seeing something like this on computer cases especially with builds with many RGB components.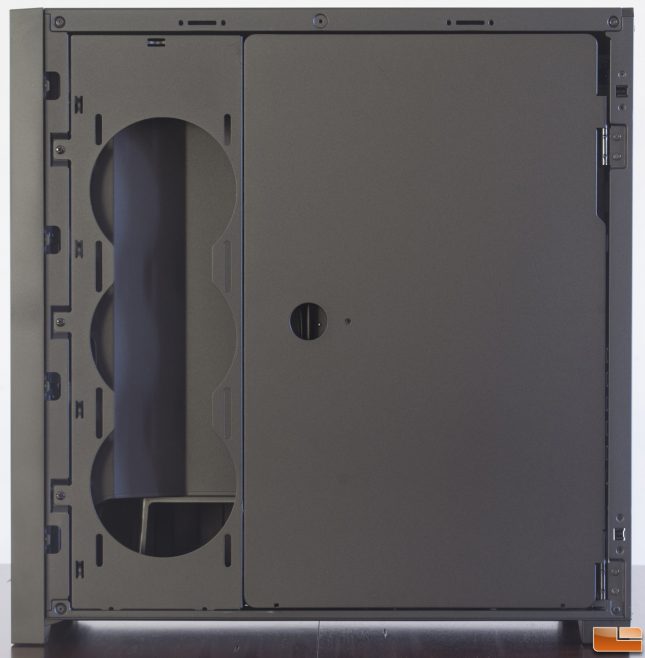 With the door open, we can see the cable management system behind the motherboard tray. This is the Corsair RapidRoute design, which includes cable routing channels with 25mm of routing depth. On the motherboard tray is the accessory tray. This tray is designed to support an additional 2.5″ SSD or 3.5″ HDD. Below the CPU cutout, there are three more SSD mounting brackets. The mounting brackets are removable via thumbscrews and they can also mount on the top of the power supply chamber. In the power supply chamber, we can see the removable HDD cage. It can support two standard 3.5 HDDs or two SSDs.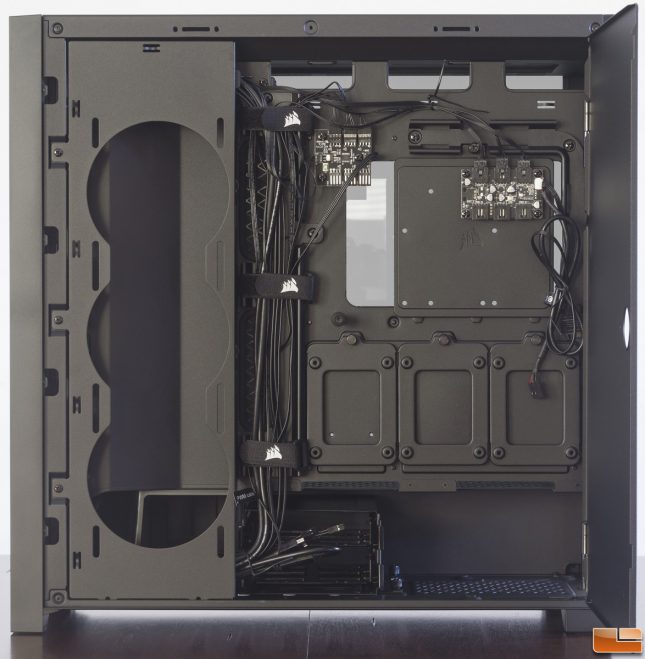 Here is a closer look at the fan hub and the iCUE Lighting Node CORE. The fan hub can support up to six PWM fans. With the iCUE Lighting Node CORE, it can also handle six Corsair RGB components. The Corsair iCUE software controls the lighting module and allows for lighting effect adjustments.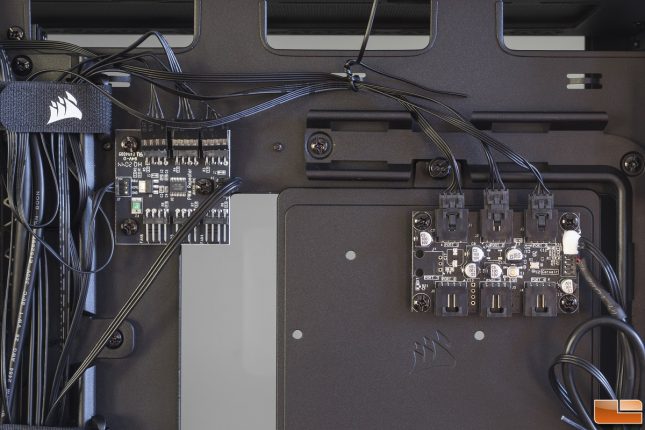 Both the fan hub and iCUE Lighting Node CORE require power from a standard SATA connector from the power supply unit. The secondary plug for the fan hub will plug into any existing fan header on the motherboard. As for the iCUE Lighting Node CORE, it will plug into an existing USB 2.0 header on the motherboard. This will allow it to communicate to the iCUE software.

Out of the box, the iCUE 5000X RGB will have the standard power supply cover installed. There is a clearance of 66mm from the fan mount to the PSU cover, which is enough for a standard sized fan with a radiator.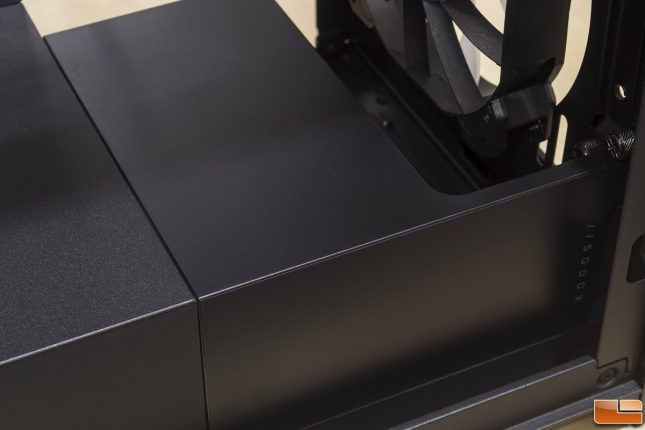 For custom water-cooling builds, removing the power supply cover gives access to the drain port at the bottom of the case. This will also allow 152mm of clearance for water-cooling components.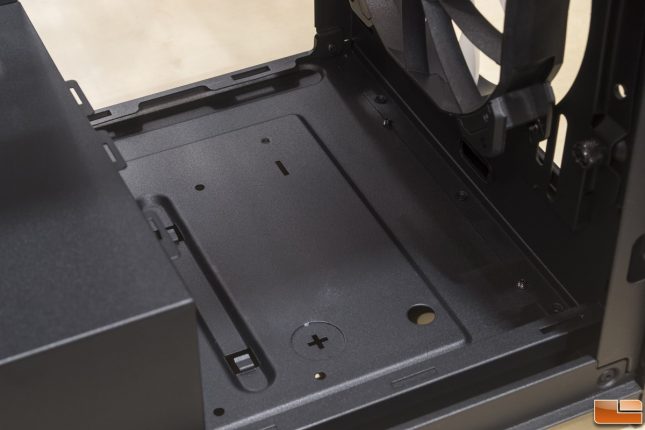 Using the optional cover, it closes off the power supply chamber while maintaining a clean look. With this configuration, there is 142mm of clearance from the fan mount to the power supply cover.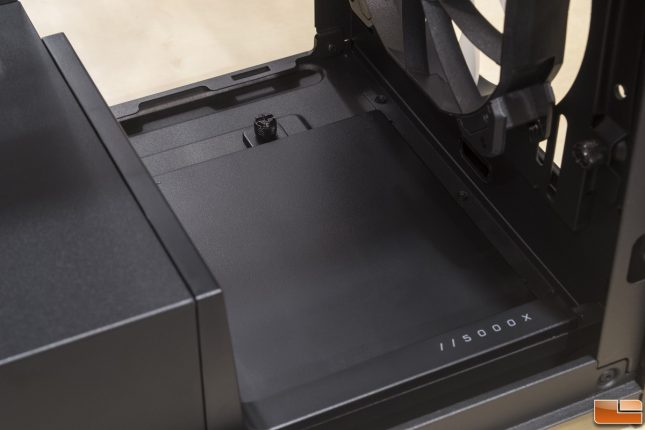 Now that we have seen the ins and outs of the iCUE 5000X RGB case, lets take a look at the Corsair iCUE software in the next section.