Corsair Hydro Series H100i Extreme Performance CPU Cooler Review
By
Corsair Hydro Series H100i Extreme Performance CPU Cooler Introduction
Corsairs Hydro Series H100i Extreme Performance CPU cooler has been on the market for some time now. It actually has quite the positive reputation amongst enthusiasts, but most of these tests are against previous generation Intel CPUs. Today well take a look at the H100i and put it to the test on a 4th Generation Intel Core-i7 4770k processor and see how well it can tame the somewhat high temperatures that we have seen with Haswell on the retail boxed HSF.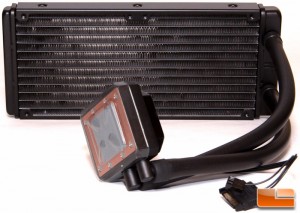 If youre unfamiliar with the H100i, it is Corsairs 240mm sealed water cooling system. This setup will have two 120mm fans attached to a thin radiator, then a CPU water block with a pump built-in. Everything is nice and compact here, to help you fit everything into your system with ease. With this system being sealed, users will not have to maintain it like other users of custom setups. So theres no worrying about evaporation, algae, bleeding, or any of the other hassles that come with custom setups. The only downfall with these kinds of kits is youre limited to the CPU water block and are unable to add more cooling for GPUs or MOSFETs; the things extreme enthusiasts want to cool more than the stock coolers can cool.
Corsair has made this radiator quite competitive in terms of cost. You can pick up the Corsair Hydro Series H100i kit up online at Amazon or Newegg for $99.99 shipped, and the kit includes a wicked cool 5 year warranty! Corsair definitely wants to let you know that this kit will not let you down!
There is a 120mm version of this series kit, but with the H100i being a 240mm radiator, you will gain extra cooling performance. Also, this kit is not limited to Intel CPUs, rather it is compatible with a wide assortment of AMD CPUs, as well. See the below list for socket compatibility.
Corsair Hydro Series H100i Water Cooler Technical Specifications
Radiator dimensions: 120mm x 275mm x 27mm
Fan dimensions: 120mm x 120mm x 25mm
Fan speed: 2700 RPM
Fan airflow: 77 CFM
Fan dBA: 37.68 dBA
Fan static pressure: 4mm/H20
Compatibility
Intel LGA 1150, 1155, 1156, 1366, and 2011
AMD sockets FM1, FM2, AM2, and AM3
Hydro Series H100i requires a case with dual 120mm fan mounts with 15mm spacing for a 240mm radiator.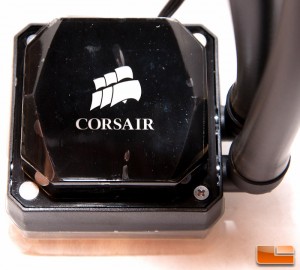 For added control of the H100i system, Corsair has the Corsair Link Dashboard software. You will simply hook up the included USB cable to a USB header, and then fire up the software for added control and monitoring capabilities of the H100i and your computer. With this software, youll be able to monitor system temperatures, fan speeds, and even change the LED color of the water block. You can even tell the system when you want it to ramp up the fans; its that intuitive.
Please do note that at the time of writing this article, the Corsair Link software was NOT compatible with Haswell CPUs.
Lets move on and check out the packaging and the contents inside!