Corsair H105 Extreme Performance Liquid CPU Cooler Review
By
Corsair H105 Extreme Performance Liquid CPU Cooler Introduction
Just in time for CES, Corsair announced to the world their latest edition to their Hydro liquid CPU cooling line – The H105. What makes this cooler special in comparison to their other offerings? This AIO cooler is still 240mm in size, but it is thicker than the rest. Corsair's H105 is their first 240mm AIO cooler that measures 38mm thick versus the traditional 25-27mm thickness in other coolers. The results from the increased thickness should provide superior heat dissipation, which means this cooler should theoretically be an overclocker's best friend.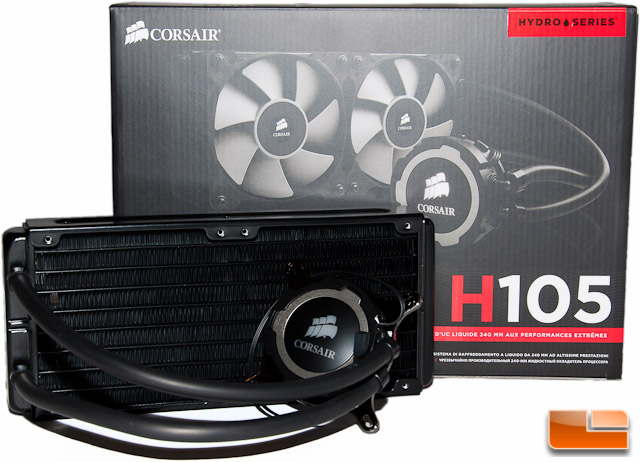 Corsair's latest, the H105, is available now for $109.99 shipped on Amazon and comes with a spectacular 5-year warranty. This puts the H105 right in the ballpark of the rest of the coolers on the market and with a better warranty than many others.
Like the rest of their recent coolers, the H105 has a large list of compatibility, so expect to run this on just about any modern Intel or AMD CPU. The compatible Intel sockets include: LGA 1150, 1155, 1156, 1366, and 2011, while the compatible AMD sockets include: FM1, FM2, AM2, and AM3.
This top mount 240mm radiator features dual Corsair 120mm SP120L fans, which are capable of pushing 73 CFM at 37.7 dBA with 3.9 mmH20 static pressure. You can hook these fans up to a 4-pin fan header, for PWM fan speed control, to aid in the precise amount of cooling that you need. Take note that this particular cooler is not compatible with Corsair's Link software, so you will not be able to monitor or control the fans and pump from your desktop like you can the H100i.
Also unlike the H100i, the H105 does not have LEDs to change the color of the pump light, but instead it has interchangeable rings to help you match the pump to the color theme of your system. It's there to give a little extra style to your system, rather than just being the same boring old pump color black.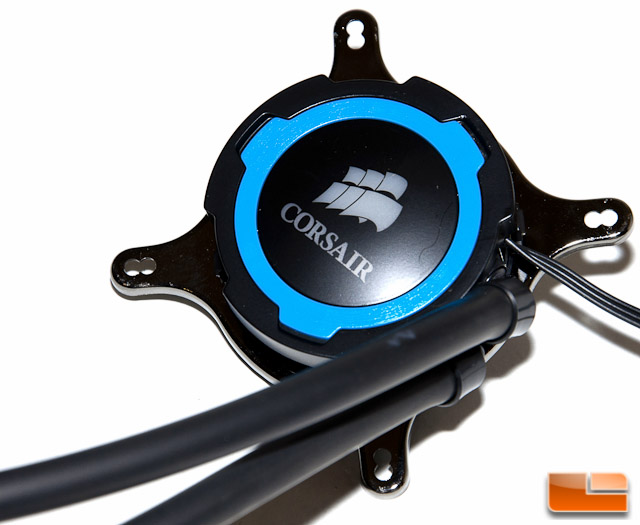 To get the H105 to fit in your case you will need a minimum of 63mm of clearance, which could prove troublesome for some. We'll take a look and see how the H105 fits inside our Fractal Design Define XL R2 chassis.
Technical specifications
Radiator dimensions: 272.5mm x 120mm x 38mm
Fan dimensions: 120mm x 120mm x 25mm
Fan speed: 800 RPM – 2700 RPM (+/- 10%)
Airflow: 73 CFM
Noise Level: 37.7 dBA
Static pressure: 3.9 mm/H20
Power Draw: 0.34A
Radiator Material: Aluminum
Cold Plate Material: Copper
Tubing: Low-evaporation, easy-bend tubing for quick installation and better compatibility
Warranty: 5 years
Compatibility
Intel: LGA 1150, 1155, 1156, 1366, and 2011
AMD: FM1, FM2, AM2, and AM3
Let's move on and take a quick look at the retail packaging, followed by a quick overview of the H105 itself!