Corsair Flash Voyager GO 32GB micro-USB Flash Drive Review
By
Corsair's Voyager GO Brings micro-USB to Flash Drives
Last week at the Consumer Electronics Show, Corsair announced the Flash Voyager GO USB 3.0 flash drive in 64GB, 32GB, and 16GB capacities. This drive was developed to make it simple to share movies, photos and videos between Android powered devices and the traditional PC. The magic to making this work is that this particular series of flash drives has both a USB and a Micro-USB connector on it, so you can easily transfer your data from say a PC or notebook to any device that has a Micro-USB port that has On-The-Go support (most Android phones and tablets are OTG-compatible). You could also leave the Corsair Flash Voyager GO connected to your Android tablet or smartphone to give it a significant storage boost if there is no internal storage slot available. The Flash Voyager GO is also rather quick with read transfer speeds of up to 135 MB/s and it works on PCs running Microsoft Windows, Mac OS X, and Linux with no additional software required.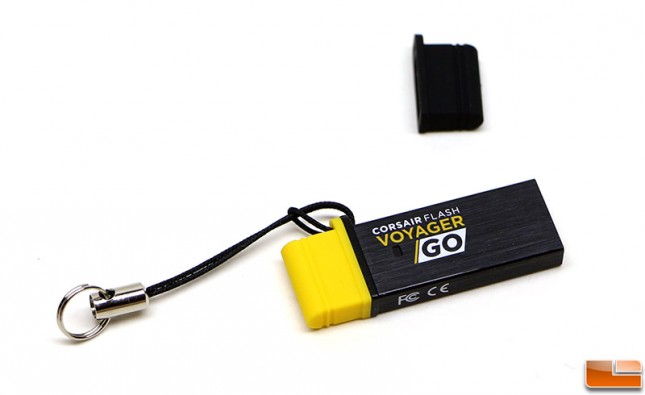 We got our hands on the Corsair Flash Voyager GO 32GB that is backed by a 5-year warranty and sold under part number CMFVG-32GB-NA for $29.99 when it comes to market later this month. The Flash Voyager Go comes a lanyard and two Micr0-USB caps, so you can switch between yellow and black at any time or you have a backup cap in the event that it ever gets lost.
Corsair Flash Voyager GO Suggested Retail Pricing:
Flash Voyager GO 16GB – CMFVG-16GB-NA – $19.99 USD
Flash Voyager GO 32GB – CMFVG-32GB-NA – $29.99 USD
Flash Voyager GO 64GB – CMFVG-64GB-NA – $49.99 USD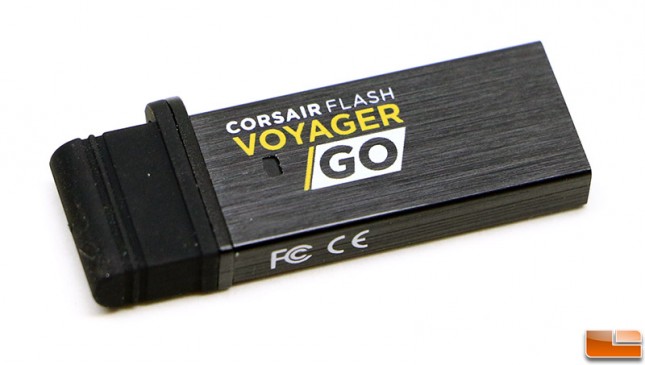 At 37mm in length and 6 grams in weight, the Corsair Flash Voyager GO is extremely small and lightweight. This is nice as you don't want to add something bulky and heavy to your smartphone or tablet for data storage. On the top side of the Voyager GO there is the product logo and what looks like an LED activity light. It never lit up on our product sample, so we asked Corsair and they informed us that there is no LED activity light on this drive. We aren't exactly sure what this hole in the aluminum housing does, but it has to be there for a reason right?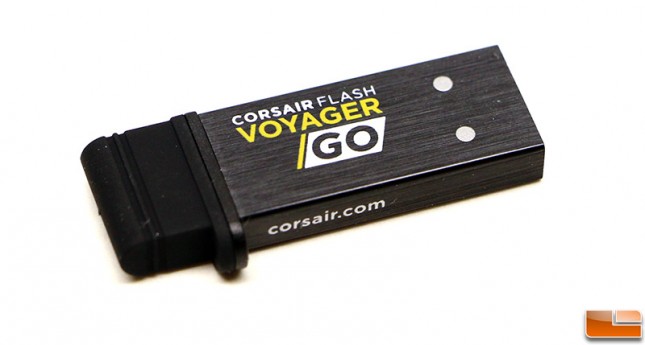 On the back side of the drive there is the same logo again and then the Corsair URL on the side of the drive. Three of the four sides of the aluminum housing have Corsair branding on them, so you won't forget what brand drive you bought anytime soon.
On the uncapped end of the Voyager GO there is a standard SuperSpeed USB 3.0 port that is of course backwards compatible with older USB 2.0 ports.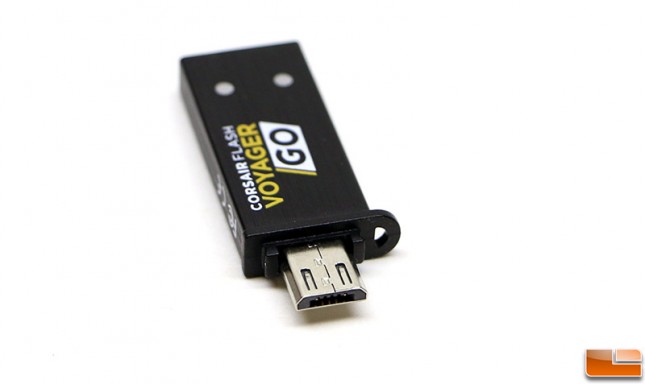 Spinning the Corsair Flash Voyager GO around and removing the cap, you'll discover the Micro-USB port that allows this drive to connect to more than just PCs as it can also be used in the ever expanding mobile device ecosystem for years to come. It should be noted that the micro-USB port uses the USB 2.0 standard, which isn't a big deal as most smartphones use USB 2.0 ports. Some phones are starting to adopt USB 3.0 though as the recently released Samsung Galaxy Note 3 became the first phone on the market to feature a micro-USB 3.0 port. USB 3.0 allows for faster transfer rates and shortened charging times (USB 2.0 generally supports 500mA, while USB 3.0 offers 900mA of power). We are sure Corsair has recognized this shift and will come out with support for future devices when the time is right. Corsair has a list of supported USB OTG devices here, if you want to make sure your device will work.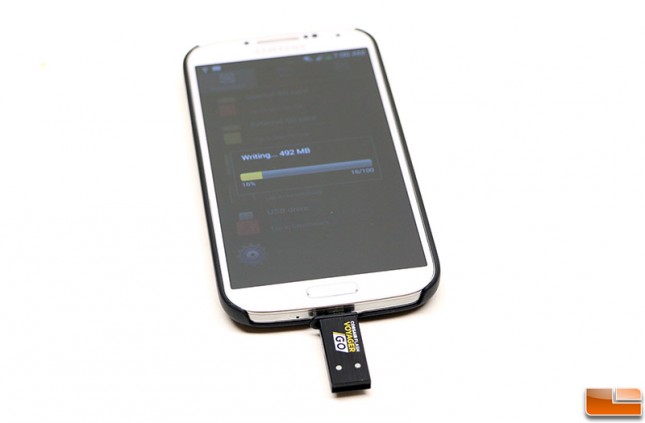 We tried out the Corsair Flash Voyager GO 32GB on an Intel Ultrabook (ASUS Zenbook Prime) running Windows 8.1 and also our Samsung Galaxy S4 smartphone running Android 4.3.