Corsair Flash Padlock USB Flash Drive Review
By
What's In The Box?
In the package you will find a lanyard, a USB cable, a quick start guide and the drive itself. Already installed inside the drive is a 3V lithium battery (cr2032). More on this later. The drive has only been initially released in the 1GB and 2GB varieties which is somewhat disappointing given that 8GB flash drives are now commonplace. However, the lower capacities allow them to be more affordable with the 1GB and 2GB drives retail priced at $29.99 and $39.99 respectively.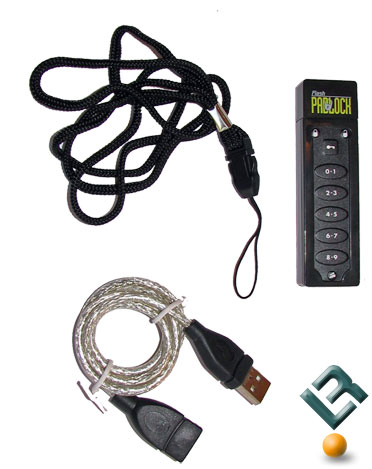 The drive itself is larger than most. This may be a turnoff for some people who have to have the sleekest design going but it still fits nicely in your pocket. With security in mind, know that the smaller the drive, the easier it is to misplace. As you can see, its not much larger than the Corsair Voyager drive but not quite as aesthetically pleasing to be sure. However, the strength of this drive is security, not style.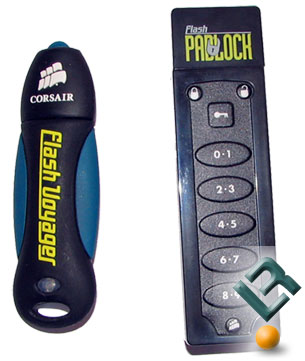 On the front of the drive, there are a series of six buttons. The first has a key icon, which is used to begin and end the password sequence. The remaining five buttons are numbered 0-9 with each button having two numbers. There are also two small padlock icons, one closed and one open. The closed icon will glow red indicating the drive is locked when the key button is pressed. The open lock will glow green when unlocked and flash green when it is temporarily unlocked waiting to be plugged in. Once it is removed, it will lock itself within 15 seconds if not re-inserted. This is a great feature as the user does not have to remember to lock it just take it out! The Corsair emblem at the foot of the drive glows blue when in use reading or writing.