Corsair Carbide Air 240 mATX Case Review
By
Corsair Carbide Air 240 Final Thoughts and Conclusions
When looking to build a mATX or mITX system, there are plenty of options to choose from. Nearly every case manufacturer has cases for these smaller motherboards. So after narrowing it down to a few cases, why should the Corsair Carbide Air 240 be the final decision. The hard drive tray design is one reason, maybe the great cooling options or finally the option to put two higher end video cards in a small system. One thing not to miss though is Corsairs attention to quality and high quality build construction.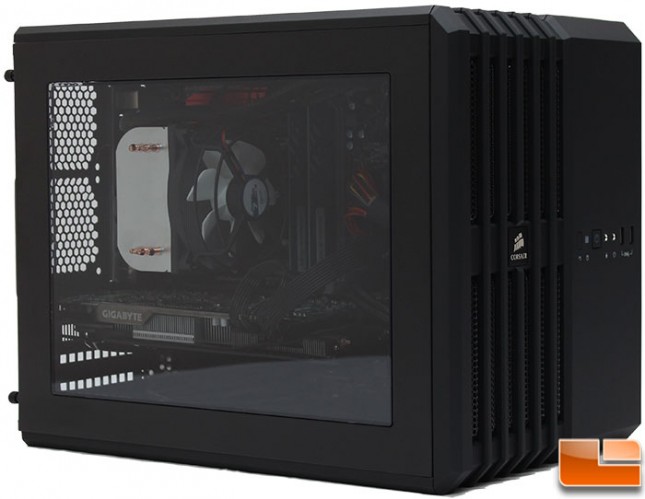 For a small case, measuring 397mm x 260mm x 320mm (L x W x H) or 15.6in x 10.2in x 12.6in (L x W x H), and weighing 5.6kg (12.35lbs) the Carbide Air 240 allows for a very flexible system. Behind the motherboard tray, using a tray design, there are three trays that support 3.5″ or 2.5″ drives, and three 2.5″ drives, allowing for a total of six hard drives to be installed.
Room for larger video cards is often a sacrifice when building small systems, as the Carbide Air 240 supports mATX systems, you can fit in two video cards up to 13in in length. While this will restrict you from the higher end video cards, it will fit most of the mid-range cards like the new nVidia 970 and Radeon 290. For the CPU, you can always go to liquid cooling using up to 240mm radiators or continue to use air cooling, making sure the CPU cooler is under 120mm or 4.7in.
The one thing I didn't care for on the Air 240 is how the hard drives are installed. Overall, their installation is nice and makes it fairly easy to swap drives. However, having to remove two panels in order to swap drives makes it a little more cumbersome than it should be. While installing backplanes would make it much easier to swap drives, it would also add to the cost of the case. This could be a nice add-on that Corsair could offer for the Air 240.
The vented areas on the front, top, bottom and sides have wire mesh filters installed; which is greatly appreciated. However, only the side panel filter is easily cleaned. The other filters will require the use of a vacuum or removing the associated panel to clean them.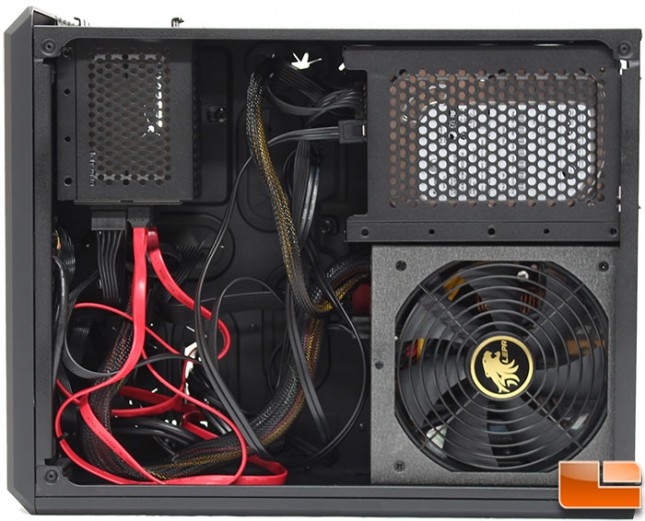 Cable management on the Air 240 is easy accomplished, as there are plenty of ways to route the cables to the power supply side. While I didn't spend any time trying to clean up the cables, on this side, with some zip ties, they could easily be cleaned up and made to look really nice. The hard drives go into position without any issues, the only word of caution would be to take your time connecting the cables to the hard drives, and it can get a little tight plugging in the connectors on the drives closest to the back.
Priced at $89.99 with free shipping, it will be hard to find a case that can match everything the Corsair Carbide Air 240 has to offer; which includes a 2 year warranty.
Legit Bottom Line: The Corsair Carbide Air 240 has many great features going for it. I especially liked the tray design for the 3.5″ and 2.5″ drives, but was a little disappointed in removing two panels to swap drives (a backplane would resolve this and would be a great upgrade option for users willing to pay a little extra money).