Corsair Carbide Air 240 mATX Case Review
By
Corsair Carbide Air 240 mATX Case
Founded in 1994, Corsair quickly became known for their award winning memory and flash drives. Over the years, they slowly entered other computer peripheral markets such as keyboards, headphones, mice and cases. Each time they showed their strength in knowing what it takes to make high end hardware, while at the same time keeping the price reasonable. Their computer case line consists of the Vengeance, Graphite, Carbide and Obsidian; Legit Reviews has taken a look at many of these and has always been impressed with the quality and features. Releasing a new model is always met with anticipation and high expectations. Recently they introduced the Carbide Air 240, a micro ATX cube case that included a wide range of cooling and storage options.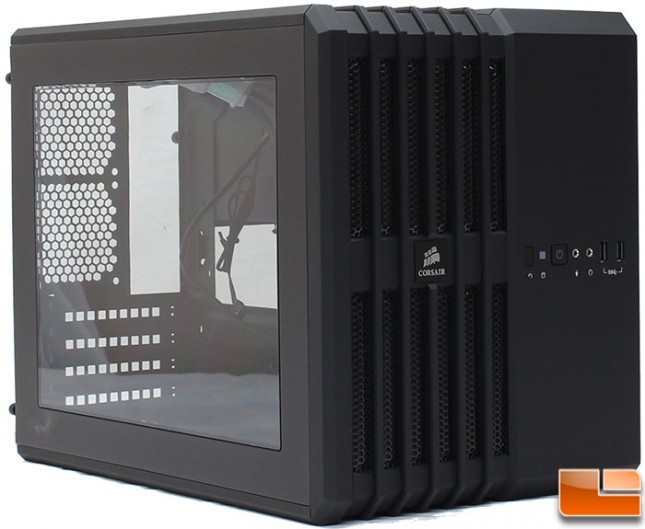 The Carbide Air 240 supports both micro ATX and mini ITX motherboards, and also includes support for three 3.5″ hard drives and three 2.5″ hard drives (in reality it can support six 2.5″ hard drives if you don't install any 3.5″ drives). The Air 240 measures 397mm x 260mm x 320mm (L x W x H) or 15.6in x 10.2in x 12.6in (L x W x H), and weighs just 5.6kg (12.35lbs). There is a large side panel window to show off the system components, SuperSpeed USB 3.0 on the front panel and it will support a wide range of cooling options.

Using separate hard drive cages for 2.5″ and 3.5″ drives allows for some flexibility. Both of the drive cages support three drives, which limits the user to six drives. The 3.5″ drive trays support both 2.5″ and 3.5″ drives, which allows flexibility.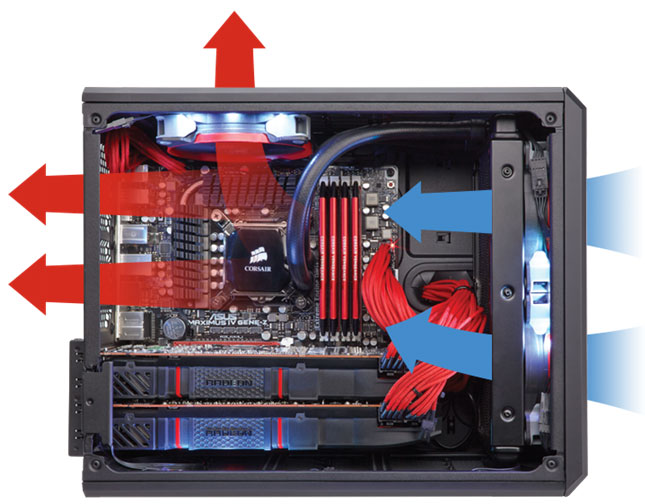 For a small case, Corsair packs in many options for cooling, and by keeping the components separated in two chambers, it creates two cooling zones. The hottest zone will be with the motherboard and video cards, this is where the most cooling will be necessary. In this zone, Corsair has included two 120mm intake fans, and one 120mm top exhaust fan. This could be expanded with up to two 120mm fans in the bottom, two 80mm fans in the back and one more 120mm at the top. Or simply switch to liquid cooling, which the Air 240 can support up to a 240mm radiator in multiple locations.
If the Corsair Carbide Air 240 meets your expectations and design style, you can find it online for $89.99 with free shipping, in either black (CC-9011070-WW) or white (CC-9011069-WW), which also includes a 2 year warranty.
Features and Specifications:
Meet the Carbide Series Air 240 an extraordinary small form factor PC case for Mini-ITX and MicroATX computers.
The eye-catching cube design — complete with a full side window — hosts an internal layout optimized for maximum airflow or advanced water-cooling configurations (including a 240mm radiator or two).
The unusual interior design is optimized to allow the intake fans to deliver cool air directly to your components that generate the most heat.
Carbide Air 240 Specifications
Warranty
Two Years
Weight
5.6kg
Color
Black
Form Factor
MicroATX
Dimensions
397mm x 260mm x 320mm
Motherboard Support
Mini-ITX, MicroATX
Maximum GPU Length
290mm
Maximum CPU Cooler Height
120mm
Maximum PSU Length
240mm
Expansion Slots
4
Drive Bays
(x3) 3.5in(x3) 2.5in
Material
Steel
Power Supply
ATX (not included)
External Connections
(x2) USB 3.0(x1) Headphone Port(x1) Microphone Port
Fan Mount Locations
Front: (x2) 120mm Top: (x2) 120mm Rear: (x2) 80mm Bottom: (x2) 120mm Side: (x1) 120mm
Fans Included
Front: (x2) 120mm Rear: (x1) 120mm
Radiator Mount Locations
Front: 240mm Bottom: 240mm
Compatible Corsair Liquid Coolers
H55, H60, H75, H80i, H100i, H105
Part Number
CC-9011070-WW
Now that we know a little about the Corsair Carbide Air 240, let's take a quick look at how it is packaged and what accessories comes with the case. Then we'll take a look at the case itself.