Cooler Master N600 PC Case Review
By
The Cooler Master N600 Chassis
While Cooler Master has been manufacturing various computer peripherals for many years, they are constantly looking at the market and designing new cases to fit various needs. Recently, they have introduced a new line of cases, the N series. So far there are three cases in this series, the N200, N400 and N600. Legit Review recently took a look at the N400, now we will be taking a look at the N600.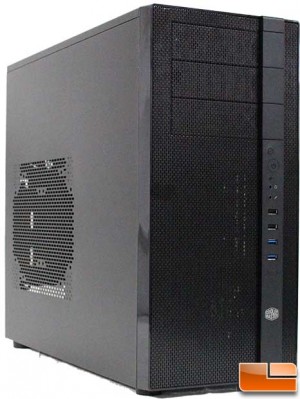 The N600 is a mid-tower case that supports micro-ATX and ATX motherboards. In addition it offers advanced features such as SSD, dual SuperSpeed USB 3.0 front ports, the largest graphics cards (up to 430mm/16.9inches), water cooling compatibility and other options. The N600 has two sub-models, one of which is currently on sale for $80.46 under the part number NSE-600-KKN1. Or for slightly more, at $89.99 you can get the same case with a side panel window with the part number NSE-600-KWN1. With either case, you will receive a solid-black mid-tower case with many advanced features and a 2 year warranty.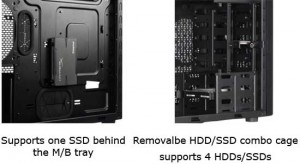 The N600 will support both 2.5 drives and 3.5 drives in various combinations. Hidden behind the motherboard tray is a hidden 2.5 SSD location. There are two different hard drive cages inside the case; one can support either four 2.5 or four 3.5 drives. The second will handle three 3.5 hard drives.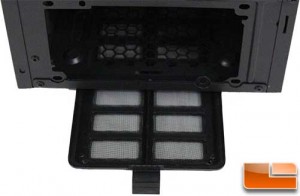 One nice feature that Cooler Master has included are fan filters on most places an intake fan could be found. One location is on the bottom, this filter fits over two intake locations; the power supply fan and an optional bottom mounted 120mm fan.
Cooler Master N600 Key Features
Front panel and I/O area feature a premium mesh for a modern look
Dual Super Speed USB 3.0
3 designated places for radiators: 240mm – top, right side, 120mm – rear
Both XtraFlo fans are arranged for optimum airflow with support for up to 10 fans (KKN1/KKN2: 10 fans, KWN1/KWN2: 9 fans)
New ODD tool-less design "EZ tray" for quick installation
Supports up to 5 SSDs (4 in the removable HDD/SSD combo cage, 1 behind the M/B tray) and 7 HDDs
Supports all high-end graphics cards up to 430mm / 16.9 inch
Multiple dust filters (top, right side, bottom) for easy maintenance
Next, lets take a look at the packaging and the accessories that came with our review sample.