Cooler Master MasterCase Maker 5t Case Review
By
Cooler Master MasterCase Maker 5t The Build
What's that? the front bezel pulls forward? why yes it does. Once pulled forward it gives you a clear vies of the actual front mesh bezel hidden underneath. With the front facade closed I was actually amazed at the negative pressure pulled in by the two stock front mounted fans. I thought this feature would impede airflow, but in all reality it adds a lot of pressure to the front intake which only adds to the airflow of the Cooler Master MasterCase Maker 5t. The front panel does pull forward far enough to allow your optical drives to open and close without any hindrance.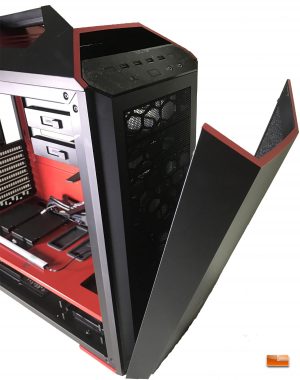 With the Cooler Master MasterCase Maker 5t being a mid sized case it allows enough room for most sizes of motherboards and gives you plenty of room to work on your build as well. I did not have a single problem with this build I had plenty of space to work and as you can see the Cooler Master MasterCase Maker 5t allows enough room for most any graphics card, Speaking of graphics cards the Cooler Master MasterCase Maker 5t has two MasterCase graphics card holders that can be adjusted to get rid of that card sag we all hate with a vertical case setup. With GPU's getting bigger and heavier we are all aware that our cards tend to give in to gravity and sag down which can cause our GPU's to come unseated or actually do damage to them. With the brackets you can set them up to support the weight and length of or GPU's and get rid of that sag.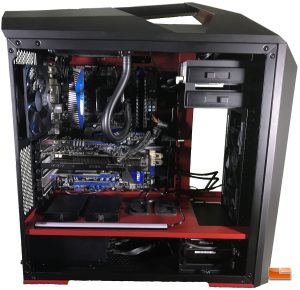 I decide to leave the LED strip where it was although it can be moved to any metal surface inside the Cooler Master MasterCase Maker 5t as long as it can accommodate the length. Below you can see that even with full daylight the LED light is still fully visible. There is nothing better than showing off the inside of your rig with some lighting. One thing you can't see is my radiator, all you see is the hoses going up into the top of the Cooler Master MasterCase Maker 5t. It gives it a nice clean look that is not cluttered up.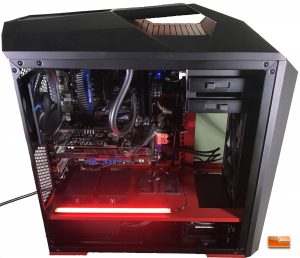 With the tempered glass sides on you can still see your build as well as the bright red illumination of the LED strip.