Cooler Master MasterCase Maker 5t Case Review
By
Cooler Master MasterCase Maker 5t Radiator Bracket
With the majority of the enthusiast community using liquid cooling these days we are all trying to save as much real estate as we can in our cases and we all know that a radiator can take up a lot of room as well as being an eye sore in some peoples opinion. The Cooler Master MasterCase Maker 5t has answered our prayers with their modular design of the radiator mounting bracket system. Here we see the carrying handle with the top plastic housing removed. The plastic housing is only held on bu magnets and is reall easy to take off. Once the housing has been removed there are 3 screws that secure that handle to the chassis. Just remove those 3 screws, push the handle forward and lift…. it's off. Easy enough.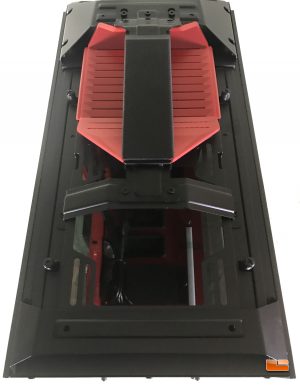 Once the handle has been removed you can unscrew the 4 thumbscrews that hold the radiator mount in place. The top radiator mount can support from a 120mm radiator all the way to to a 280mm radiator setup with ease. You also have the option of being able to mount your radiator at the front or rear of the Cooler Master MasterCase Maker 5t with the front having the capacity for a 120mm or 140mm x3 capacity or the rear with a 120mm or 140mm x1 capacity. Plenty of liquid cooling options in the Cooler Master MasterCase Maker 5t.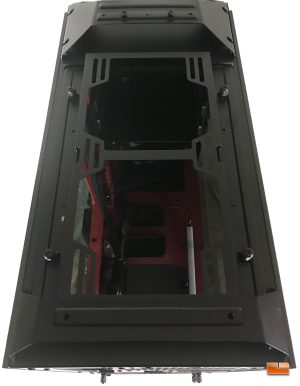 Once the radiator bracket has been removed you can mount any of the stated radiator capacities up top, As you can see with the bracket removed you have a huge opening that lets you adjust wiring or any of your components without hindrance.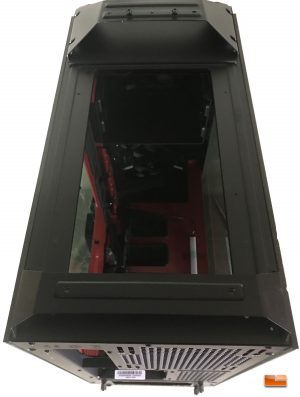 If you choose to mount your radiator setup at the top of the Cooler Master MasterCase Maker 5t you can take advantage of one of it's really cool options in my opinion. Do you see that triangular plate? It's removable. Much like the top casing it is held in place by magnets and can easily be removed to improve air flow to you radiator/fan setup.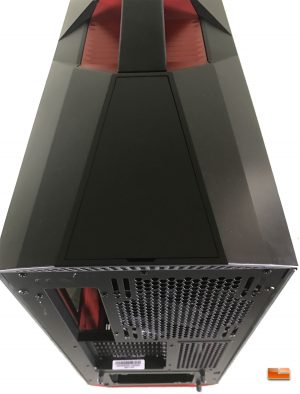 Here we see the plate removed and the mesh covering that will allow plenty of airflow to get to you radiator and liquid cooling configuration. pretty slick if you ask me.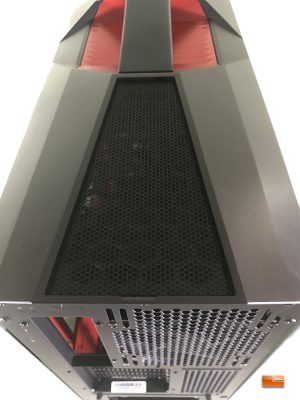 As you can see this case was designed with liquid cooling in mind. AS you will see later in the review, the design of the top radiator bracket keeps your radiator out of view through the glass side windows. As well as giving you plenty of room to show off your new build.