Cooler Master MasterCase 5 Mid-Tower ATX Case Review
By
Cooler Master MasterCase 5 Mid-Tower ATX Case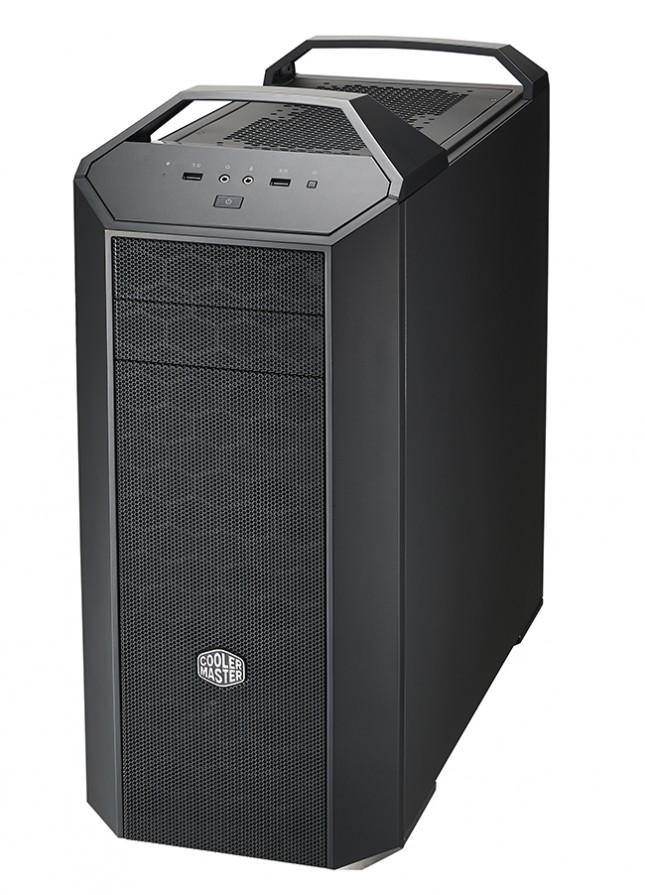 Cooler Master is a twenty year veteran of the PC manufacturing industry with a solid track record in the case and CPU cooler manufacturing department. With an ISO 9001 certified plant in Taiwan, in addition to their two other manufacturing plants in China, Cooler Master is able to produce a broad line of products and don't have to rely on an OEM for their cases, as other case companies do. Cooler Master products generally offer solid build quality and value, based on our previous experiences at Legit Reviews.
Interestingly, computer cases are at an all time high when it comes to design and innovation, with rival manufacturers such as Fractal Designs and NZXT releasing amazing cases that offer a bevy of user friendly features with great aesthetics over the past couple of years. Cooler Master had a hit with PC enthusiasts several years ago when they released their HAF series of cases, notably the HAF-X, a giant monster capable of high performance cooling and housing multiple components. The 690 series of chassis were also a very popular chassis with modern enthusiast features released just a couple of years ago. Unfortunately, in the past couple of years we haven't really seen anything too innovative or compelling from Cooler Master in the case department, though they didn't fade into obscurity or suddenly start producing misguided gaming cases, like we've seen with others. While they continued to release solid, if not evolved, products, Cooler Master had also been producing their next big product line, the MasterCase Series.
With input from the enthusiast and case modding community, Cooler Master has embraced the maker concept with the MasterCase series, which offers modular panels, handles and an internal mounting system that can also be used for future accessories, such as reservoirs, air channels, GPU holders, or more. This all falls into what CoolerMaster is calling 'The Freeform Modular System.' This system is very intriguing, but it will ultimately be up to Cooler Master to release modules that sustain the viability of the system and convince end users that they are fully supporting the modular concept of the MasterCase series. With the slogan of "Make It Yours" being used for the MasterCase 5, we are interested to see what Cooler Master has in store for those who purchase their MasterCase 5, as the current upgrade options are limited to what we are reviewing today.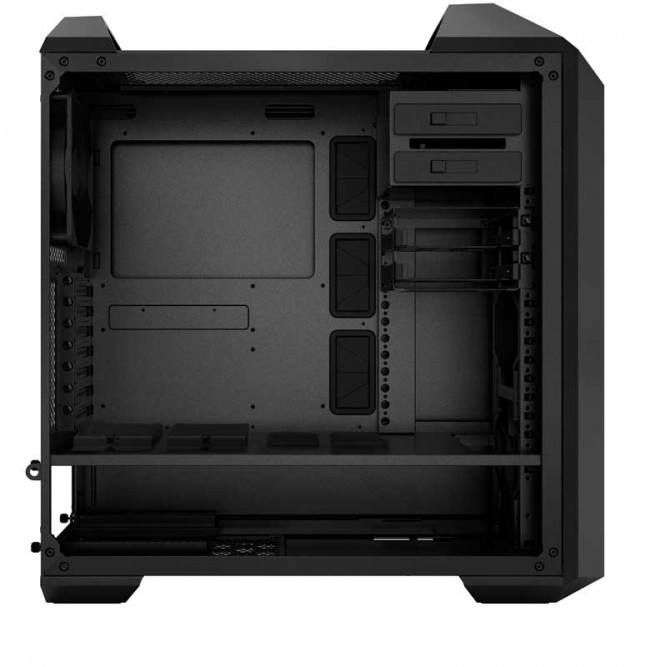 Here is quick look at the specification sheet, which shows us the primary differences between the MasterCase 5 and MasterCase 5 Pro, both of which are based on the same chassis.
Model

MasterCase 5

MasterCase Pro 5

P/N

MCX-0005-KKN00

MCY-005P-KWN00

Available Color

Dark metallic grey exterior with black interior

Materials

SECC, Plastic

Weight

10.6 kg/23.4 lbs

10.7 kg/23.6 lbs

Size (WxHxD)

All

235x512x548mm

235x512x548mm

Body

235x460x460mm

235x460x460mm

Mother Board Support

ATX, m-ATX, M-ITX

ATX, m-ATX, M-ITX

Expansion Slots

7

7

Drive Bay

5.25″ ODD

2

2

3.5″ HDD

2

5

2.5″ SSD

2+2

2+5

Electronics

I/O port

U3 x2, Audio

U3 x2, Audio

Fan speed control

N/A

N/A

Pre-install fans

Front

140mm x1

140mm x2

Top

N/A

N/A

Rear

140mm x1

140mm x1

Fan Support

Front

120/140mm x3

120/140mm x3

Top

120/140mm x2

120/140mm x2

Rear

120/140mm x1

120/140mm x1

Water Cooling
Support

Front

240/280mm radiator, up to 40mm thickness without fan

240/280mm radiator, up to 40mm thickness without fan

Top

N/A

240mm radiator, up to 40mm thickness without fan

Rear

120/140mm

120/140mm

CPU Air Cooling Support

190mm/7.5inches

190mm/7.5inches

VGA Card Support

w/ 3.5″ HDD Cage

296mm/11.7inches

296mm/11.7inches

w/o 3.5″ HDD Cage

412mm/16.2inches

412mm/16.2inches

Cable Management

25mm

25mm

Dust Filters

Front/Top/Bottom

Front/Top/Bottom

Power Supply Type

Bottom Mount, ATX PS2

Remark

No Top Cover
No Front Door
W/ Top Cover
Top Water Bracket
Side Window
Product Sheet Download
MasterCase 5
MasterCase Pro 5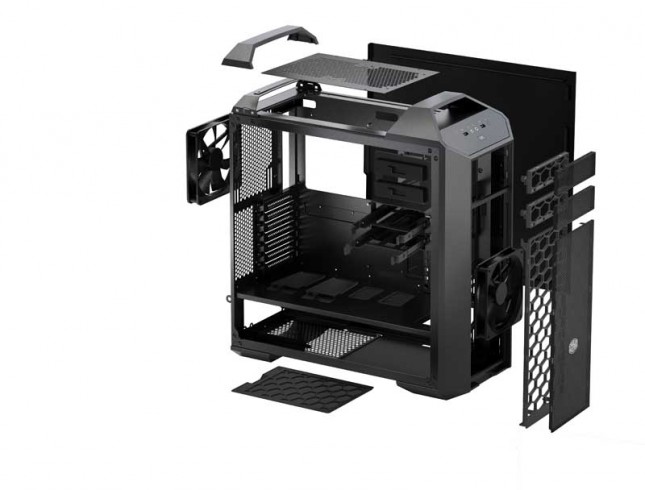 The standard MasterCase 5 is the base model that is currently available for $109 at Newegg. The MasterCase 5 doesn't feature the top radiator mount system with mesh panel, windowed side panel, or additional fan and drive cages provided with the MasterCase 5 Pro, which is available for $139 at Newegg. The MasterCase 5 pro also features an additional 140mm fan. We have been sent the upgrade kid to turn the MasterCase 5 into the Pro model, which we will do for the build portion of this review. Besides the upgrade modules, The MasterCase 5 and MasterCase 5 Pro are the same case, based on the same chassis, with all of the parts interchangeable between the cases. The upcoming MasterCase 5 Maker series will feature different top, side and front panels that will be compatible with the MasterCase 5 chassis, as well.
The MasterCase 5 offers adequate support for long GPU's (412mm w/o cage installed) and tall CPU coolers (190mm), such as the Noctua NH-D15. PCI-E expansion slot availability is standard for an ATX Mid-Tower at seven. Both models of MasterCase 5 carry a Two Year warranty against manufacturing defects. Cooler Master has support offices around the world and my personal experience is that they have very excellent technical support. In fact, I regularly see CM-Patrick and CM-Fellini on various support forums and Youtube offering end users information. This kind of support and ability to get product information is what every company should strive to provide, especially with a product like the MasterCase 5, which Cooler Master is promising future module releases for.
Most manufacturers build several cases around one frame and then sell them as different products. Cooler Master is basically turning this over to end users and providing a base frame to be customized as you wish. This seems like a solid concept, as they can release one case and continue to produce upgrades for it that users can invest in. This is also appealing to end users, as the industry moving to a new USB standard doesn't necessarily mean your case will suddenly be outdated. Cooler Master can really dictate how future-proof the MasterCase series is by offering continued support.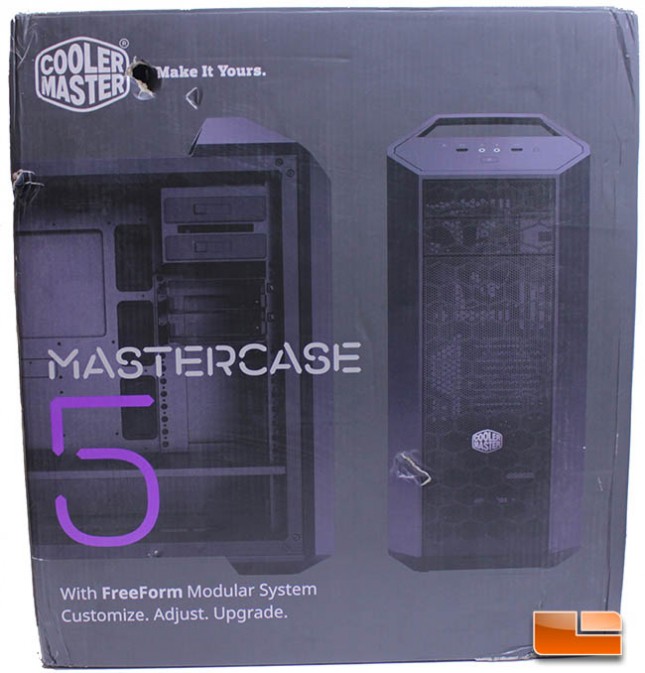 Cooler Master ships the MasterCase 5 in a black cardboard box with full details and information about the Freeform Modular System printed on it. Our box arrived in pretty rough shape, with a huge hole gouged out of the side by the logo. In fact, this is the worst beaten up box we've received over our last several case reviews. We were worried initially about the case being damaged, based on the exterior damage to the box.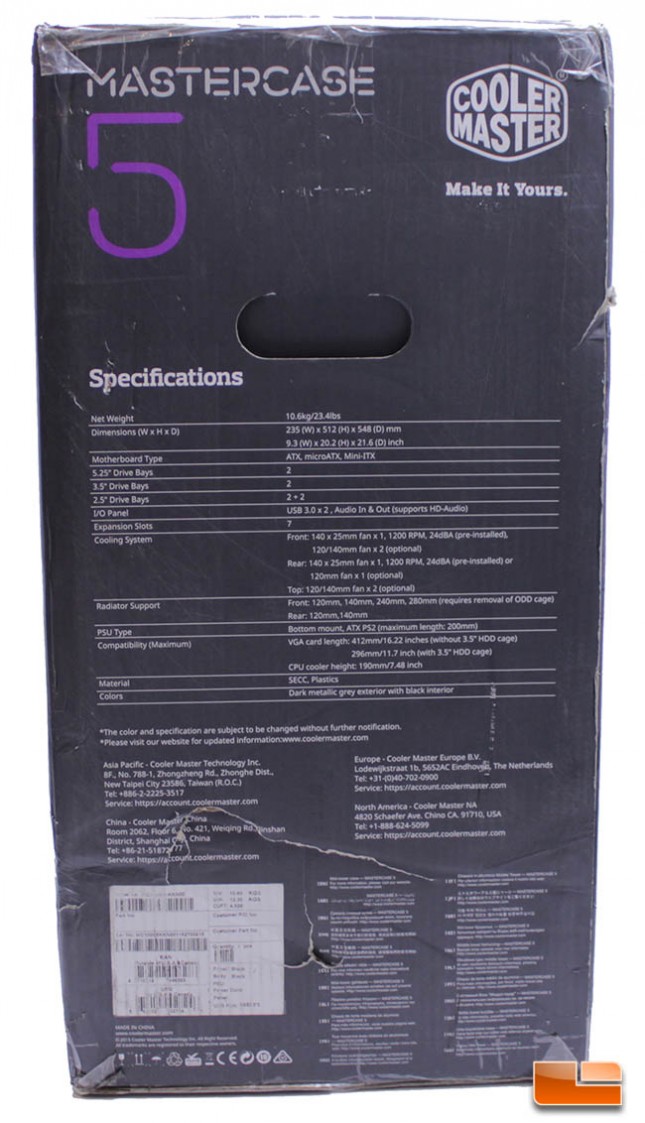 The case specifications are clearly printed on the side of the box, as is contact information for Cooler Master's various offices. The box is very informative and it is great to see contact information so clearly printed on the side, along with the warranty. While ours took a pretty substantial beating during shipping, the presentation of the box is very nice, looks elegant and is aimed towards enthusiasts and professionals.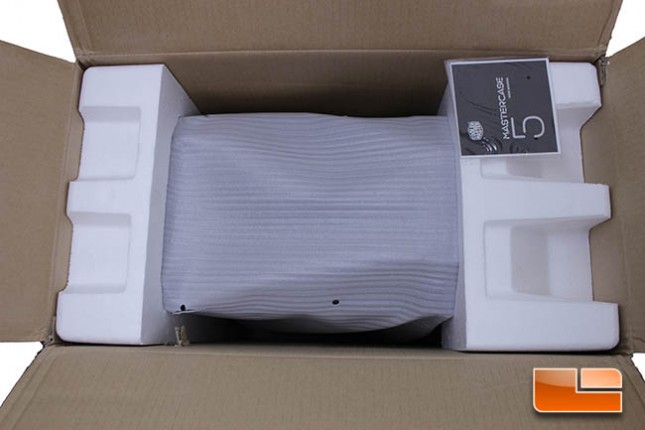 The thick Styrofoam inserts that the MasterCase 5 are packaged in do a great job of protecting the case. Even though our box had various holes and tears in it as a result of shipping the case on a UPS truck that must have been simultaneously competing in a demolition derby, the MasterCase 5 arrived unscathed. The bag that the case sits in is very soft and does an excellent job of protecting the panels.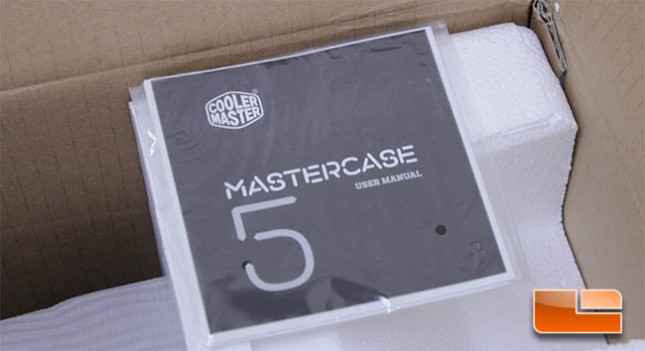 Included with the MasterCase 5 in a plastic bag are a user manual and warranty card, which clearly explains Cooler Master's two year warranty for the MasterCase 5.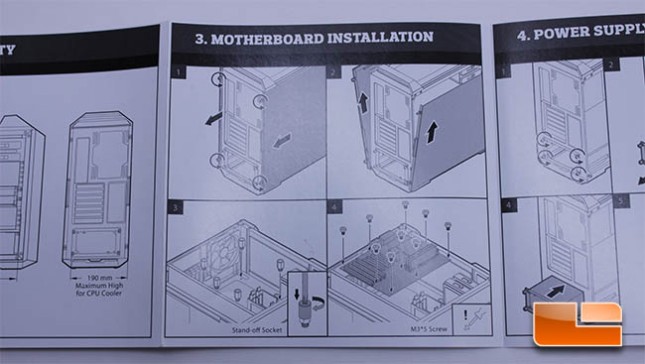 The manual included with the MasterCase 5 is very informative, with illustrated diagrams on how to install hardware into the case. Before I got the case, I wondered how the bottom hard drive cage secures if you move it from the stock location to allow for radiator clearance, as the thumbscrews wouldn't be able to thread into their normal location. The manual explains that information rather than leaving me to find out myself via trial, showing that you thread the screws into the base of the cage to secure it. The information in the MasterCase 5 manual is appreciated, as it takes inexperienced builders into consideration, something we've seen other manufacturers neglect.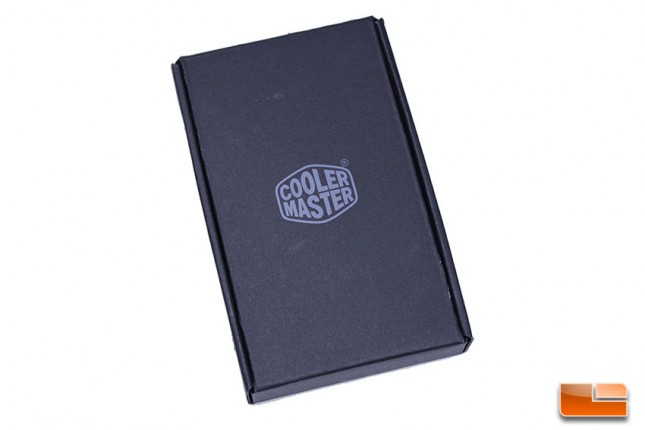 The MasterCase 5 accessories all come in this black box, which ships and sits snugly inside of one of the 3.5″ drive caddies installed in the case.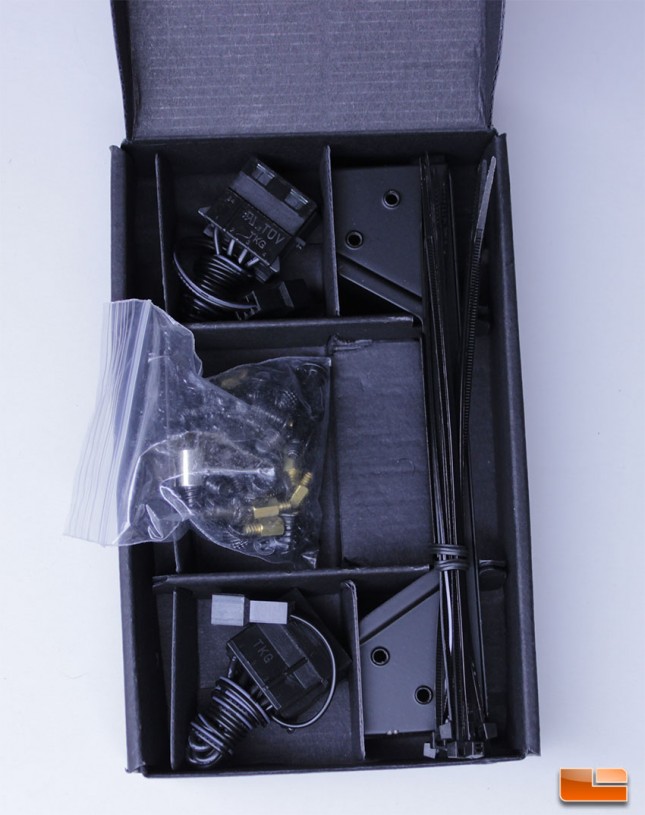 The accessory bundle included with the MasterCase 5 is good, though not overly impressive. We definitely appreciated the all-black screws, ample amount of zip-ties and clearly printed warranty information included with the MasterCase 5. The bracket seen with the zip ties is so that you can add an additional fan in lieu of running the optical drive cage. While it's not an exceptionally tall case, an 8-Pin extension cable would be a good accessory to include, as some power supplies have shorter 8-Pin CPU cables and in the MasterCase 5 the PSU is in a chambered basement, so cable runs will potentially be longer than they would in a standard case.
We'll take a look at the MasterCase 5 and its external features, on the next page.