CM Storm Mizar Laser Gaming Mouse Review
By
Cooler Master Mizar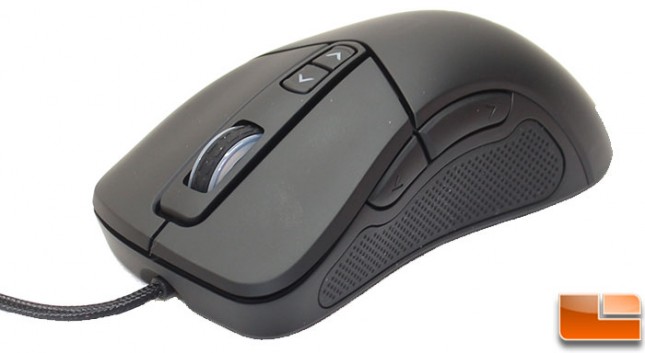 Cooler Master has been developing computer components for over 20 years, and is well known in the enthusiast world for producing some great coolers. As with any company, they have been moving into different hardware markets and consistently receive high praise for their hardware. The market for manufacturing mice is tight, most people find one type and stick with it for as long as they can. Today, Cooler Master has sent us one of their latest mice, the Mizar. Like most modern gaming mice, it features on-the-fly adjustable DPI all the way up to 8200DPI with a laser sensor, macro functionality and various color schemes.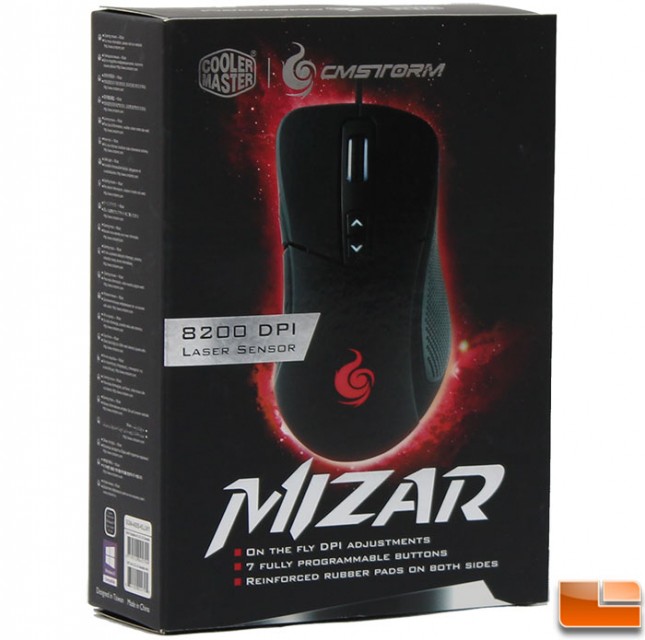 The packaging for the Cooler Master Mizar provides more than enough information for anybody to know what the mouse is capable of. The front of the package shows a picture of the mouse, along with highlighting the key features such as the 8200 DPI Laser Sensor, on the fly adjustable DPI and 7 programmable buttons.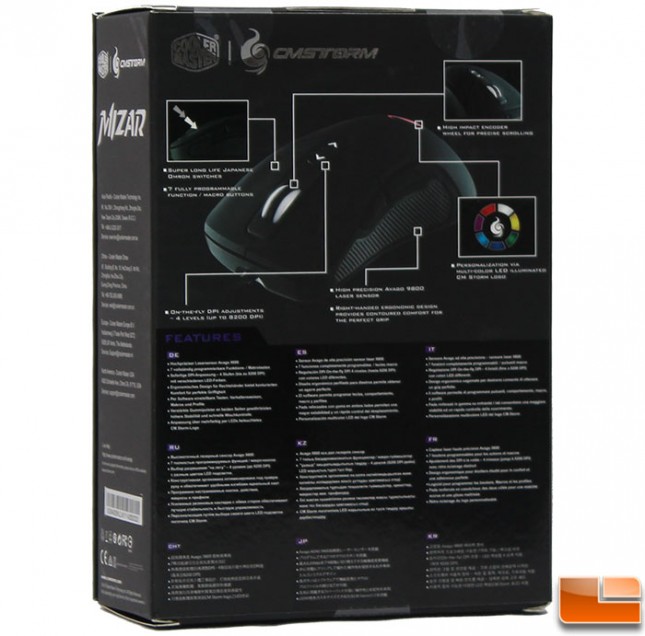 If the front of the box doesn't provide enough information, the back of the box provides more. Here we see a color wheel showing the various colors, and a graphical representation of the features on the Mizar.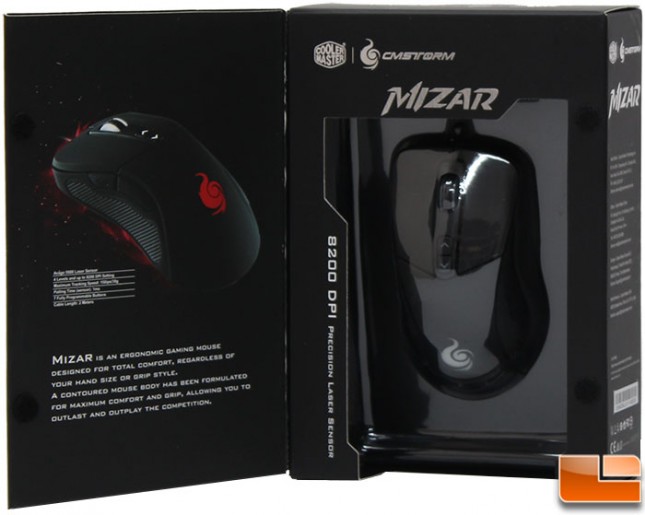 The front panel of the box is really a flap that opens to provide a little more information, and a chance to see the mouse itself, rather than just a picture. The Mizar is only available in black, and sold under part number SGM-4005-KLLW1. The Cooler Master Mizar can be found for $49.99 with free shipping, making it a rather inexpensive gaming mouse. Being a gaming mouse it is probably going to get knocked around a bit, Cooler Master has provided a 2 year warranty on the mouse.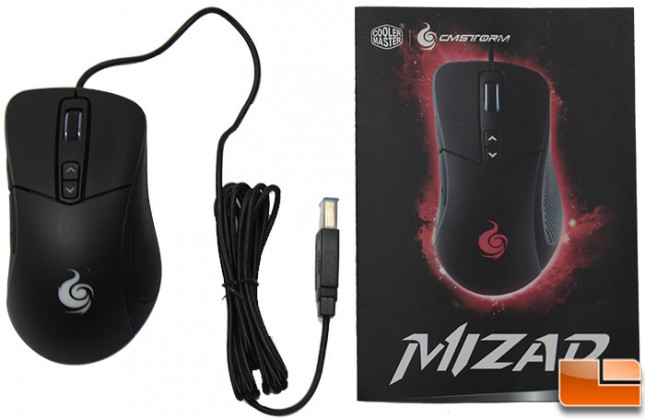 The packaging for the Cooler Master Mizar is pretty plain, inside the package is the mouse, and a simple users guide. Granted for most, that is all that will be needed. However if you want to customize the mouse and use it to its fullest potential, you need the Cooler Master Mizar software, which can be downloaded from their website here. Features and Specifications Inspired by classic, ergonomic styling, Mizar is a high performance gaming mouse with a natural contoured grip designed for maximum comfort. Its sculpted design encourages a firm and comfortable grip that feels good even after hours of gaming. Outlast the competition regardless of your hand size, grip style, or handedness.
Cooler Master Mizar Specifications
Model Number
SGM-4005-KLLW1
Grip Type
Right-Handed, Versatile (Palm, Claw, Hybrid)
Materials
Rubber Coating
Color
Black
LEDs
White Scroll Wheel and DPI Buttons, Multi-Color (7) CM Storm Logo
Sensor
Avago 9800 Laser
DPI
Up to 8200 DPI
Tracking Speed
150 IPS / 30 g
Lift Off Distance
Firmware Dependent
Polling Rate
1000 Hz / 1 ms
Angle Snapping
N/A
Mouse Acceleration
N/A
Profiles
4
Onboard Memory
128 KB
Programmable Buttons
7
Special Features
N/A
Connector Cable
USB, Braided
Dimensions
4.9 x 2.4 x 1.6 inch
Weight
0.27 lbs
Packaged Dimensions
8.7 x 6.1 x 2.6 inch
Packaged Weight
0.66 lbs
Warranty
2 Years
Software
http://gaming.coolermaster.com/en/products/mice/mizar/
Accessories
Quick Start Guide
Let's move on and take a closer look at the Cooler Master Mizar.