CES 2012: Thermaltake Launches New Products & Shows a Case Mod
By
Snow Edition PSUs and Heatsinks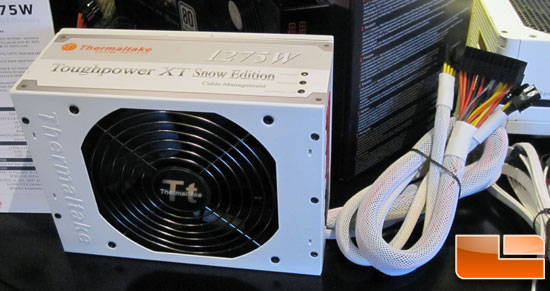 Sticking with the Snow Edition theme, Thermaltake has also released some new white power supplies to pair up with the Snow Edition cases. This Toughpower XT Platinum 1275W PSU is 80-plus Platinum certified which is the highest rating for its 93% efficiency. Featuring 105C solid state capacitors and interleaved PFC circuits, this is Thermaltake's highest efficiency and highest wattage PSU in the Snow Edition product line.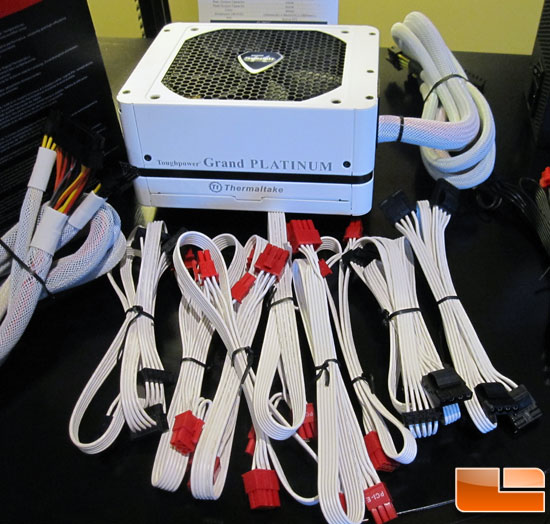 For those looking to go modular in their Snow Edition PC, the Toughpower Grand Platinum 700W PSU is also 93% efficient! This PSU comes with flat white cables. Since there is no netting around these cables like the round versions, you may need to be careful if you use this PSU in a lower quality case with sharp edges. You don't want to cut in to the wire and cause a short!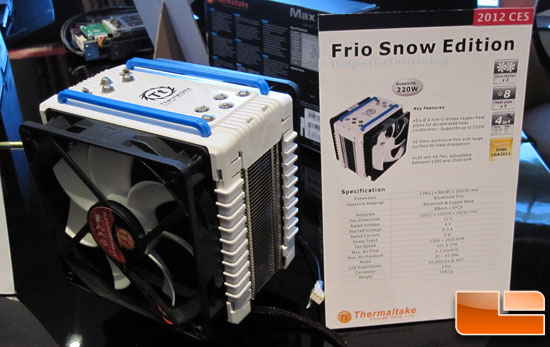 After making Snow Edition PSUs, Thermaltake completes the Snow Edition experience with Snow Edition heatsinks. The Frio Snow Edition heatsink supports up to 220W, cools with five copper heat pipes, aluminum fins, and a 120mm VR fan for RPMs ranging between 1200 and 2500. This heatsink weighs in at 1042 grams and has 139mm (L) x 98mm (W) x 165mm (H) dimensions, so make sure you are prepared for this beast.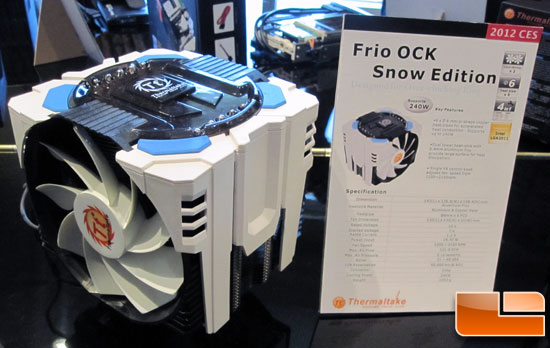 Speaking of a beast, the Frio OCK Snow Editions is even bigger! Supporting up to 240W, The Frio OCK has 6 copper heat pipes with aluminum fins and also uses VR fans to regulate RPMs between 1200 and 2100. The Frio OCK weighs 1093 grams and has 143mm (L) x 136.8mm (W) x 158.4mm (H) dimensions, so while it is a little shorter, it is definitely wider than the Frio.